Cody Rigsby and special guest Carly Rae Jepsen made a special announcement in Cody's latest "LOL, Cody" ride – Peloton will hold an entire featured artist series dedicated to the music of Carly Rae Jepsen. Peloton also shared the news via Instagram after the class was over:
Not to get E•MO•TION•AL but we're really excited for this next artist. @carlyraejepsen's Artist Series has arrived. Join @calliegullickson, @codyrigsby, @leannehainsby, @jeffreymce, @kristinmcgee, and @milamariana as we lose ourselves and move to the music.
The series will launch on Saturday, November 12 and will include six classes across four modalities, with six different instructors. You can view the complete class list below:
Carly Rae Jepsen Peloton Classes & Schedule & Workouts – Featured Artist Series
20 min. Carly Rae Jepsen Upper Body Strength – Callie Gullickson – 11/12/22 @ 10:00am ET [On Demand / Premiere]
30 min. Carly Rae Jepsen Ride – Cody Rigsby – 11/12/22 @ 10:00am ET
10 min. Carly Rae Jepsen Cool Down Ride – Leanne Hainsby – 11/12/22 @ 10:35am ET [On Demand / Premiere]
30 min. Carly Rae Jepsen Run – Jeffrey McEachern – 11/12/22 @ 11:00am ET [German]
30 min. Carly Rae Jepsen Yoga Flow – Kristin McGee – 11/12/22 @ 12:30pm ET
30 min. Carly Rae Jepsen Run – Camila Ramón – 11/13/22 @ 11:00am ET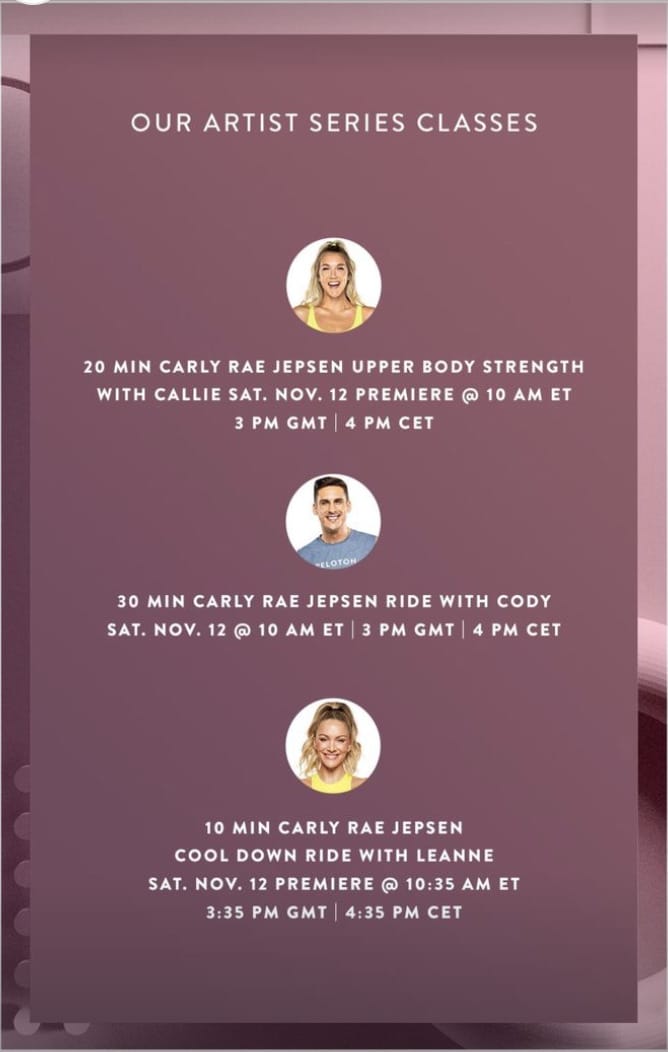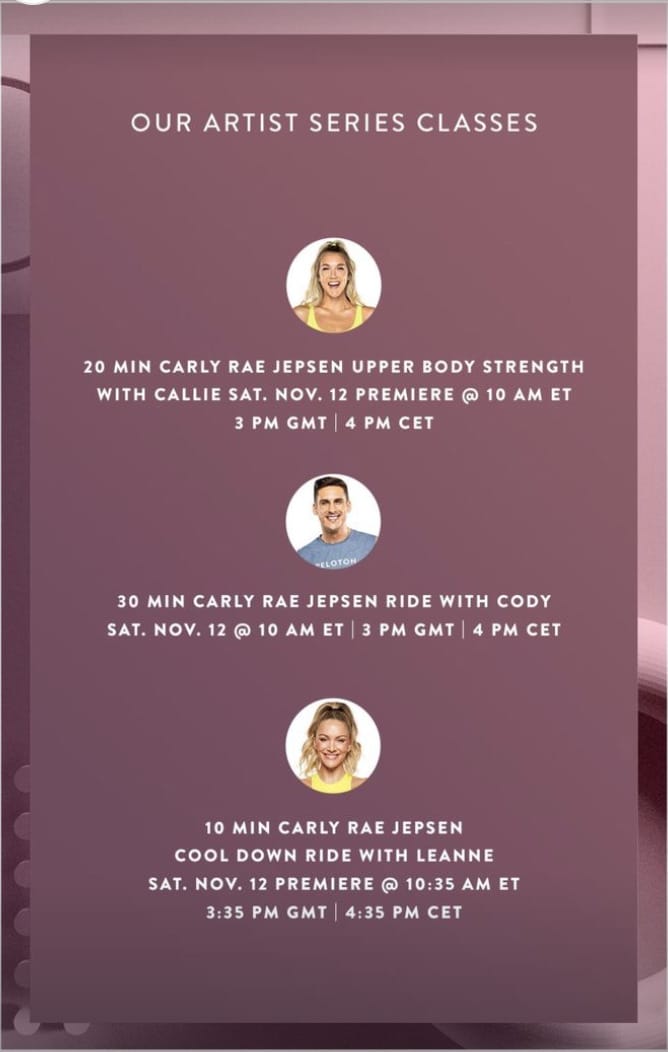 We predicted this series might be on the way earlier this week – the cool down ride with Leanne briefly appeared on the schedule but then disappeared shortly thereafter. Callie's strength & Leanne's ride has been categorized as a "premiere" class, which is a new Peloton class categorization. These are pre-recorded classes that will be made available as an encore class at a specific time, and are not available on demand before then.
In case you missed it, "LOL, Cody" is Cody Rigsby's latest signature series. The first ride featured fellow instructor Matt Wilpers and special guest Trixie Mattel. You can read more about the series in our overview article.
Members can expect to earn an artist series badge for completing any of the Carly Rae Jepsen classes, and there is also a dedicated badge for taking any of the "Lol, Cody" rides. If you're trying to acquire additional badges, you can reference the complete list of available badges in our guide.
To get a sense of past Peloton featured artist series, be sure to check out our comprehensive artist series list.
Will you be opting into the Carly Rae Jepsen artist series?
---
Want to be sure to never miss any Peloton news? Sign up for our newsletter and get all the latest Peloton updates & Peloton rumors sent directly to your inbox.