If you thought you missed out on Peloton's Black Friday and Cyber Monday deals, you didn't! Peloton has extended their annual sales an extra eight days. Originally scheduled to run from November 14-November 28, Peloton announced this morning that the discounts will now be available through December 6. Peloton sent an email to share the news.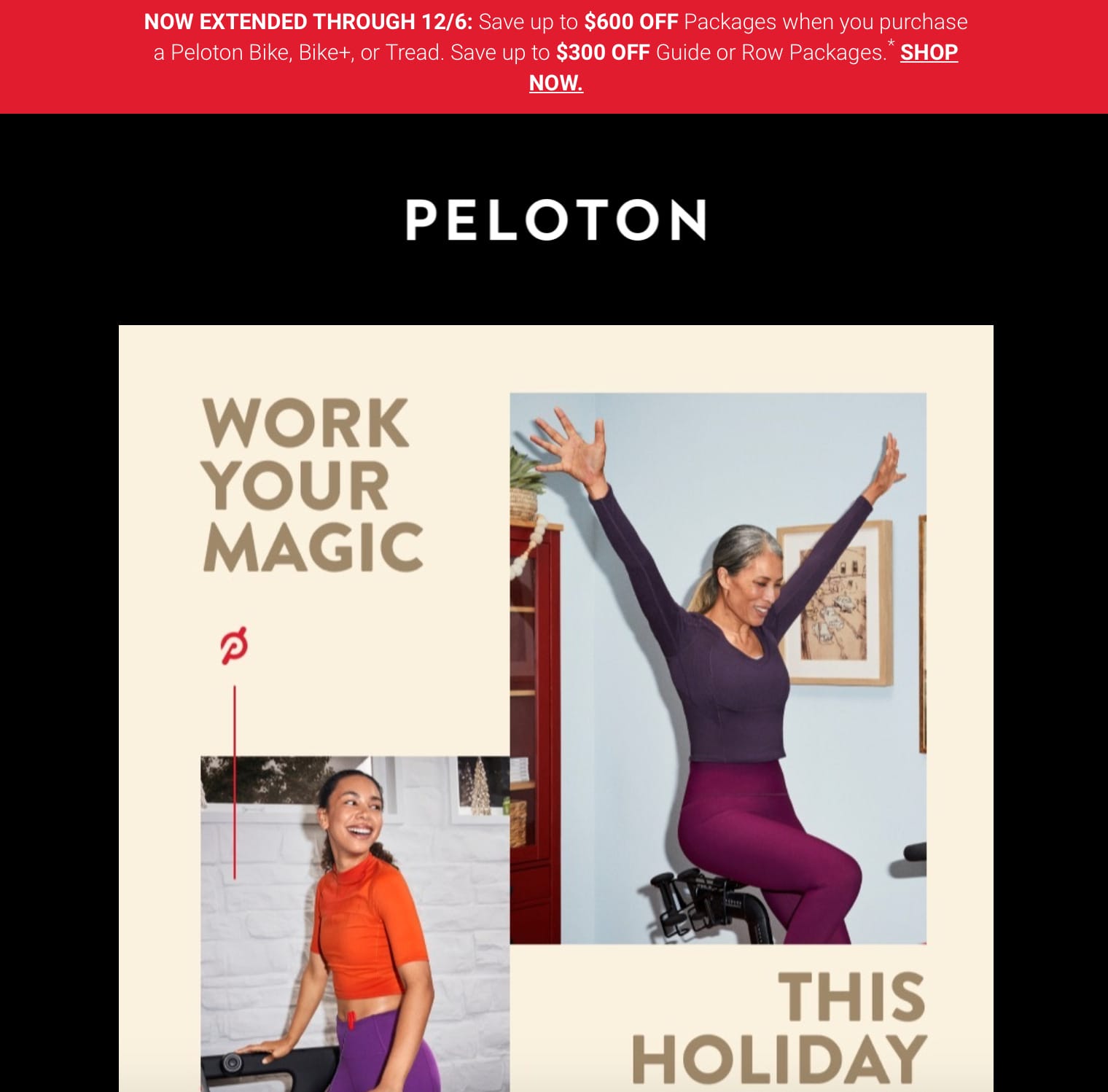 Peloton has extended sales in all of its operating countries: the United States, Canada, the United Kingdom, Germany, and Australia.
This is the latest in a number of changes Peloton has made to their Black Friday and Cyber Monday offers this year. Peloton originally rolled out a smaller discount before updating their pricing and doubling discounts after the sales had already begun, offering customers who'd already purchased a refund to make up the difference. In addition, the Peloton Row was not originally included in the sale, but Peloton added the device to the offer when they updated their discounts.
Through Peloton's 2022 Black Friday and Cyber Monday (now extended through December 6) sales, customers can receive up to $600 off Bike, Bike+ and Tread packages, and up to $300 off Peloton Row or Guide packages. You can find more details about pricing across markets via our overview article.
Amazon appears to also still be running their Black Friday discounts on select Peloton products, but you can still get a better deal directly from Peloton.
Note that if you have purchased Peloton equipment since November 1, Peloton is offering a price match guarantee – but only if you purchased from Peloton, not from Amazon or DICK'S Sporting Goods.
As a reminder, you can make your Peloton purchase online, or visit your local showroom via phone or in-person. Ordering from a showroom will help a Peloton team member earn a commission.
---
Want to be sure to never miss any Peloton news? Sign up for our newsletter and get all the latest Peloton updates & Peloton rumors sent directly to your inbox.