Update – Peloton has confirmed our suspicions and said 3 new instructors are coming this week. We speculate on who they might be here.
At the beginning of 2021, Peloton refreshed their collections & programs. While several new collections were added, the "Yoga Basics" and "Welcome to Yoga" programs were removed with no replacements for Yoga fans.
After several months, this morning Peloton has announced the addition of 5 new Yoga collections being added to the library. This launch corresponds with the reopening of the Peloton Yoga studio, which has been closed for the last 3 weeks.
Peloton is marketing this as a "full-spectrum approach" to Yoga – and is segmenting their classes into 5 different categories, depending on what you want to work on a specific day.
The five elements that comprise your complete practice are Foundation, Power, Focus, Recovery and Unity. Whether you choose to mix-and-match, become a firm fan of one or go on a journey through all five, we all start somewhere.
You can see an overview of each collection below – click on the title to view that collection on the Peloton Website. Descriptions below are from the Peloton announcement, or the collection description.
"Through classes like Yoga Flow, Yoga Basics and Yoga Anywhere, our instructors will guide you through the fundamentals, cultivating a link between your physical and mental practice, which you can build upon with classes across all collections. Even if you're a seasoned yogi, this collection is the perfect place to return to the roots of your practice. Build a solid yoga practice from the mat up in the Foundations of Yoga. With a mix of core poses and traditional flow-style classes, learn how yoga can go beyond a physical practice to help you be the best version of yourself."
Peloton will having regularly "Beyond the Pose Yoga Flow" classes on Tuesdays. There are 12 classes in the Foundation Yoga Collection for the initial launch.
"So, you want to push the limits of your practice? Welcome to the Power collection. Arrive to the mat seeking a challenge and get ready to find your mental, physical and spiritual edge in Power Yoga classes. Whether you consider yourself an advanced practitioner or are looking to experience the extent of your fortitude, you've come to the right place. Classes will emphasize strength and stamina postures, move more quickly and your instructors will cue each pose with less detail than in a Foundation class. Gain strength and stamina in Power Yoga as you challenge your mind and body."
Starting on May 3rd, there will be daily 8am ET Power Hour classes on weekdays. There are 12 classes in the Power Yoga Collection for the initial launch.
"Know exactly what you're going to get when you tap into Focus Flow classes that dive deep into a specific pose, body part or even mood. Whether your body is telling you the hips need some space after a tough run, or you're determined to feel powerful in Wheel Pose, you'll find just the thing in this collection."
Look for regular Focus Friday classes, Fridays @ 10:30am ET or 6:00pm ET starting on Friday, May 14th. There are 9 classes in the Focus Yoga Collection for the initial launch.
"On a day off from cycling, running or strength, reconnect your mind and body in classes like Slow Flow and Restorative Yoga. Soak in your effort and allow yourself a chance to replenish your energy stores for the next time you plan to go all-out. Slow things down with Recovery classes to deepen your practice, cultivate relaxation and give your mind and body the recovery they need. "
Denis Morton will lead regular Sunday Slow Flow Classes on Sundays @ 11:00am ET starting on May 23rd. There are 11 classes in the Recovery Yoga Collection for the initial launch.
"The essential beauty of yoga is energy moving together in unison ("yoga" literally means "union!")—an experience that is amplified by music and celebration in classes like Artist Series and Fit Family Flows. Lift your spirit, send some high fives and be at one with the Peloton community. Come together with yoga that celebrates Unity with Artist Series flows, cultural moments and other community events. "Together we go far" in yoga means you'll feel empowered and inspired to be your best self."
Chelsea Jackson Roberts will be leading Monday Music Yoga Classes on Mondays at 6:00pm ET starting on May 24th. There are 10 classes in the Unity Yoga Collection for the initial launch.
You can find all of Peloton's collections on their website here.
You can read the full announcement about the new Peloton Yoga Collections here.
On social media, Ross Rayburn shared this as a comment to Peloton's Instagram post:
Peloton Fam: giant bow to everyone who's been with us these past two years … We're all so excited to welcome YOU to Peloton Global Yoga! (hearts) to everyone who made this happen.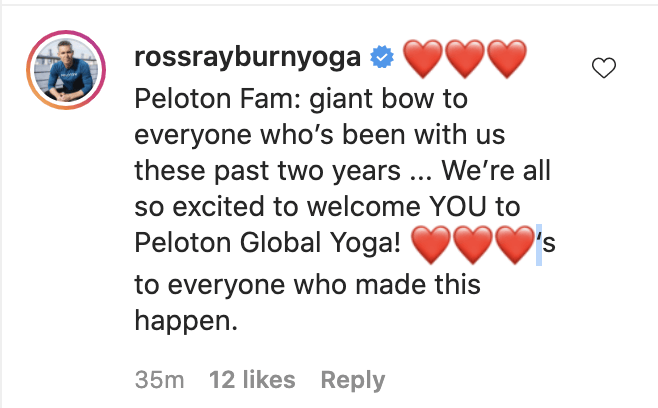 Does this mean we might be seeing new international Yoga instructors soon, based out of the UK studio? We are already waiting on the official announcement of Mariana Fernández soon – possibly at Peloton Homecoming?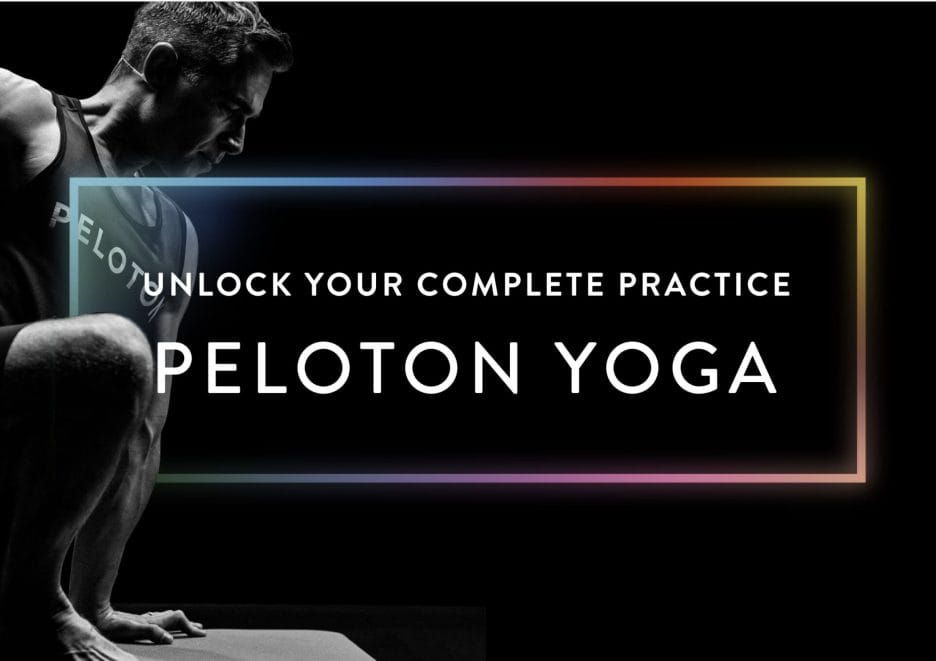 ---
Want to be sure to never miss any Peloton news? Sign up for our newsletter and get all the latest Peloton updates & Peloton rumors sent directly to your inbox.