A new feature has popped up on the Peloton web browser that allows members to search classes based on body activity.
Filtering is a great way to search for classes in the expansive on-demand library. Previous available filters include: length, instructor, class language, music, subtitles, and bookmarked. Members can also filter by classes taken vs. not taken, and sort the classes shown based on new, trending, popular, top rated, easiest, and hardest.
Now members will also see a "body activity" filter on the web browser as the third filtering option. This feature allows members to select a specific set of muscles to see which classes focus on that particular muscle group. Members can select more than one muscle group from the below options:
Arms
Back
Chest
Core
Legs

Glutes
Calves
Hamstrings
Quads
Hips

Shoulders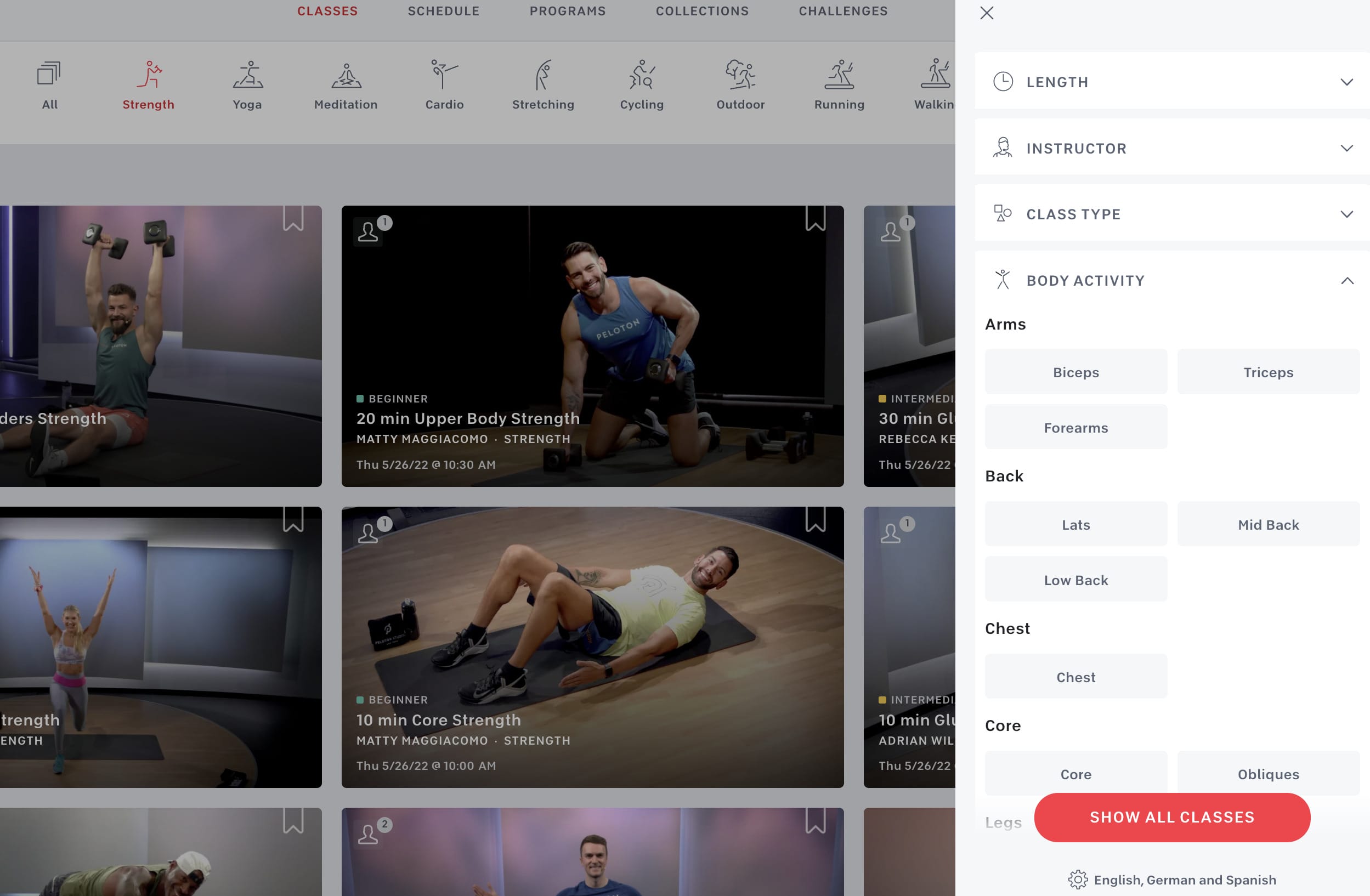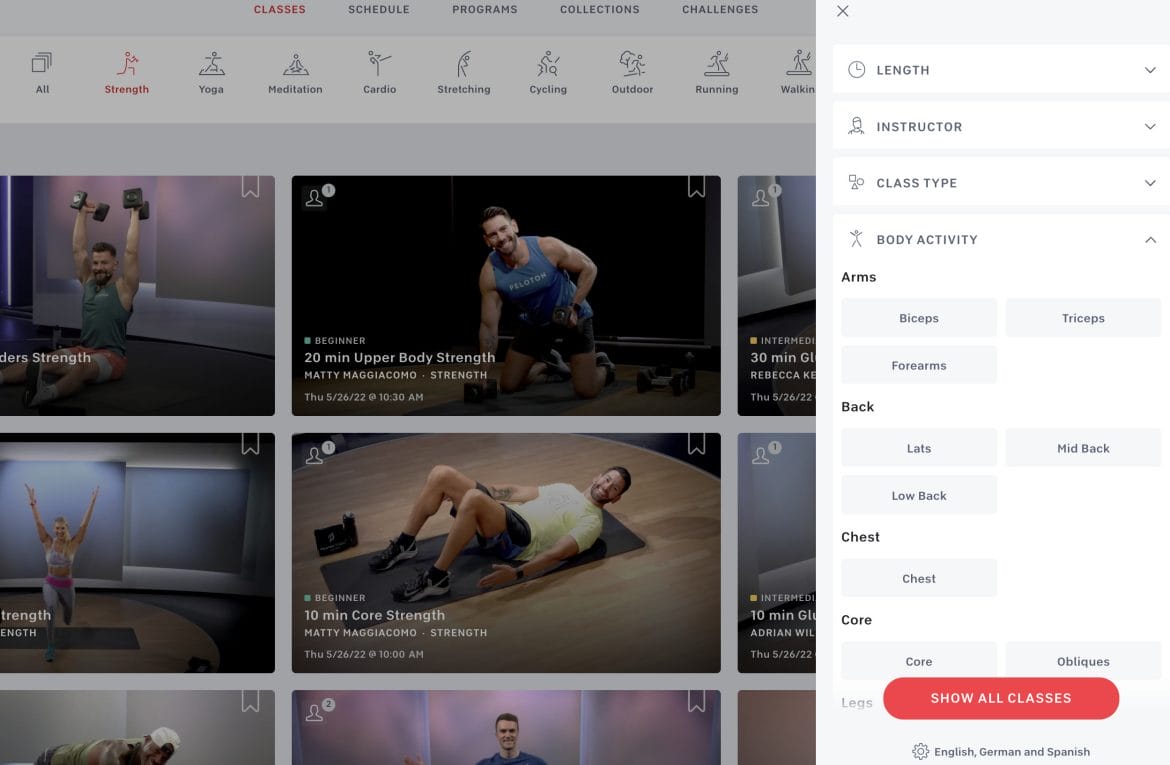 So for example, if you go to the body activity filter and search by "glutes," you will see the recent strength classes that have glutes within the top five muscles worked in the class plan. While of course you'll see many glutes & legs classes as expected, you'll also see other types of classes that heavily work the glutes, such as full body, bodyweight, core, barre, and pilates.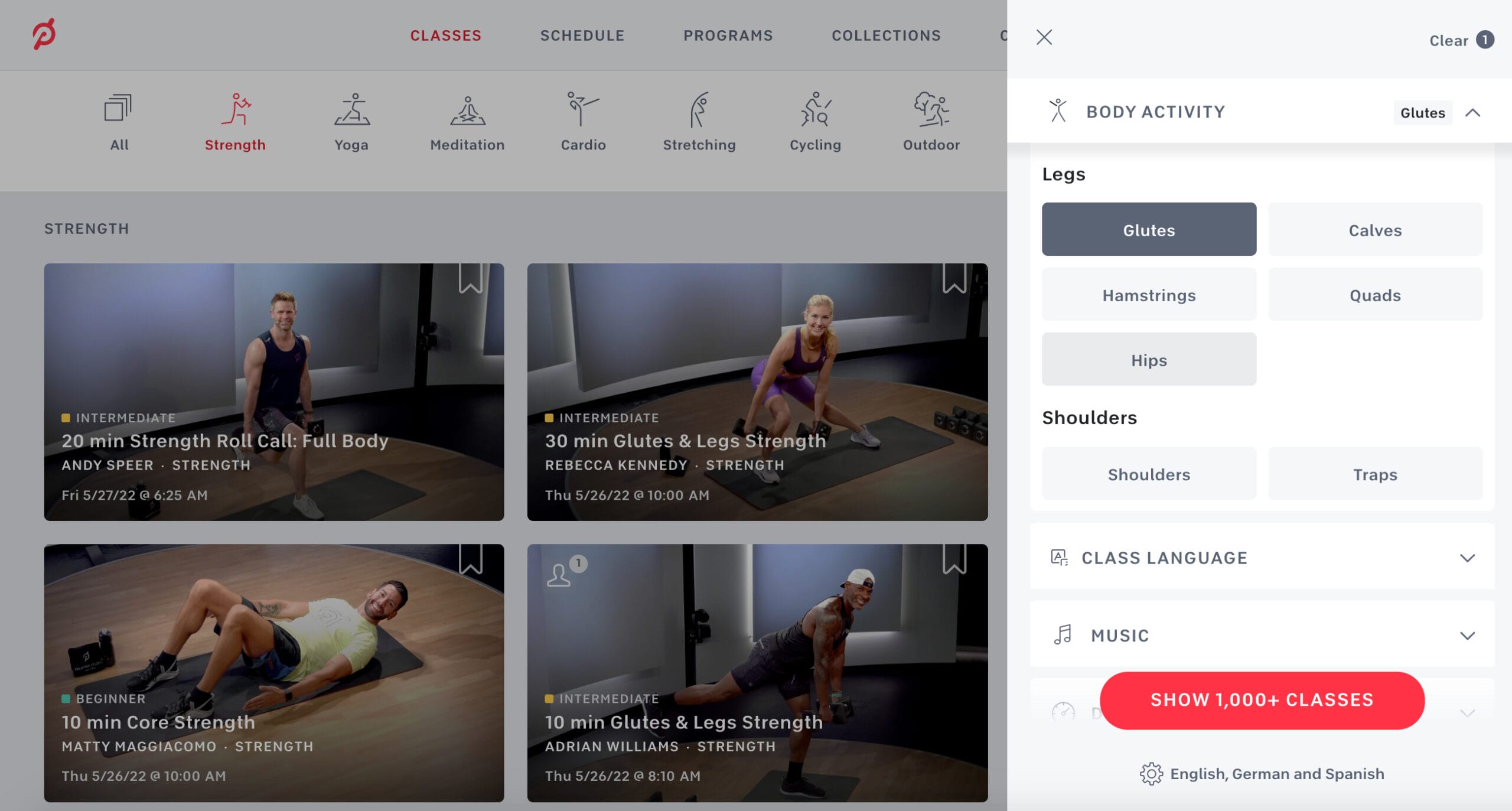 This new filtering feature is currently available for both strength and yoga modalities, but could potentially expand to other modalities in the future.
Peloton first began beta testing their body activity feature in preparation for the launch of the Guide – Peloton's first-ever strength connected device – back in March. The feature allows members to see their body activity breakdown in their workout profile (i.e. how much over the past 30 days have you worked certain muscle groups). It also now appears in the class description for each class in the on demand library, showing which muscles are targeted. You can read more about the feature in our overview article.
A few members report having this feature on their iPhone iOS app, but it doesn't appear to be showing up for everyone yet on the mobile app.
---
Want to be sure to never miss any Peloton news? Sign up for our newsletter and get all the latest Peloton updates & Peloton rumors sent directly to your inbox.