As we reported earlier this week, Peloton began testing a "Skip Intro" button on classes taken via the website. Thanks to a new support page that has appeared, we can now confirm that the Skip Intro button will be rolling out over the coming weeks to the Peloton Bike+, Tread+, Bike, and Tread. Unfortunately, the feature will not be available on any digital app besides the web. This means iOS, Android, Apple TV, Roku, Android TV, Amazon Fire TV, and others will not have access to the feature.
If you're curious how this feature looks in practice, you can see a quick demo of the web version below:
In our previous article on the topic, we pointed out that for the web classes, the "Skip Intro" button appears when the class starts and skips you to three seconds before the intro is over. On the Bike, Bike+, Tread+, and Tread, if pressed, the button will skip you to 8 seconds before the intro ends.
The "Skip Intro" button will be turned on for everyone by default once it rolls out, and appear near the clock in the upper left corner of the screen. However, the feature only appears after you have taken 5 classes of that discipline. For example, if you've taken 50 bike classes, you'll see the button for bike classes, but if you then take your first run, you would not see it until you have taken 5 runs.
The support page notes that the feature will only be available for on-demand classes – it won't be an option for live & encore classes. It also will not be available for family classes, just run/ride classes, or scenic rides.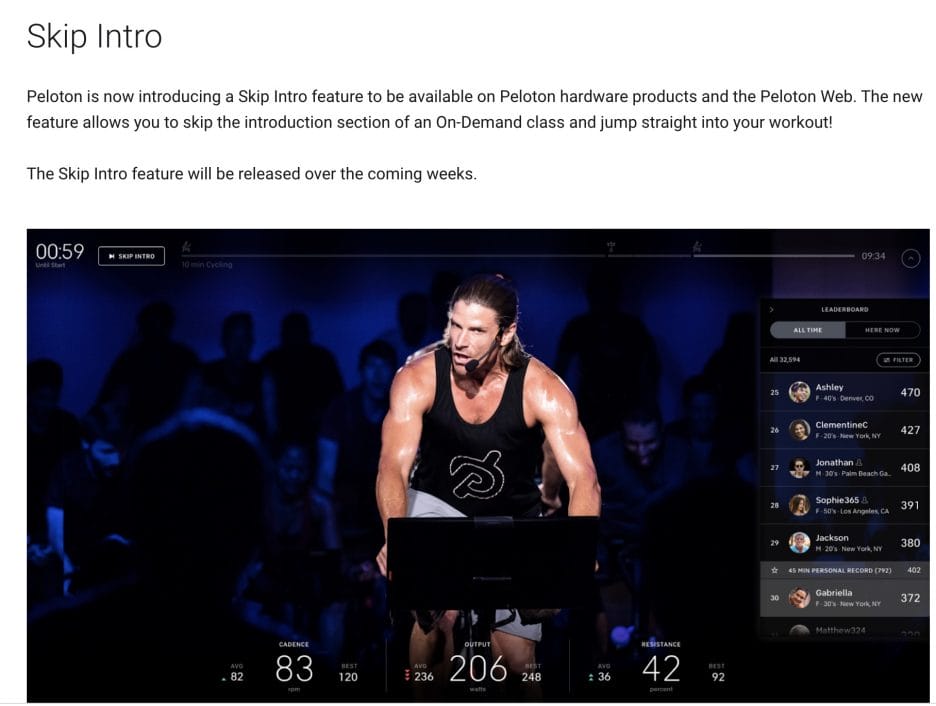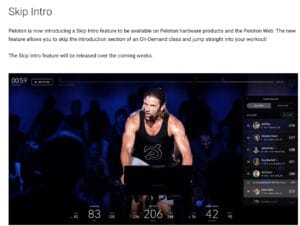 ---
Want to be sure to never miss any Peloton news? Sign up for our newsletter and get all the latest Peloton updates & Peloton rumors sent directly to your inbox.