Update – Peloton has now removed the section of the support page about Bluetooth cadence support being removed. We're not sure if they are permanently shelving plans to remove support for Bluetooth cadence sensors, just delaying the announce/dates of it, or if a Peloton employee mistakenly added the wording to the page (though with the specific dates & cutoffs, seems unlikely). We will update this information if/when Peloton provides an official statement.
Original article
Peloton quietly announced this morning that they would be dropping support for Bluetooth cadence sensors through their Peloton Digital iOS app (no other digital platform supported it besides iOS).
They have posted a notice on the Bluetooth cadence support page, posting the following information:
Please note: beginning 10/13/2020, the Bluetooth cadence sensor capability will have limited support. Peloton Members who joined on, or prior to 10/13/20, will be supported temporarily until 6/30/2021. Members who joined after this date will not have this functionality.

We apologize for any inconvenience this may cause.
There does not appear to be a technical reason for this change. Instead, it is likely to try to segment the feature set available between digital and the actual Bike, and drive more people to upgrade from using the digital platform to buying a true Peloton bike instead. It's possible the Peloton certified pre-owned program will be operational by then to provide some users a cheaper upgrade path, but this is likely to drive some people away from the platform.
Interestingly enough, this appears to match a strategy Strava previously took. In September of last year, Strava completely cut off Bluetooth cadence sensors as well. However, almost exactly a year later, they ended up adding them back. In this case, pending a mass exodus of digital users, we're not sure how likely it is Peloton would reverse course on this.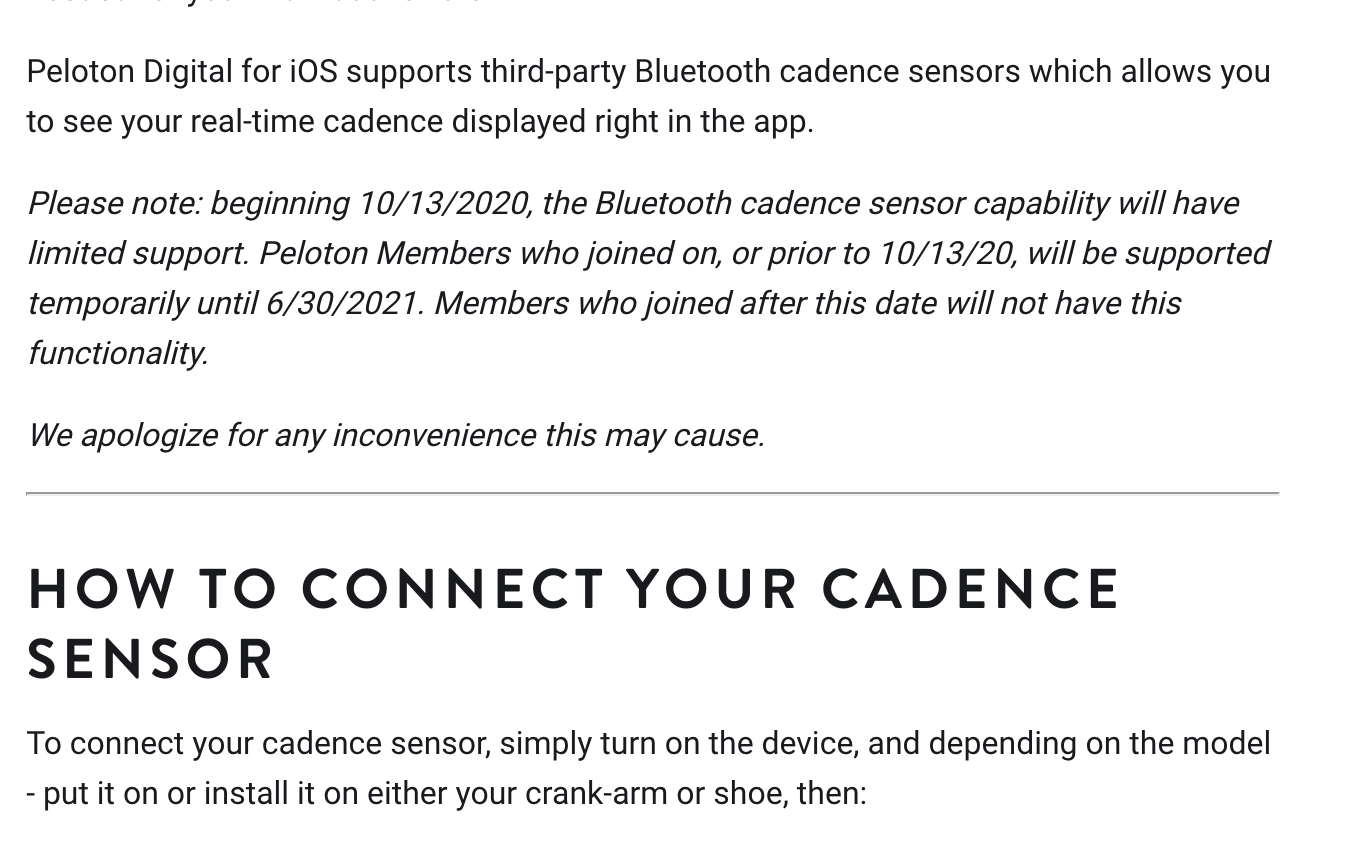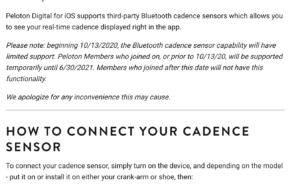 ---
Want to be sure to never miss any Peloton news? Sign up for our newsletter and get all the latest Peloton updates & Peloton rumors sent directly to your inbox.