Update – An earlier version of this article stated that the patents were awarded. At this point, these are patent applications and haven't been fully reviewed/granted yet.
This week Peloton had two new patent applications published. One is related to the rotating screen that can be found on the Peloton Bike+. The other is related to cycling cleats used with biking shoes – which we likely just saw brought to life with the new Peloton Altos Cycling Shoes.
The first patent Peloton applied for is titled "Exercise Device Rotating Display Mechanism Systems & Methods". It was filed for on June 20, 2020, and published on January 20, 2022. The patent number for this one is US 2022/0016511 – and shows the inventors as Nicolas Rozo, and Sam Patterson, both working for Peloton.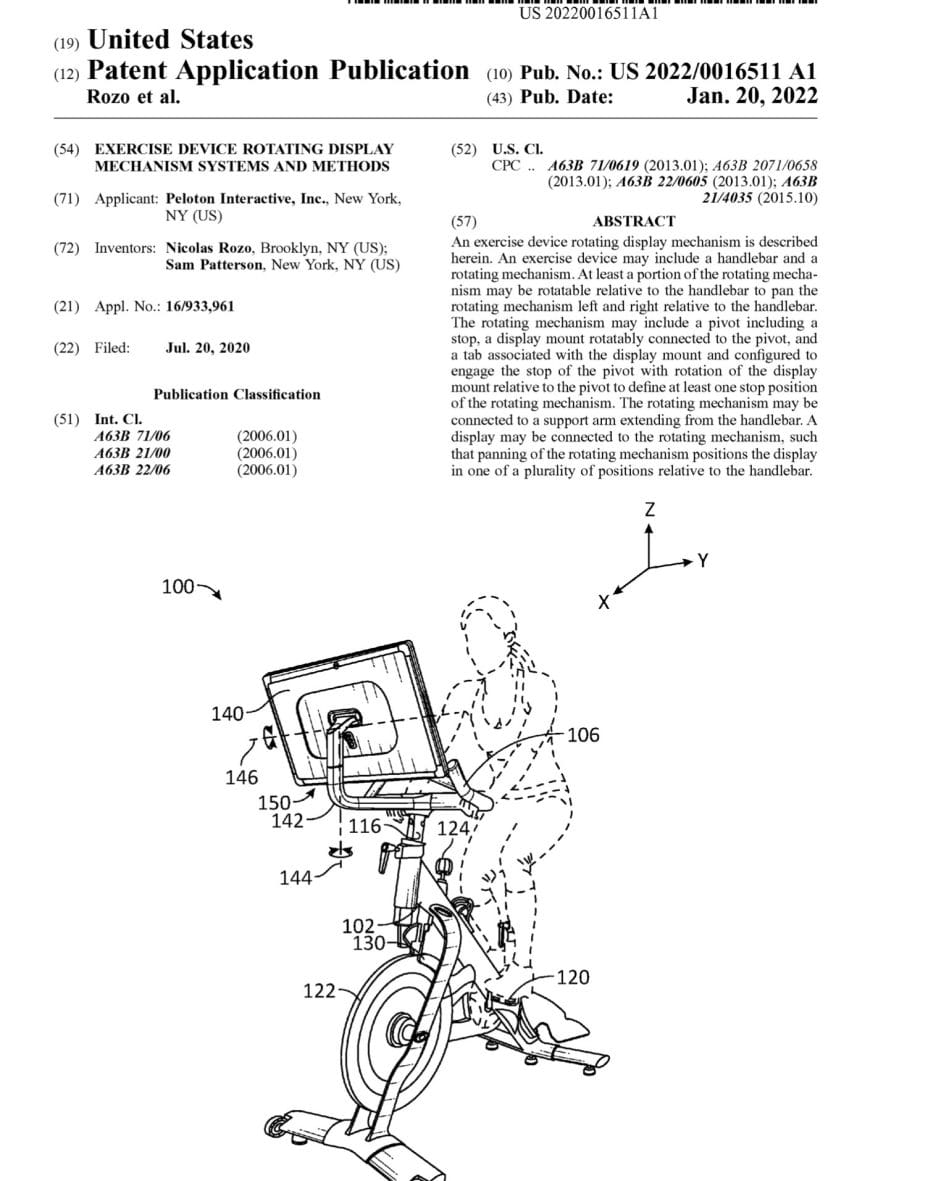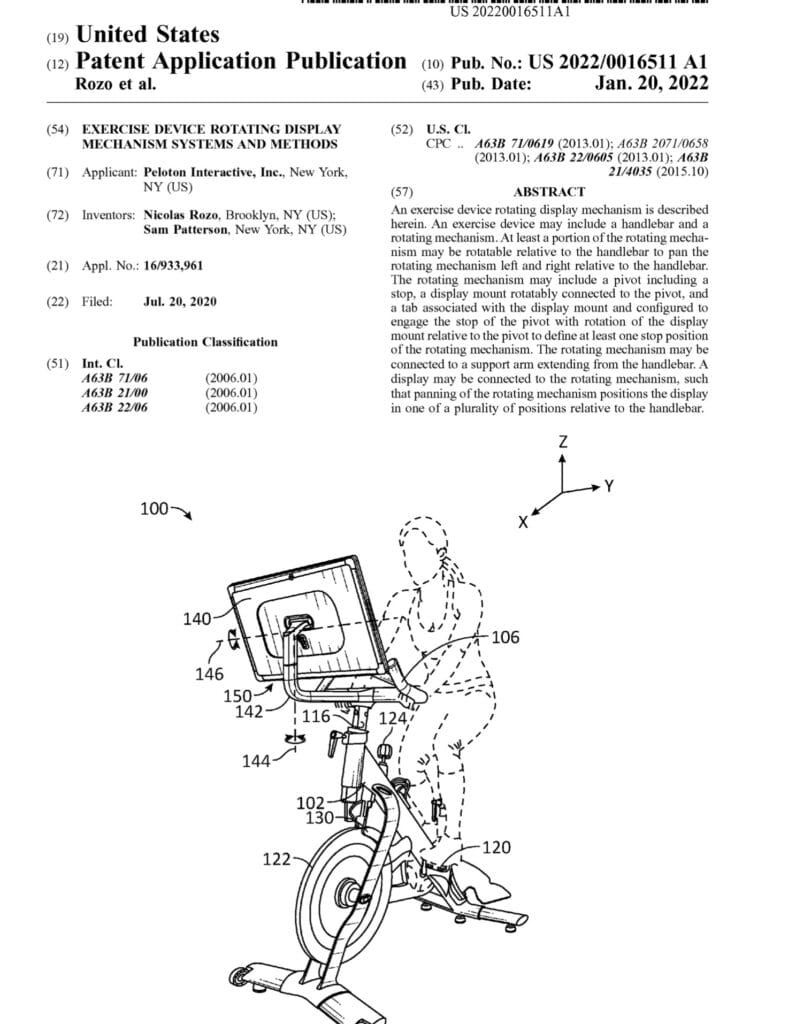 The abstract fairly clearly describes what this one covers – "an exercise device rotating display mechanism", and mentions how it might be rotatable relative to the handlebars – and how it might have a screen attached to it.
This patent would cover the new rotating screen that is found on the Peloton Bike+, which was announced on September 8, 2020. One of the key new features that differentiated the Bike+ from the original Bike was the rotating screen.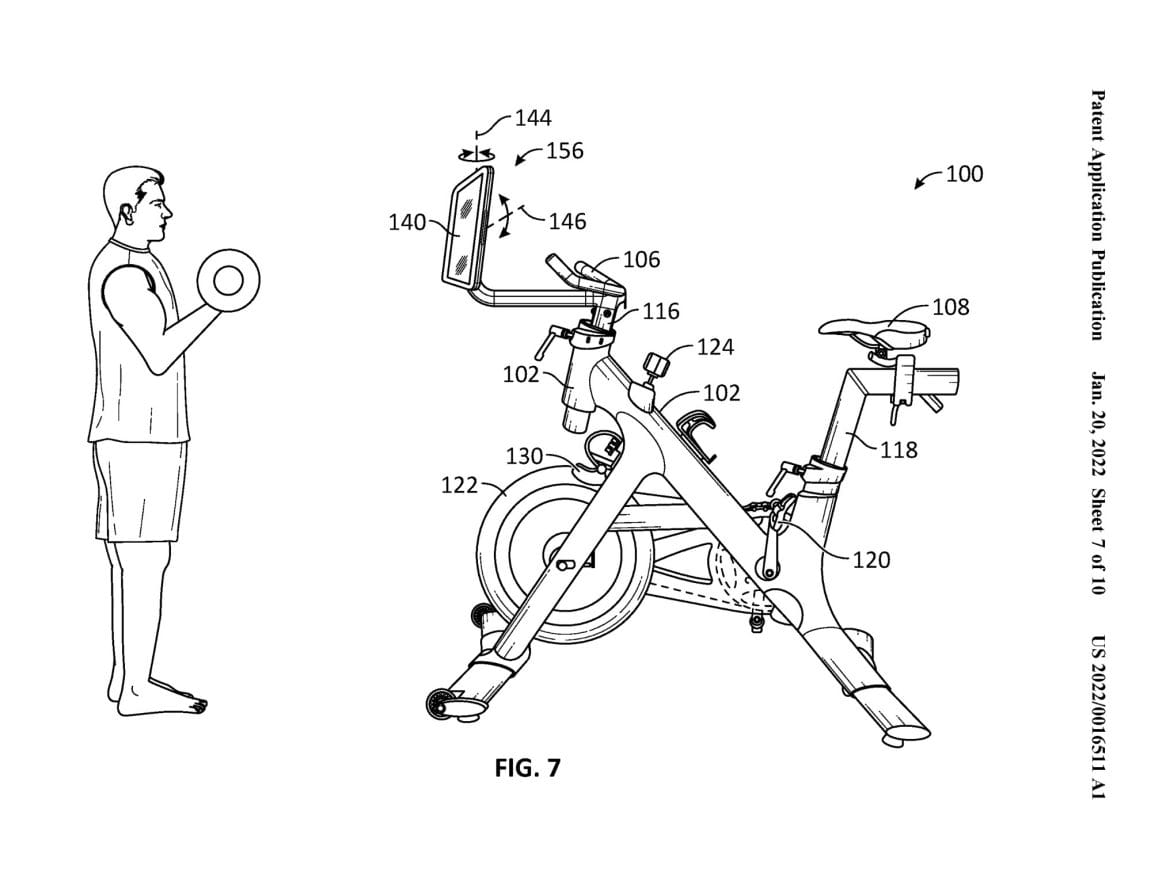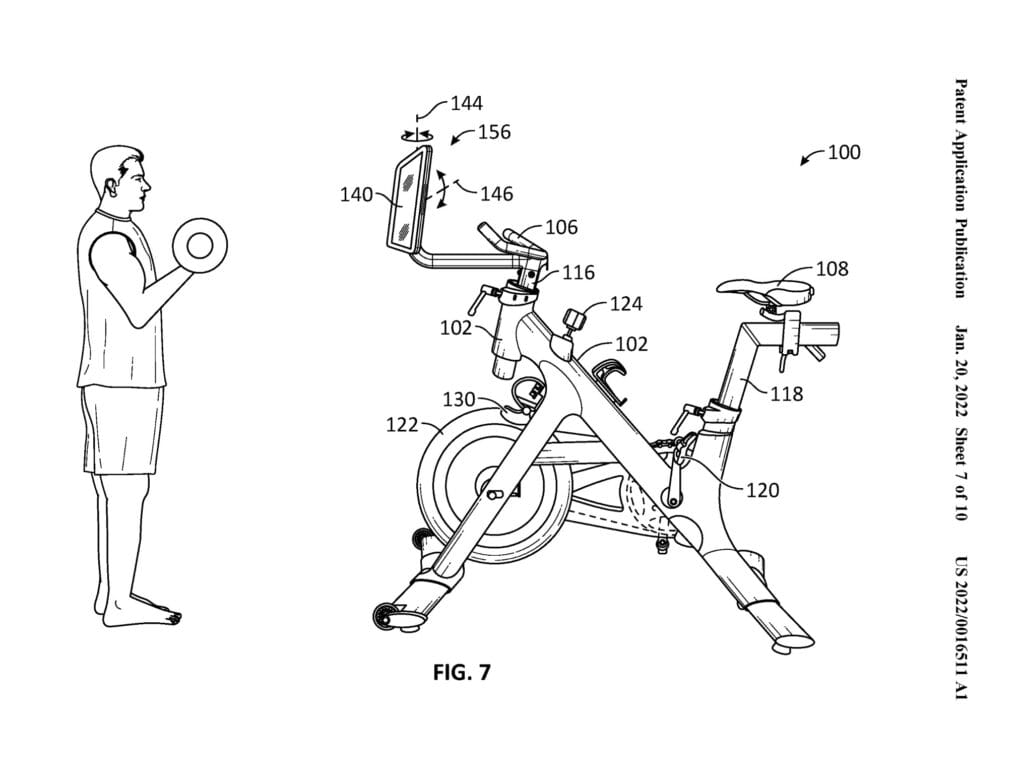 It's not yet clear whether this patent would cause issues for any of the startups who have created accessories that allow you to add the rotate & swivel functionality to the original Bike – like the 3rd party "Pivot" accessory by Top Form Design which we've reviewed here.
The second patent Peloton applied for is titled "Athletic Footwear and Cleat Systems and Methods". It was applied for on July 14, 2020, and also published on January 20, 2022. This patent has the number US 2022/0015504 – with the inventors being Nigel Alcorn, and Jason Poure, both working for Peloton.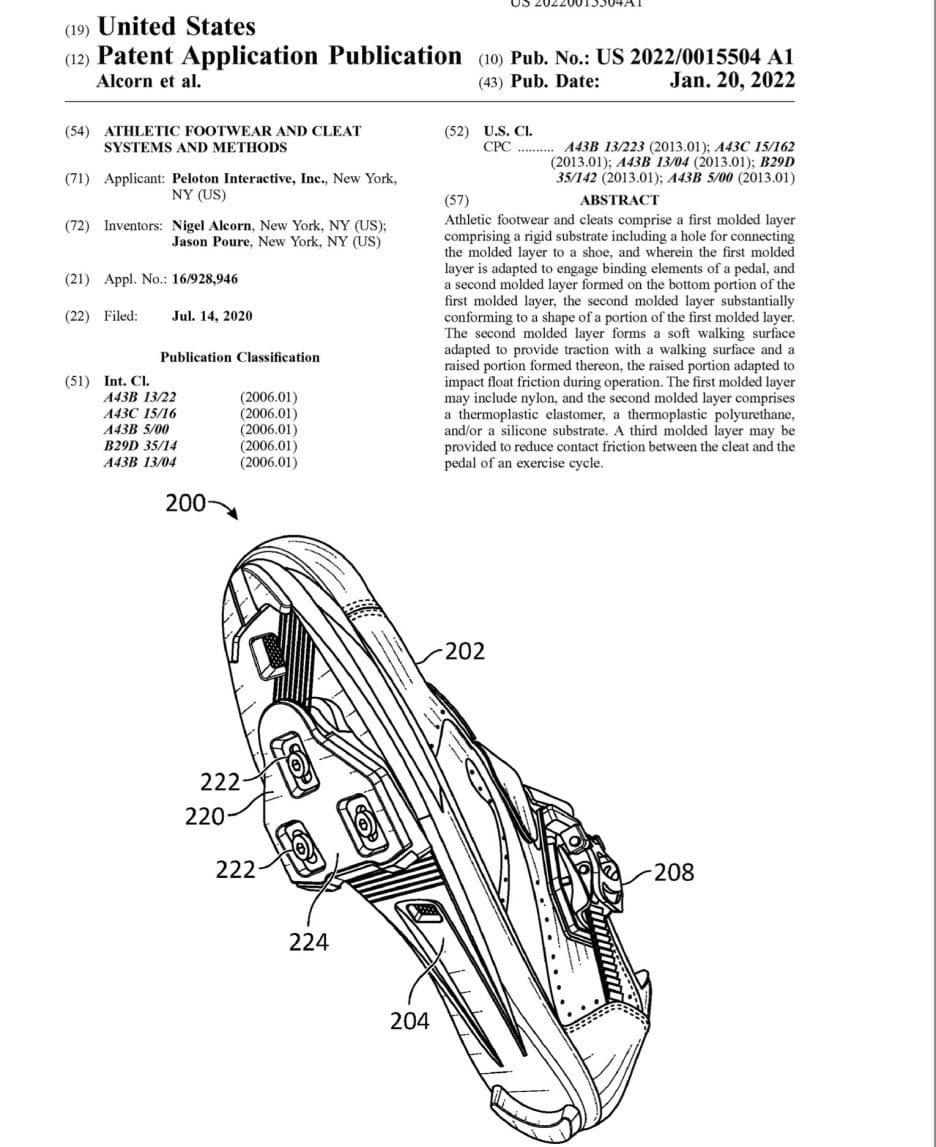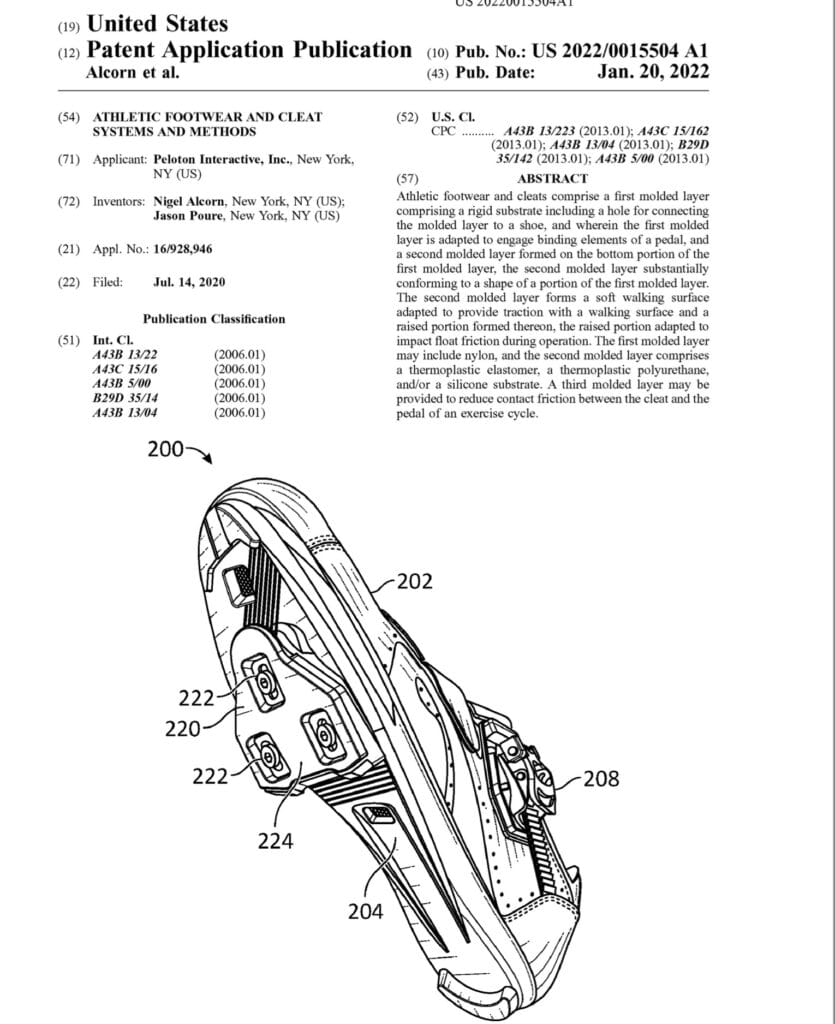 For this patent, Peloton specifically highlights that it is related to "improved cleats for use with athletic footwear and exercise equipment"
This patent goes deep into the manufacturing process of cleats, however, one thing it seems to highlight is the desire to make cleats & shoes easier to walk in when not actively on the bike. It highlight components that are "used to establish low friction contact areas to prevent squeaking and provide the user with a comfortable float during use and may comprise Teflon or other suitable low friction material"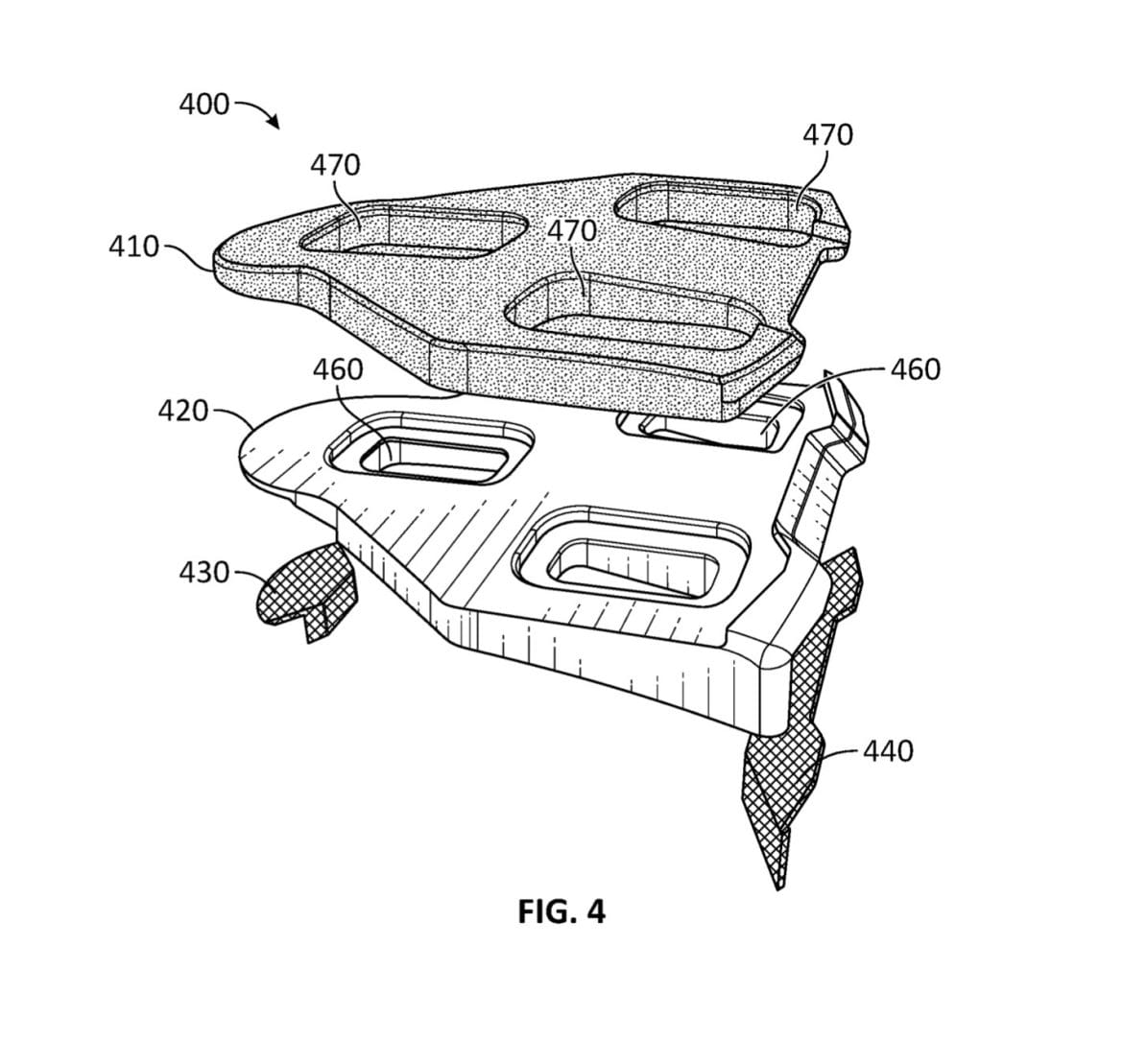 The patent mentions that "there is a continued need for improved cycling shoes and cleats, including solutions that maintain or improve pedaling comfort and efficiency, while facilitating walking activity in between cycling activity".
Peloton recently released the brand new Peloton Altos cycling shoes, so it's likely these shoes contain some these new inventions.
However, even though the patent is designed to make walking easier in between cycling activities – the user manual for the Altos cycling shoes (PDF) is accompanied with a warning specifically saying not to walk in them.
The manual states:
CAUTION: Do not attempt to walk in cycling shoes with cleats. Wear cycling shoes only while using the Peloton Bike/Bike+ and remove them immediately after clipping out. Walking on cleats may cause you to fall or twist your ankle, or otherwise result in serious injury.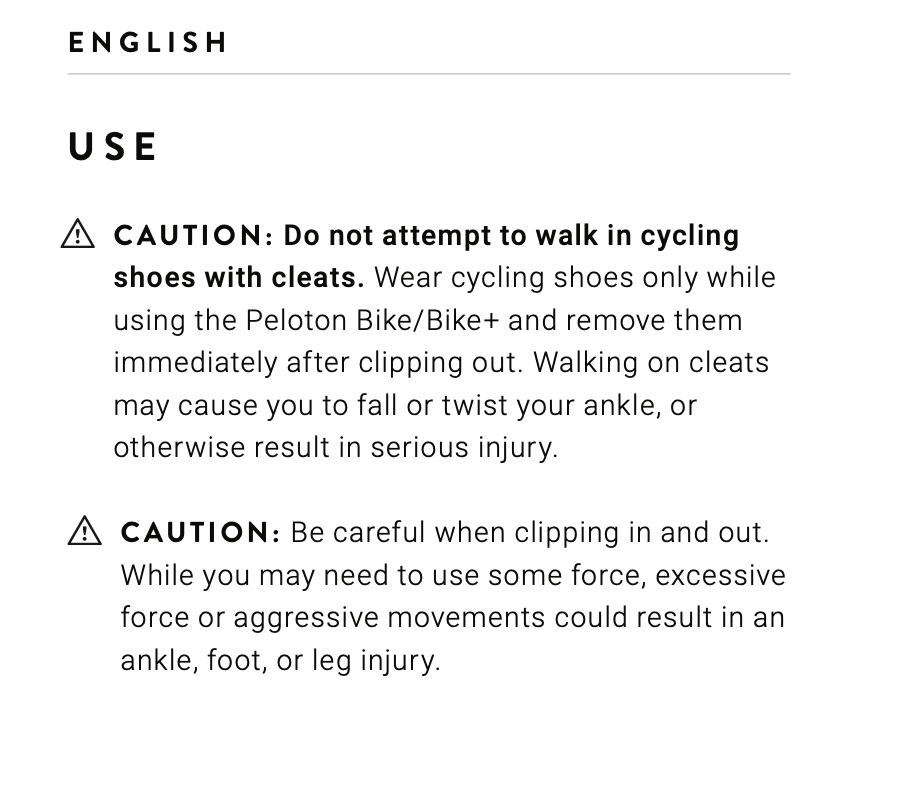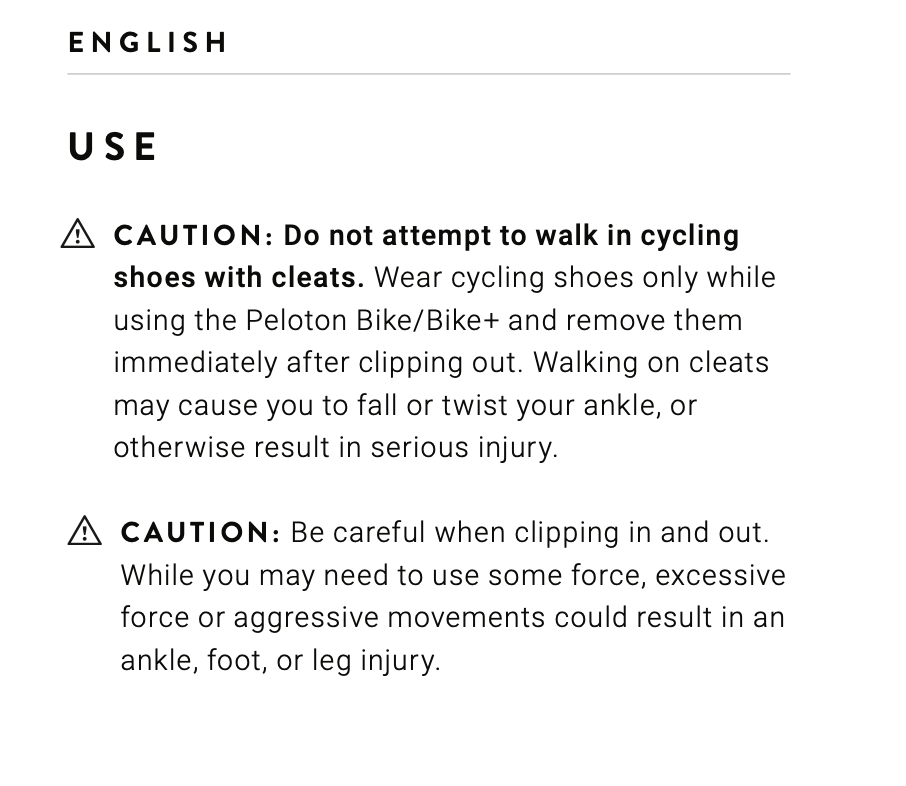 ---
Want to be sure to never miss any Peloton news? Sign up for our newsletter and get all the latest Peloton updates & Peloton rumors sent directly to your inbox.