This morning Peloton announced that they are teaming up with Beyoncé for a multi-year collaboration. Their new artist series specifically aims to create a campus homecoming feeling (note that this is different than Peloton Homecoming):
[It] commemorates Homecoming season, an annual fall celebration for students at Historically Black Colleges and Universities (HBCUs) that honors tradition and legacy. As most Homecoming festivities shifted to virtual celebrations due to the global pandemic, we worked closely with Beyoncé to create a series of themed workout experiences to help extend Homecoming to Peloton Members via classes across multiple fitness categories, including indoor cycling, running, strength, bootcamp, yoga and meditation.
Peloton has announced 7 workouts as part of the Beyoncé artist series of classes, which you can find listed here, or in the image below – the first of which was the special 2-for-1 ride (find other classes with more than one instructor here) with Alex Toussaint and Tunde Oyeneyin that Peloton has been teasing the past few days.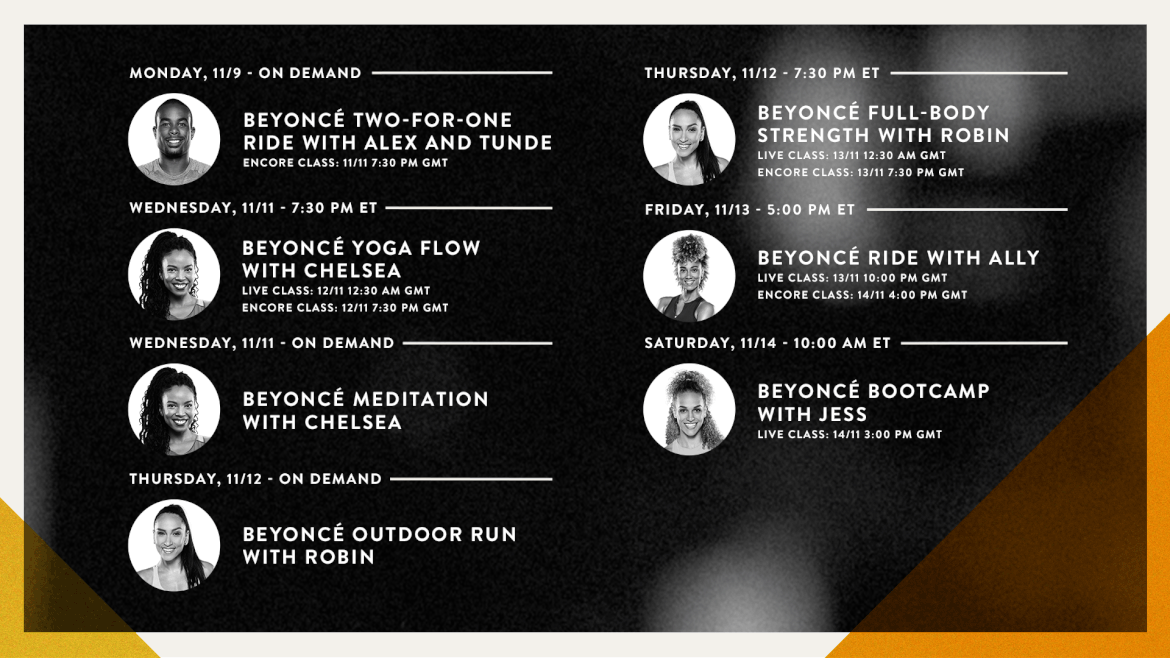 In addition to the artist series, Peloton announced that they will be gifting 2 years worth of Peloton digital memberships to students at 10 different Historically Black Colleges and Universities (HBCUs). They also plan to build partnerships with each of the schools, to "pursue long-term recruiting partnerships at the internship and undergraduate levels." The 10 HBCUs who Peloton will be partnering with are:
Bennett College
Clark Atlanta University
Grambling State University
Hampton University
Howard University
Morehouse College
Morehouse School of Medicine
Spelman College
Texas Southern University
Wilberforce University
Beyoncé had the following to say about the partnership:
"Peloton and I both believe that the power of music can help uplift, motivate and inspire those on their fitness journeys," said Beyoncé. "I've been a Peloton member for several years, and I'm excited to partner with a company that helps people, young and old, be the best versions of themselves, in an innovative and adaptable way. I'm proud to celebrate the students at HBCUs with this donation, to encourage them to find and embrace their own wellness regimens."