This morning, Peloton has added a brand new class type called "5K Pace Setter". These are outdoor audio classes, and are designed for you to use as you run a 5K – and you'll earn a Peloton badge as well. The coaches will be guiding you throughout the 5K. Each half mile the coach will check in, to help you ensure you hit your goal pace (based on whichever pace class you selected).
There are a number of different pace ranges available for the new 5K Pace Setter classes. Currently, the quickest pace class available is a 8 min / mile class, while the slowest class is a 13 min / mile class – with other classes available in between. Peloton has also created a new "5K Pace Setter" collection.
The class structure is the same for each of these. There is no countdown warmup/intro – the class immediately starts. The first minute is the intro, giving you a quick overview, and reminding you to warmup. The last 5 seconds of the first minute, the coach counts you down to the start of the 5K – recommending you pause the class if you aren't at the start line for your 5K.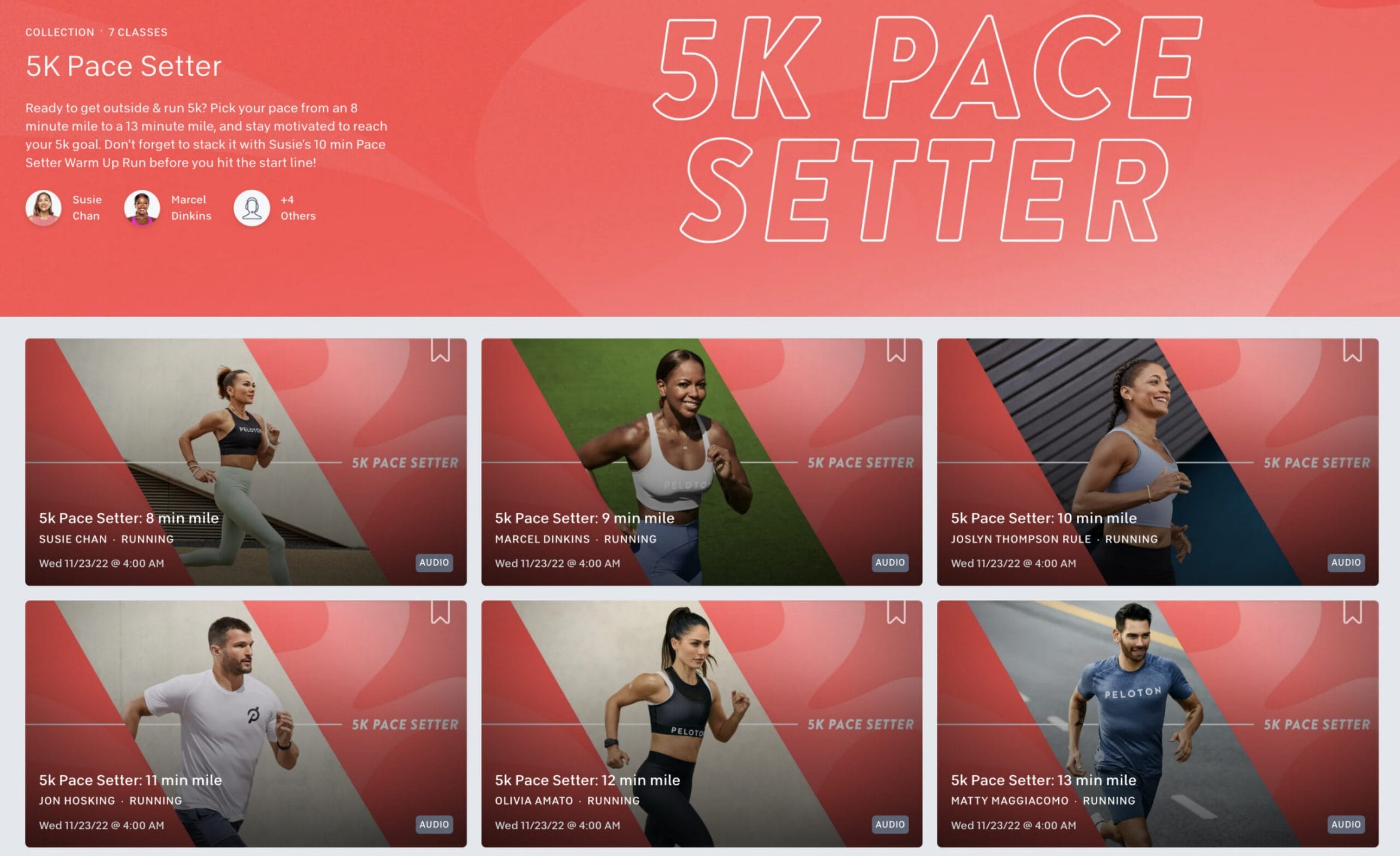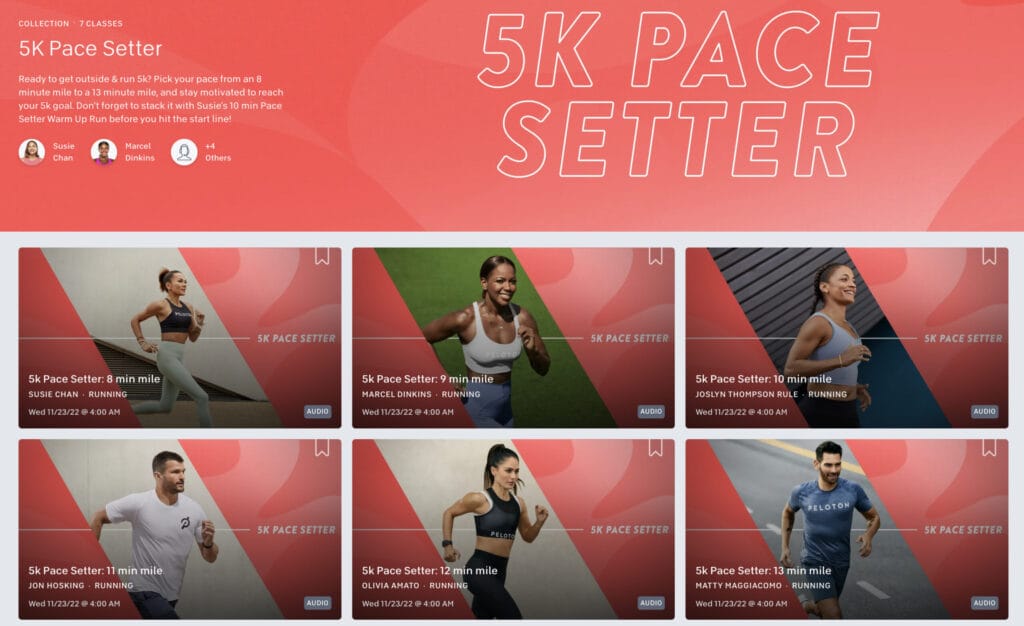 The description for the 5K Pace Setter Collection describes the classes as:
Ready to get outside & run 5k? Pick your pace from an 8 minute mile to a 13 minute mile, and stay motivated to reach your 5k goal. Don't forget to stack it with Susie's 10 min Pace Setter Warm Up Run before you hit the start line!
While most Peloton classes fit into an exact length (20 min, 30 min, 45 min etc), each of these classes are a unique length, to fit the appropriate pace target. For example, the 8 min/mile class is 28 min long – with the 5K portion of that class expected to take around 24 min and 51 seconds. The longest of the classes is the 13 min/mile class, which is a 42 minute class (with the 5K portion being 40 min and 23 seconds).
There is also a new 10 min Warm Up 5K Pace Setter class – which each of the other classes recommend you take at the beginning.
Below is a list of the currently available 5K Pace Setter classes.
List of Peloton 5K Pace Setter Classes (Outdoor Audio)
These new 5K Pace Setter Classes do earn a special Peloton Badge. They have been added to our complete list of Peloton badges here. The one thing to note is that the 10 min Pace Setter warm up class does not earn a badge – only the full 5K length classes.
Unfortunately for anyone using iOS 16 with an Apple iPhone – you will not be able to preload / download these classes. There is still a bug preventing preloading of classes that is not yet fixed. This means you'll need a good internet connection the entire time you are outdoors.
Will you be trying one of the classes?
---
Want to be sure to never miss any Peloton news? Sign up for our newsletter and get all the latest Peloton updates & Peloton rumors sent directly to your inbox.