Peloton's completed class checkmark feature that was temporarily disabled during AFO weekend appears to still not be fully working for some members, despite Peloton's Status page reporting the incident as resolved on August 29th. We've gotten multiple messages from members reporting that not every class is showing as completed.
For members having the issue, random classes that they have taken will not have the completed checkmark shown when browsing the on-demand Peloton library. There appears to be no pattern for which completed classes may or may not have the checkbox showing. Making the issue more unique is that some classes will have the completed checkmark one day, but overnight it will disappear and no longer appear to be completed the next day. This issue impacts not just the checkmark showing up, but also whether the class shows up when the "Taken" filter is toggled.
Multiple instructor groups run challenges to try and complete all the classes by that coach in a certain time period. We've heard reports that one day a member might have 80 classes left by a certain coach, but overnight, 20 classes get the checkmark removed and they wake up with 100 classes left to take. Some members have tried retaking some of the classes, but the checkmark still does not reappear and they do not show up when filtering with the "Taken" filter in the library.
One side effect of this issue is with how the indicator of how many friends have taken a class is being shown. If the checkmark is appearing on a class, the friend indicator should be correct. Then, if you have taken a class but the checkmark is not appearing as it should be – you will likely see a "1" listed for how many friends have taken the class – even if many more have.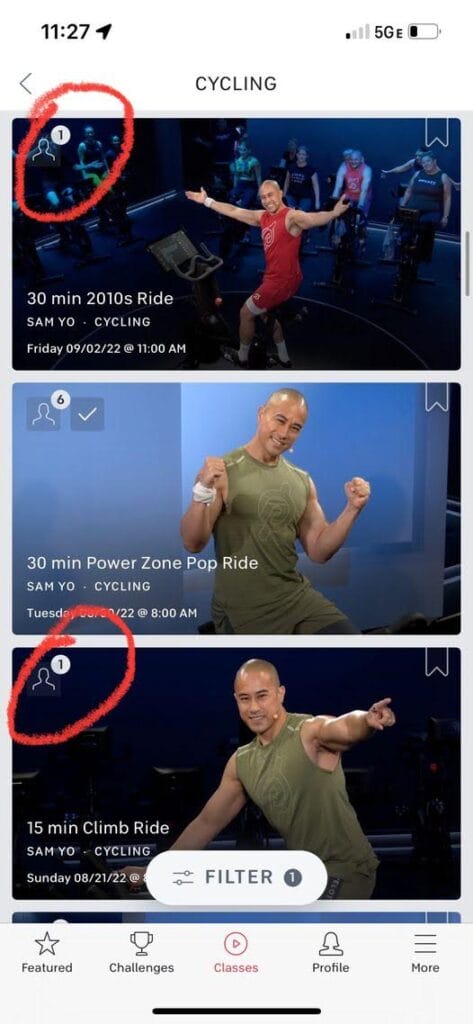 In the example above, the member has taken all 3 classes shown. However, only one has the completed checkmark on them – and the other two classes indicate only one friend has taken the classes. Thanks to #RideAniRide for sharing this screenshot.
Numerous Peloton members have reported the issue directly to Peloton support, as well as reaching out to Peloton via the Official Peloton Member Page on Facebook. At time of publishing, there hasn't been a reliable solution found & shared.
Peloton Support replied in one thread that "We recommend restarting the touchscreen to resolve this issue". The member then explains to Peloton that this is an issue within the app and the touchscreen, and is not a touch screen problem, to which Peloton support replies that the member should contact the Peloton support team to troubleshoot and work towards resolving the problem.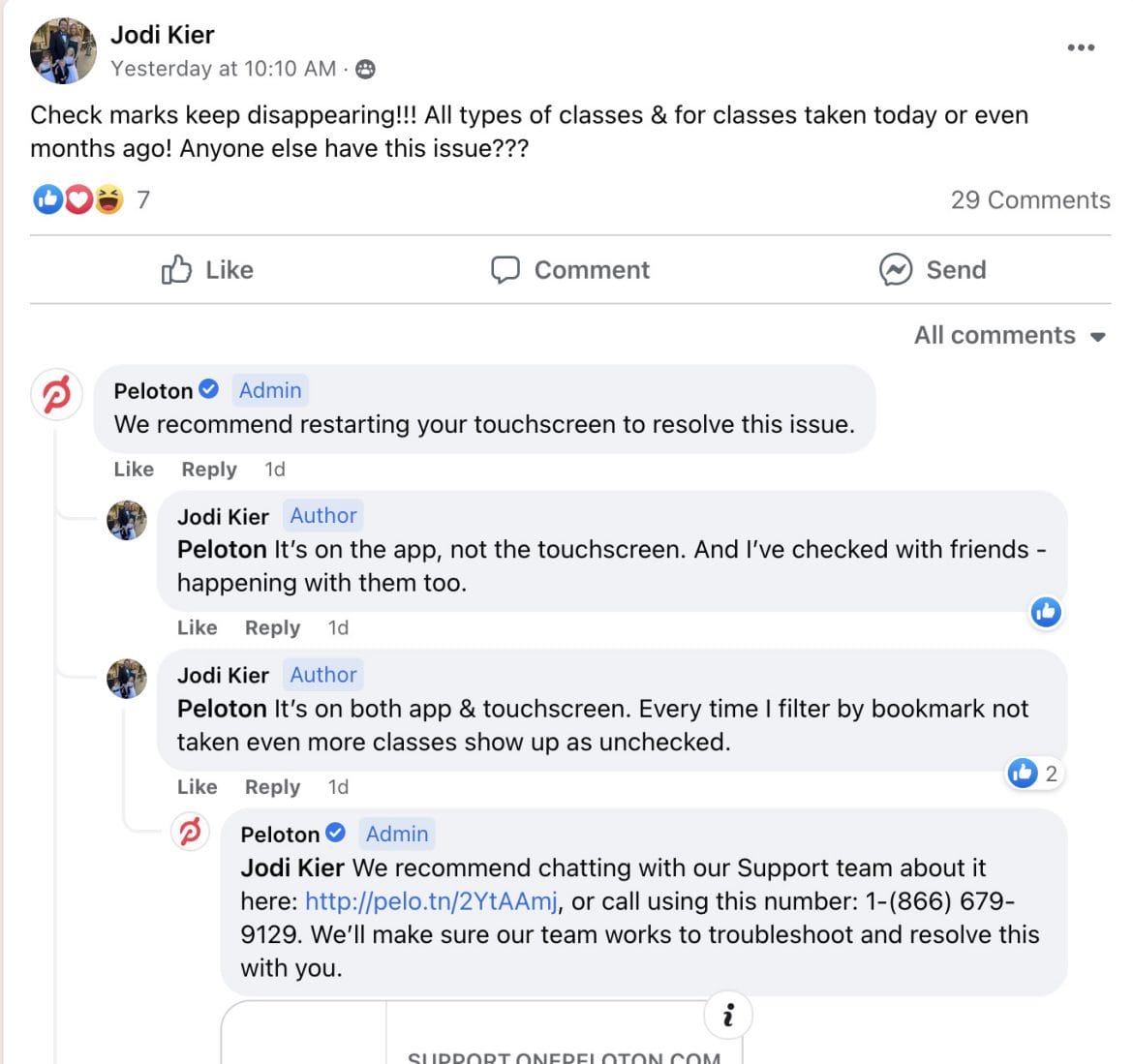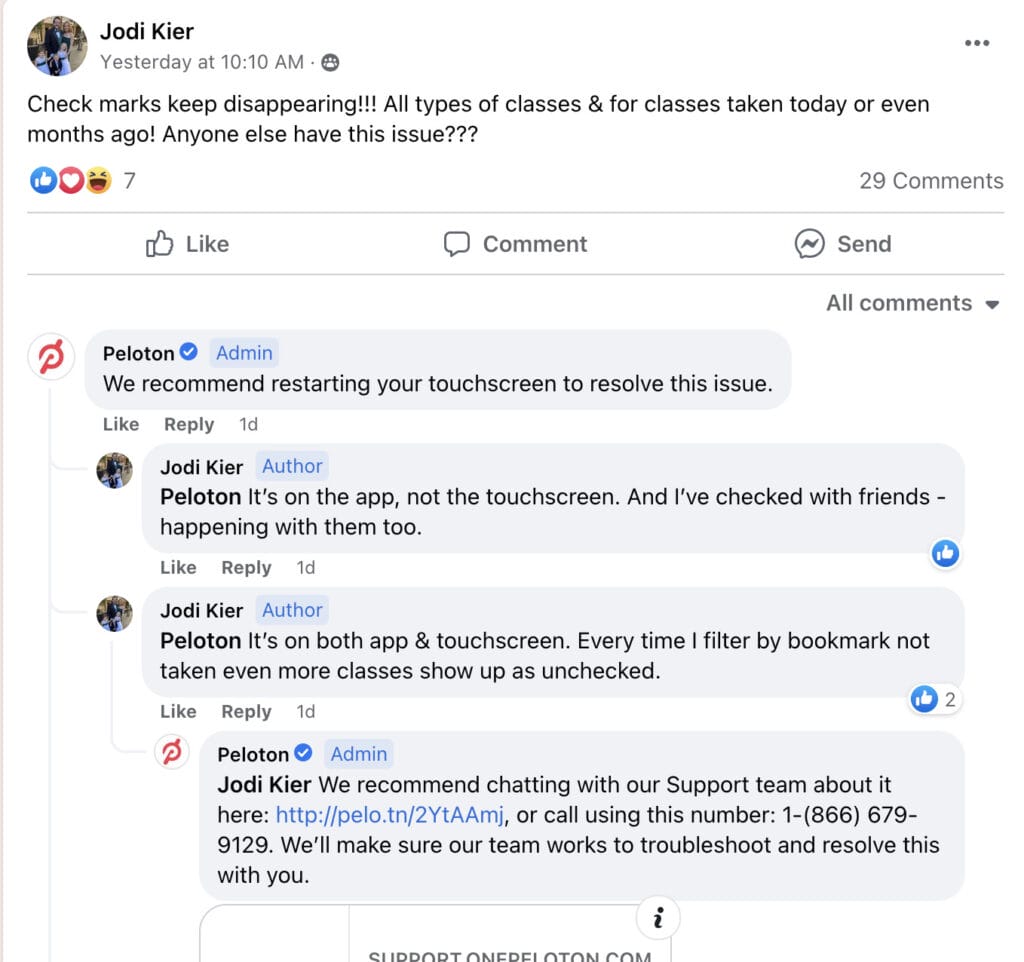 Let us know if you have noticed this issue as well, or if your bookmarks and are back to normal and accurately keeping track of your workouts.
---
Want to be sure to never miss any Peloton news? Sign up for our newsletter and get all the latest Peloton updates & Peloton rumors sent directly to your inbox.