Peloton has updated their terms of service as of May 9, 2023. Members may have noticed a pop-up on their device or app, or a new email in their inbox informing them of the update.
There are two major updates from the previous terms of service. However, please note that this article does not include every change and this overview should not be considered legal advice – we are not lawyers. Peloton users should read the full terms before accepting them.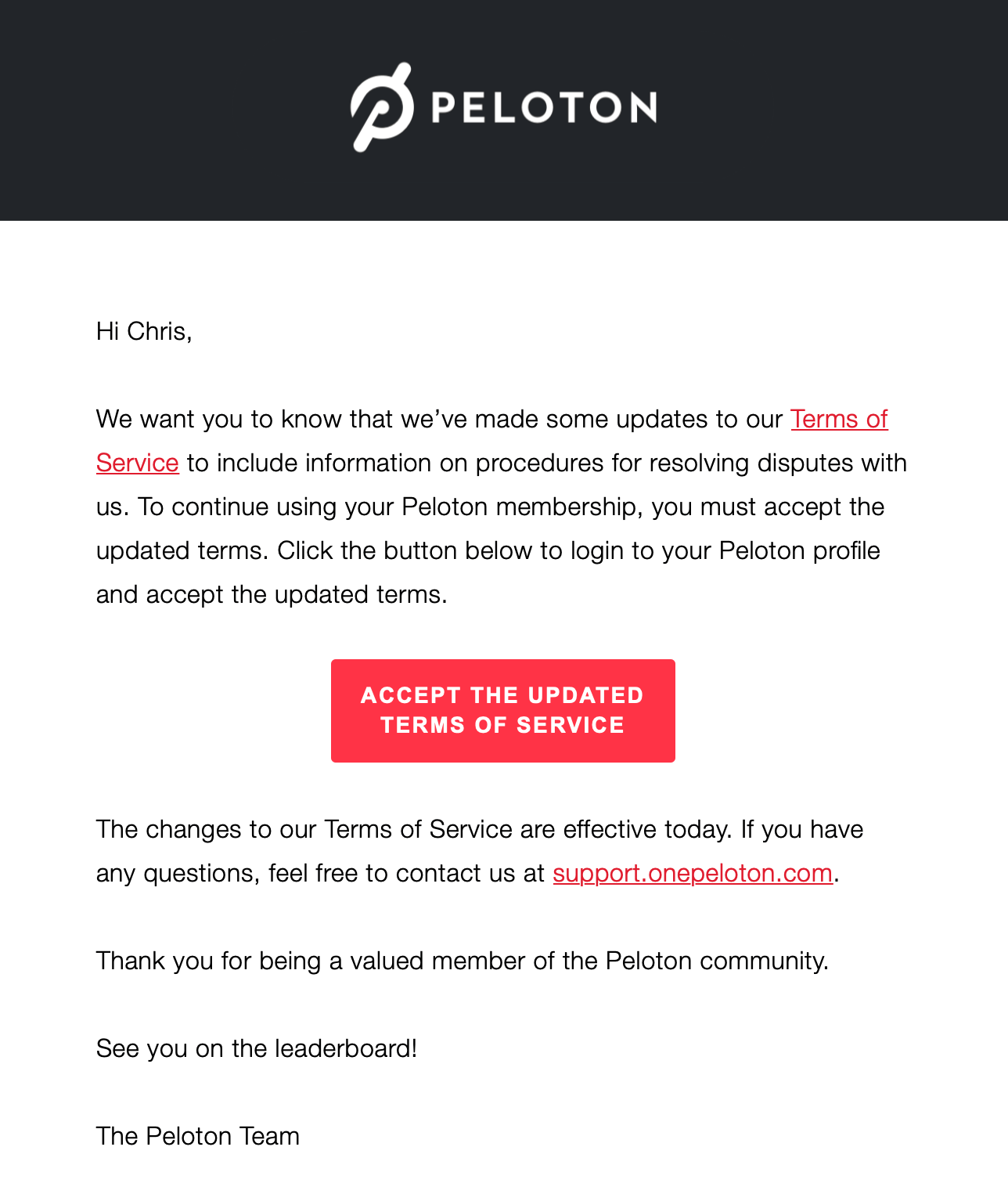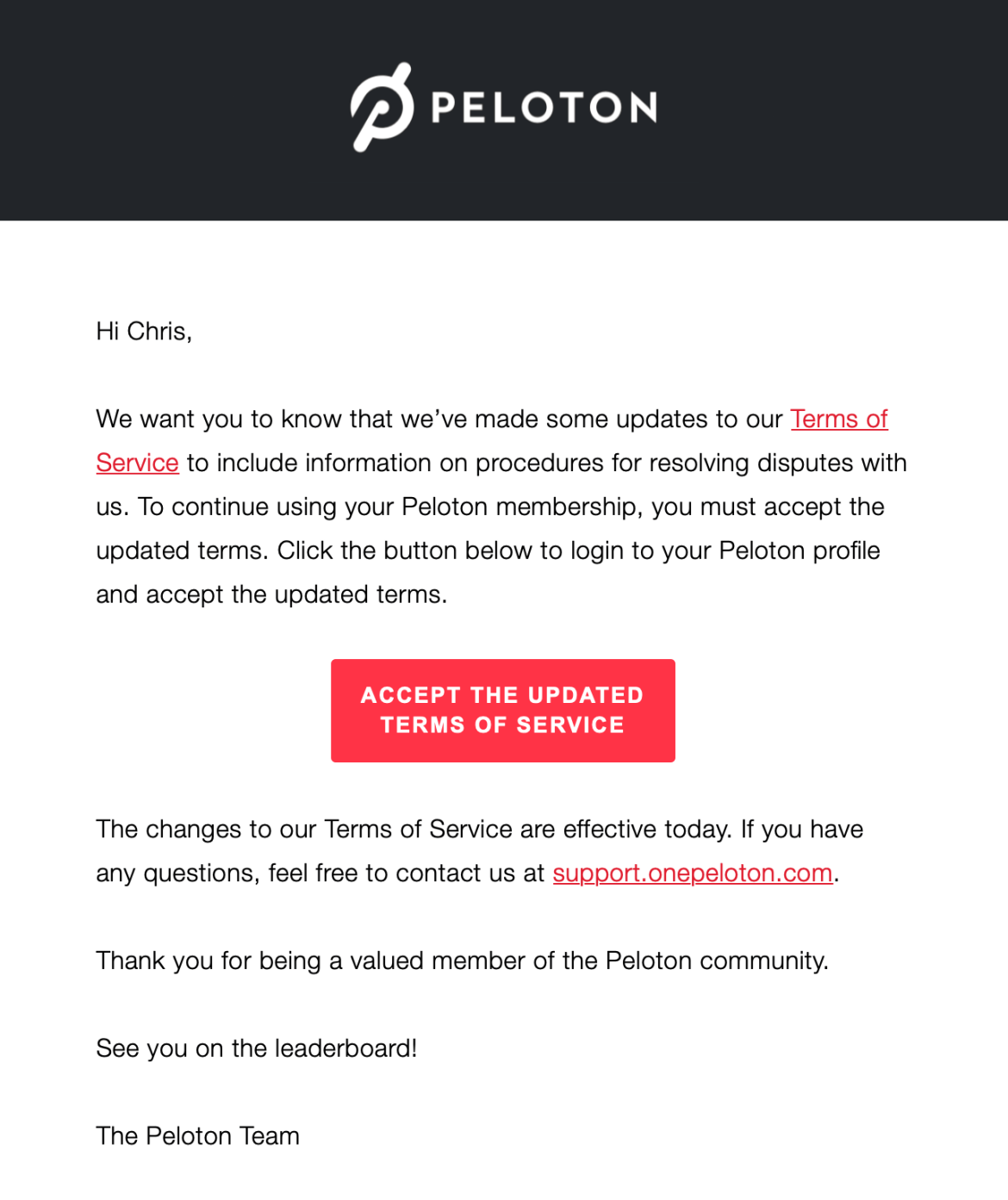 First, two mentions of the Tread+ have been added back into the terms. The Tread+ is Peloton's original treadmill device. It has not been available for sale since 2021 due to a U.S. Consumer Product Safety Commission (CPSC) recall.
The previous version of the terms stated: "Peloton Tread: Individuals 16 years of age and older who meet Tread user criteria may use the Tread."
The updated terms explicitly mention the Tread+ again, stating: "Peloton Tread and Tread+: Individuals 16 years of age and older who meet Tread user criteria may use the Tread or Tread+."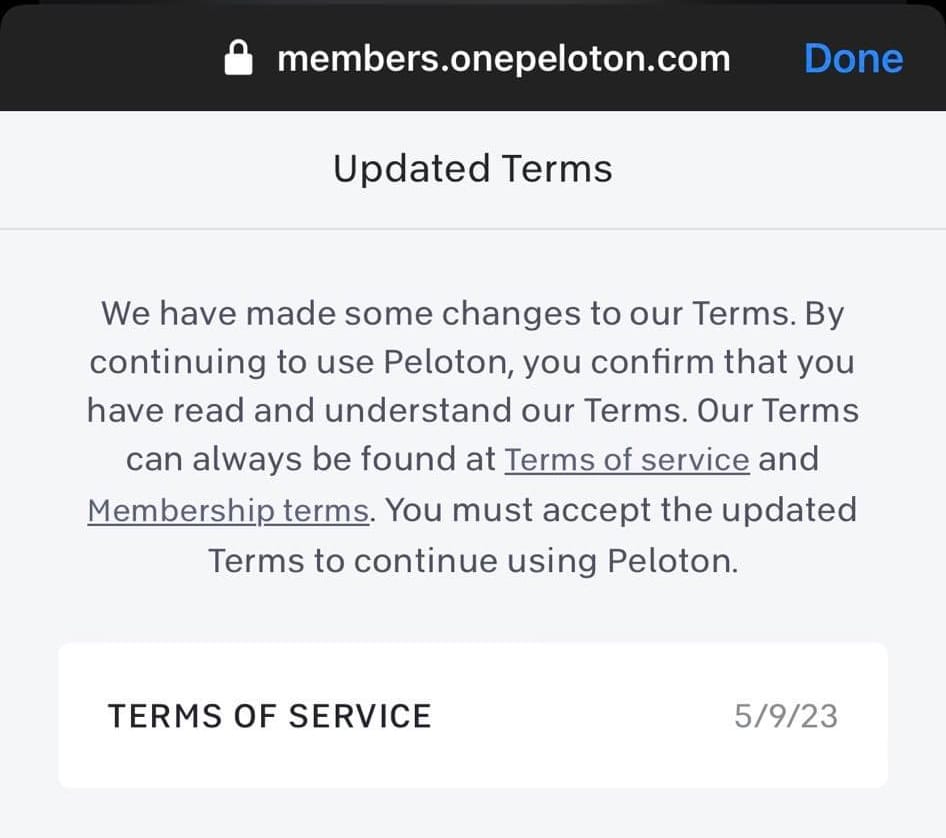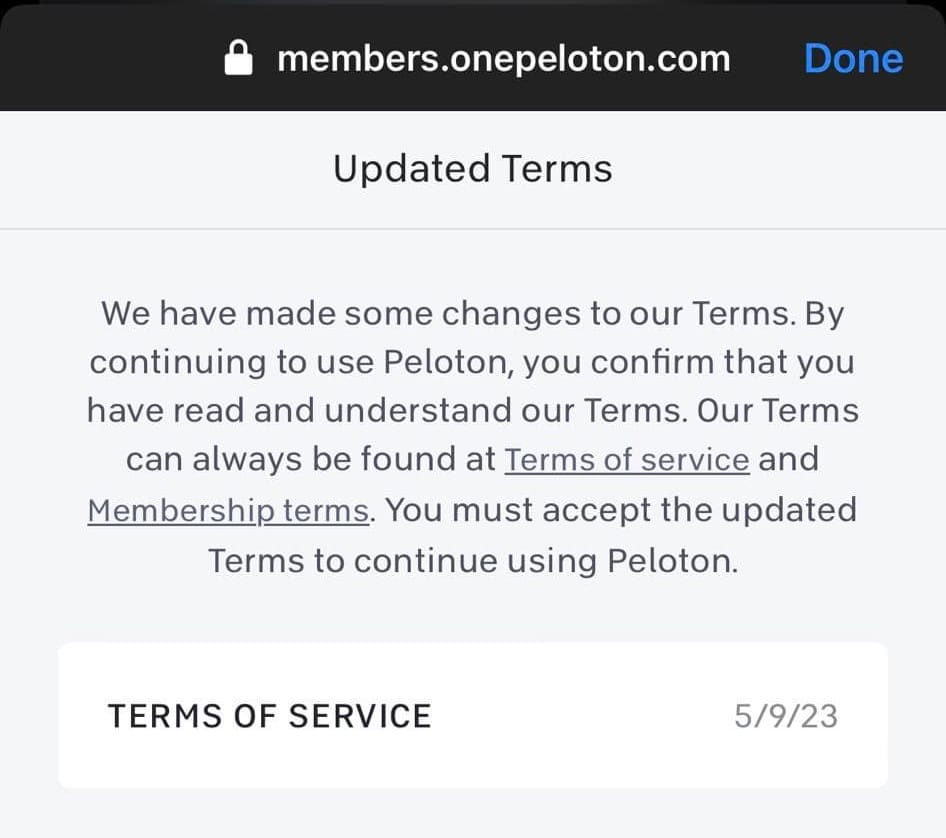 In addition, the link for Limited Home Use Warranty information has been altered to include reference to the Tread+.
Second, Peloton has updated the language around their arbitration and class action terms.
The previous terms stated that arbitration would be handled by JAMS, an independent company that provides mediation and arbitration services. According to the new terms, arbitration will be handled by NAM (National Arbitration and Mediation):
Any arbitration must be initiated with and conducted by National Arbitration & Mediation ("NAM") pursuant to its Comprehensive Dispute Resolution Rules and Procedures and/or its Mass Filing Supplemental Dispute Resolution Rules and Procedures (together, the "NAM Rules"), except as modified by these Terms. The NAM Rules are available at www.NAMADR.org, by calling NAM at 1-800-358-2550. In any instance where the applicable NAM Rules and these Terms are inconsistent, these Terms shall control.
In addition, the new terms contain new language, which was not in the previous version of the terms & conditions, that explicitly disallows either party from participating in mass arbitration:
Mass Filing Procedures. YOU AND PELOTON AGREE THAT, TO THE FULLEST EXTENT PERMITTED BY LAW, EACH OF US IS WAIVING THE RIGHT TO BRING OR PARTICIPATE IN A MASS ARBITRATION.
It then goes on to note that claims will be batched together in groups of 50, with each batch being able to take up to 120 days for the arbitrator to resolve.
Peloton's receipt of one or more Notice(s) of substantially similar claims brought by or on behalf of 25 or more claimants (including you) within a 60-day period ("Mass Filing") shall be subject to the additional procedures set forth below. Claims included in a Mass Filing, if not resolved during the Informal Dispute Resolution Period, may proceed only in accordance with the procedures set out below, and subject to the NAM Mass Filing Supplemental Dispute Resolution Rules and Procedures ("NAM Mass Filing Rules", available at https://www.namadr.com/resources/rules-fees-forms/") to the extent not contrary to these Terms. If a court determines that this Section 20.5 is not enforceable as to your claim, then your claim may only proceed individually in court consistent with these Terms.
There is more language related to the mass arbitration clause in the terms & conditions – we encourage members to read those sections if they are interested in the specifics.
Members must accept the new terms of service in order to continue using their Peloton accounts. Anyone with questions is instructed to contact Peloton via support.onepeloton.com.
The terms contain instructions on how to opt out of arbitration if you wish to do so.
The complete updated terms of service can be viewed via Peloton's website.
---
Want to be sure to never miss any Peloton news? Sign up for our newsletter and get all the latest Peloton updates & Peloton rumors sent directly to your inbox.