Peloton has announced that their next artist series will feature the music of rock band Linkin Park. They shared the news via Instagram:
Break all the bad habits and get ready to rock because @LinkinPark is here to blow our minds. Tune in starting Wed. Dec. 14 to rock out with @benjaminalldis, @mattwilpers, @tobiasheinze_de, @charlotti_w, @jermainejohnsonuk, @bradley_rose23, and @fitxkendall as we sweat to Linkin Park.
The series will launch on Wednesday, December 14 and will include seven classes across four modalities in both English and German. You can view the complete class list below:
Linkin Park Peloton Classes & Schedule & Workouts – Featured Artist Series
20 min. Linkin Park Upper Body Strength – Ben Alldis – 12/14/22 @ 6:30am ET
20 min. Linkin Park Row – Matt Wilpers – 12/14/22 @ 10:00am ET [On-Deamnd]
30 min. Linkin Park Run [German] – Tobias Heinze – 12/14/22 @ 12:00pm ET
45 min. Linkin Park Ride [German] – Charlotte Weidenbach – 12/14/22 @ 1:30pm ET
30 min. Linkin Park Run – Jermaine Johnson – 12/14/22 @ 2:00pm ET
10 min. Linkin Park Warm Up Ride – Bradley Rose – 12/14/22 @ 6:45pm ET [On-Demand Premiere]
30 min. Linkin Park Ride – Kendall Toole – 12/14/22 @ 7:00pm ET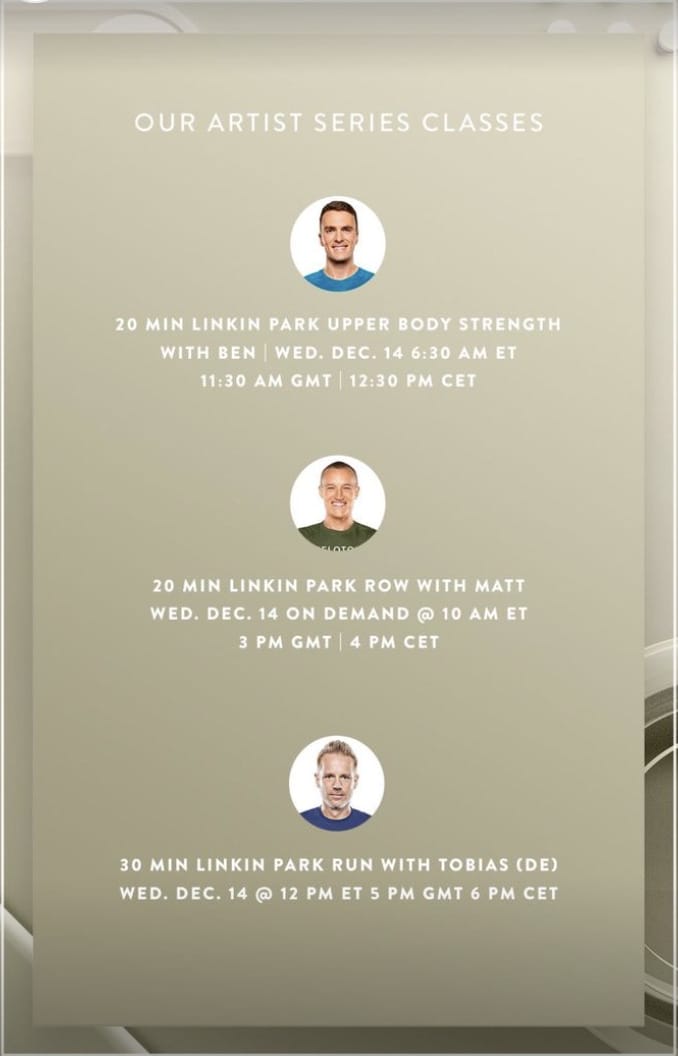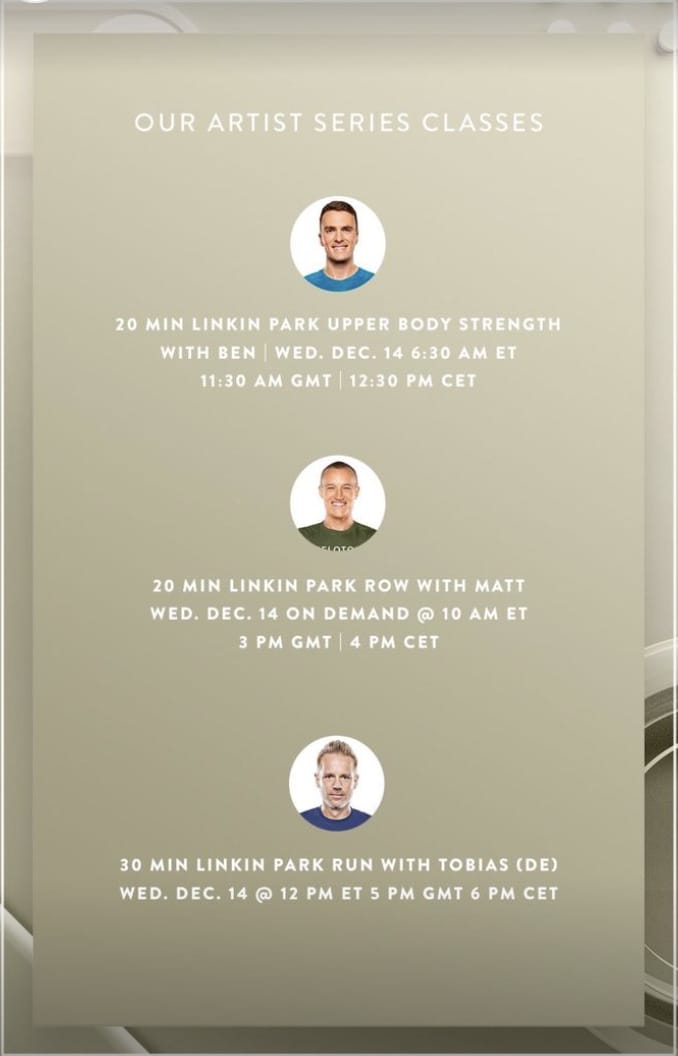 Note that Bradley's ride is a premiere class, which means that the class will drop on demand at the same time as its first-ever encore. You can read more about this new Peloton tag in our overview article.
Members can expect to earn an artist series badge for completing any of the Linkin Park classes. If you're looking to collect additional badges, be sure to check out the complete list of available badges in our guide.
You can also explore all of the previous Peloton artist series in our comprehensive artist series list.
Will you be opting into the Linkin Park artist series?
---
Want to be sure to never miss any Peloton news? Sign up for our newsletter and get all the latest Peloton updates & Peloton rumors sent directly to your inbox.