Emma Lovewell is headed to Austin, Texas to appear on a panel at SXSW (South by Southwest). Titled "Creating Safe Spaces: Self-Empowerment is a Team Sport", the panel will take place on March 16th, 2020 from 3:30pm – 4:30pm at the Four Seasons in Ballroom AB. The overview for the discussion that will occur is:
Sports allows us the opportunity to express ourselves, to succeed, to fail, to make progress. Yet we know that no individual feat happens in isolation. Teamwork makes the dream work, they say, but maybe it's not that simple? We celebrate the power of sports to unite, but even sports can fall prey to the culture of divisiveness, of our-team-versus-theirs, that draws fault lines through us. So what do we do to build a stronger, supportive community? None of us can rise to our full potential without safe spaces that foster true connection and belonging. Join this conversation about what creating safe space requires, from systemic changes to examinations of our own bias. Hear what each of us can do to include other voices at the table, share our joy, and as a result, discover our best selves.
Also appearing as panelists are Bonnie Bernstein, Thayer Lavielle, and Don McPherson.
Peloton previously appeared on a panel at SXSW in 2018. Brad Olsen, who was Head of Member Experience at the time for Peloton, appeared as a panelist for a talk titled "Fitness is More Fun with Friends".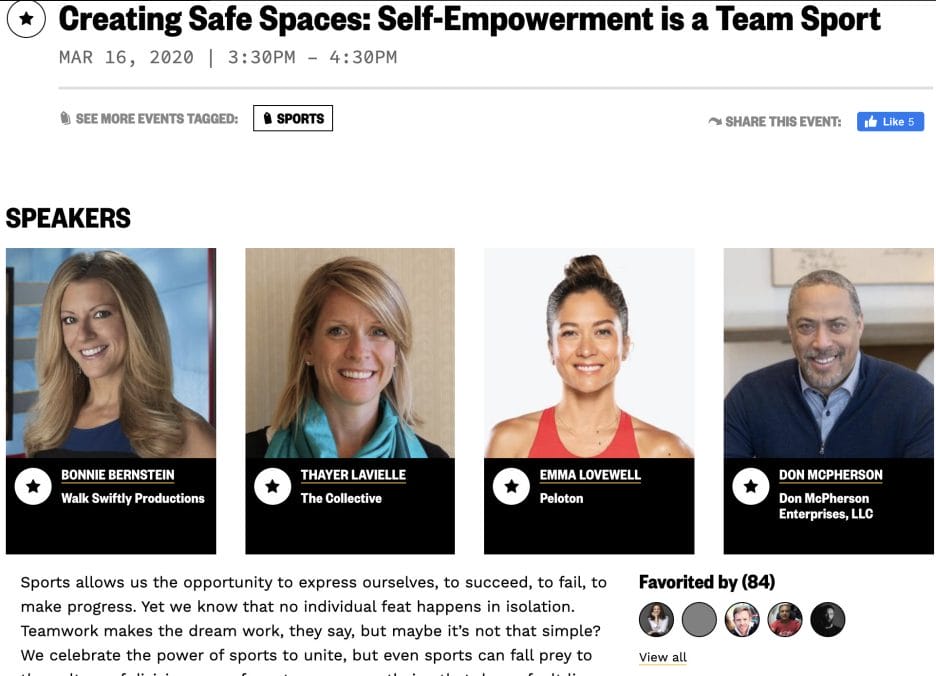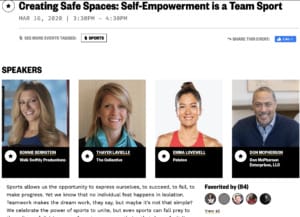 ---
Want to be sure to never miss any Peloton news? Sign up for our newsletter and get all the latest Peloton updates & Peloton rumors sent directly to your inbox.