Peloton has announced that their next artist series will feature the music of English rock band Duran Duran! Peloton shared the news via Instagram:
With their dynamic sound and iconic music videos Duran Duran (@duranduran) gave us timeless hits to sing and dance to. Join @susie_chan_, @mattwilpers, @tobiasheinze_de, @bradley_rose23, @iamicaniwillido, @jon_hosking, @andyspeer, and @kristinmcgee for this epic Artist Series.
The series will launch on Wednesday, January 11 and will include eight classes across five modalities. You can view the complete class list below:
Duran Duran Peloton Classes & Schedule & Workouts – Featured Artist Series
30 min. Duran Duran Run – Susie Chan – 1/11/23 @ 4:00am ET[On Demand]
20 min. Duran Duran Row – Matt Wilpers – 1/11/23 @ 10:00am ET [On Demand]
30 min. Duran Duran Run [German] – Tobias Heinze – 1/11/23 @ 12:00pm ET
30 min. Duran Duran Run – Jon Hosking – 1/11/23 @ 2:00pm ET
30 min. Duran Duran Ride – Bradley Rose – 1/11/23 @ 2:00pm ET
10 min. Duran Duran Cool Down Ride – Christine D'Ercole – 1/11/23 @ 2:35pm ET
30 min. Duran Duran Full Body Strength – Andy Speer – 1/11/23 @ 6:30pm ET
20 min. Duran Duran Yoga Flow – Kristin McGee – 1/11/23 @ 6:30pm ET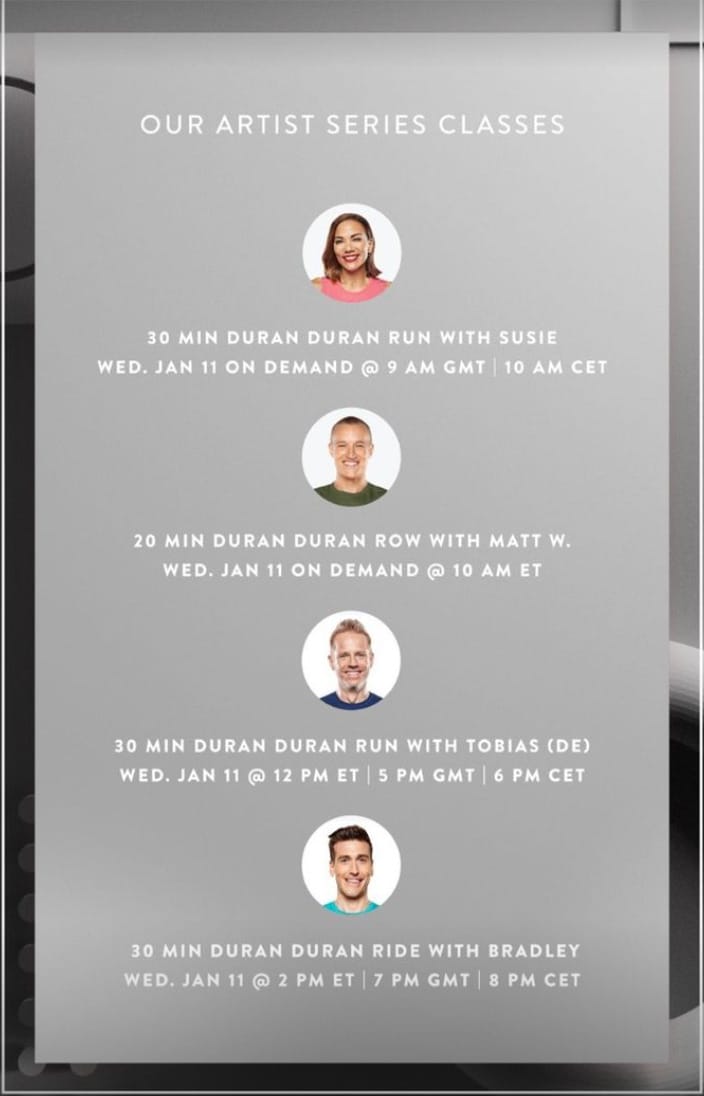 There will also be a new Lanebreak level released on Wednesday, January 18. The level will be called "Duran Duran Hits" and will be 30 minutes in length. This is the same day that the Charli XCX Lanebreak level will be released after last week's artist series. As a reminder, Lanebreak is only available on Bike and Bike+ devices.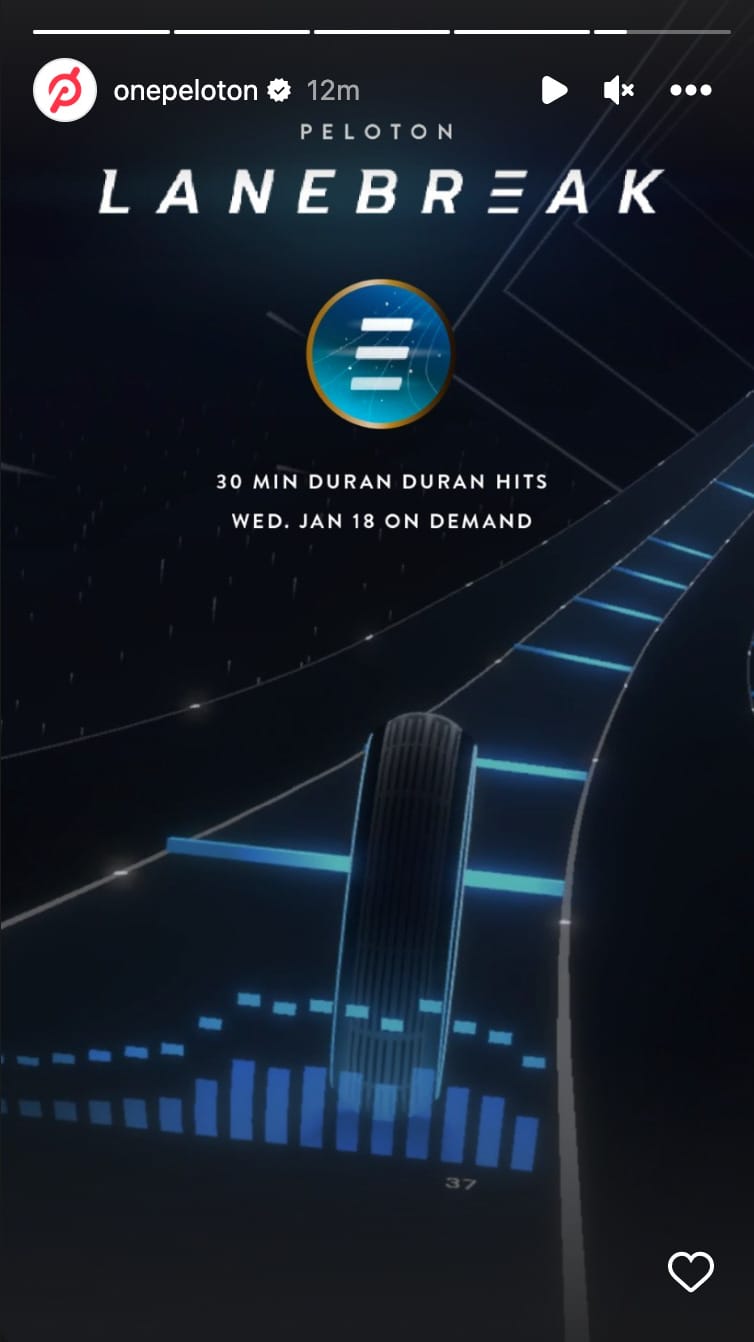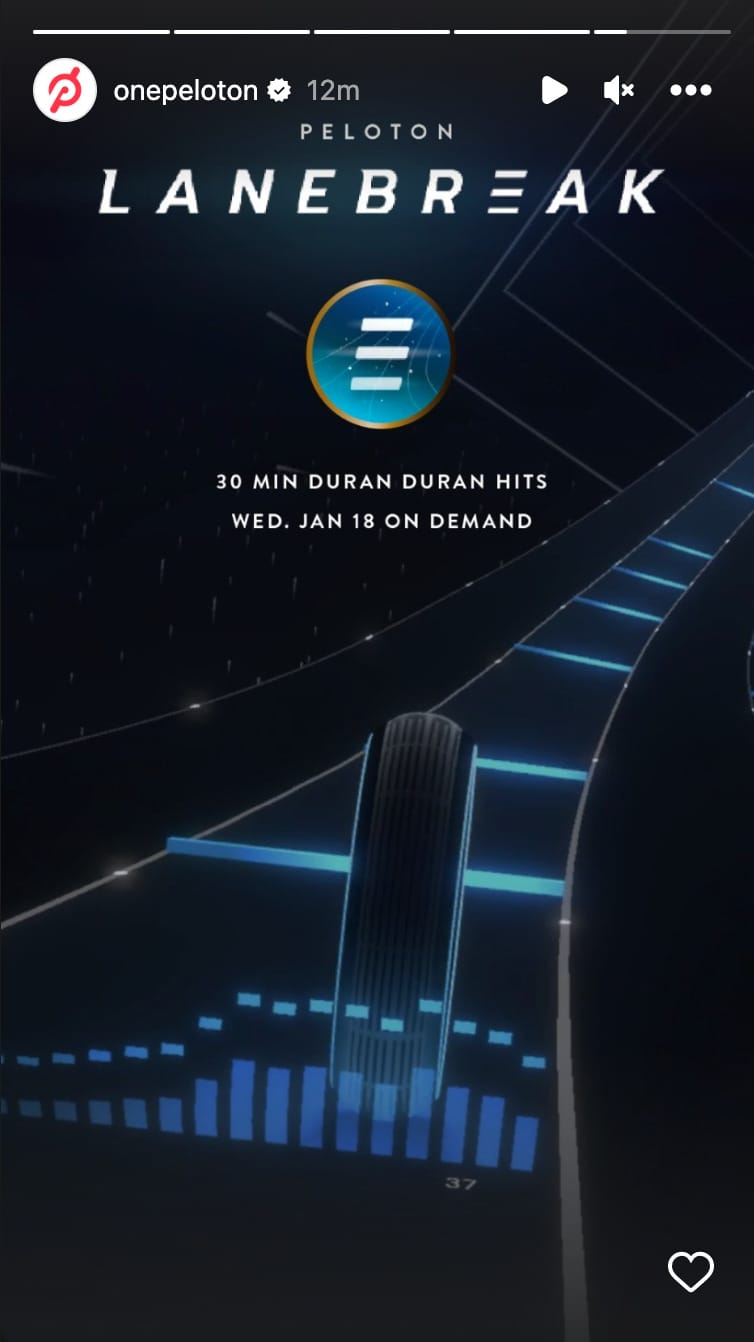 Tread instructor Jon Hosking lobbied for a Duran Duran artist series in one of his classes last summer, and he is thankfully included in the list of instructors this week!
Members will receive an artist series badge for completing any of the Duran Duran classes. If you're looking for additional badges, be sure to check out the complete list of available badges in our guide.
If you're interested in past Peloton artist series, you can always find the comprehensive list on our site.
Will you be opting into the Duran Duran artist series?
---
Want to be sure to never miss any Peloton news? Sign up for our newsletter and get all the latest Peloton updates & Peloton rumors sent directly to your inbox.