Are you looking for a way to round out your training on the bike by adding yoga to your workout schedule? Denis Morton is here to help.
Starting next week, Denis will start teaching a new series of "Reset Rides" that will help you approach your fitness with intention.  These workouts will feature a 45-minute cycling class, followed by a yoga class the next day.
"This is going to be our opportunity to hit the reset button together and make sure we aren't holding any tension without paying attention." -Denis Morton
The first Reset Series will start with a cycling class next Wednesday, February 3rd at 8:30 PM ET followed by a yoga class on Thursday, February 4th at 6 PM ET.

The rides should be similar in structure to Denis' Pride Ride or Afterburn rides. The yoga classes are meant to be approachable, and a good introduction to Peloton's yoga offerings. While the live classes will be separated by a day, they are designed so that you can go straight from the bike to the mat if you do the series on demand.
This is one of a number of new limited time special pop up collections Peloton has started adding over the last few months – including Emma Lovewell's "Listening Party", Cody Rigsby's "XOXO, Cody", "The Jess King Experience" and Ally Love's "Sundays with Love". Depending on the success of this, maybe the next program will be some dedicated bike to tread brick workouts for the Pelo-triathletes. Once the Peloton Rower is officially released, you could have an entire triathlon with the swim replaced by the row!
See you on the bike, and on the mat!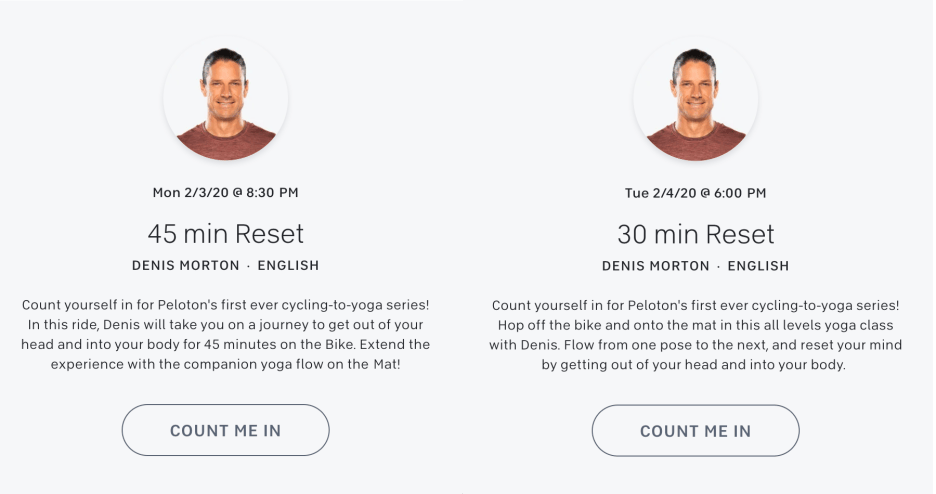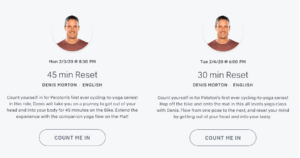 ---
Want to be sure to never miss any Peloton news? Sign up for our newsletter and get all the latest Peloton updates & Peloton rumors sent directly to your inbox.