Peloton has released version 12.5.0 of the Peloton Digital iOS app to enable Chromecast support. First available for Android Peloton Digital users last summer, this means that both iPhone and Android users can now cast their workouts from Peloton Digital to a big screen TV using a Google Chromecast device.
To start the Chromecast, start a workout on your iPhone or iPad as you normally would. Once the workout has started, click on the Chromecast/Airplay icon at the bottom right of the screen. Then, select the Chromecast device you want to cast to. Just make sure your iPhone or iPad and your Chromecast are connected to the same WiFi network and you should be good to go.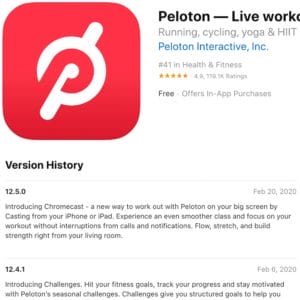 Full instructions and an FAQ are available in Peloton's Support Center.
Peloton is making a push to make Peloton Digital available for more devices and users. AppleTV support for Peloton Digital is rumored to be coming later this year, and one would expect that a Roku app might not be far behind that.
---
Want to be sure to never miss any Peloton news? Sign up for our newsletter and get all the latest Peloton updates & Peloton rumors sent directly to your inbox.