Peloton's Chief People Officer Shari Eaton has shared that she is leaving the company. She posted the news on her LinkedIn page, stating in part:
Thank you Barry McCarthy for believing in me and trusting me to work alongside you during this important transformational time. I will continue to be a passionate cheerleader, member, and shareholder of this company. I do not want my departure to call into question how much I believe in the power of this brand and the goodness it brings to 7 million members worldwide.
I'm excited to share about my next adventure and the opportunity to continue to make a positive impact shortly, but for now…headphones on, music up, and shoulders down, as I pedal out the last few miles. Together. We go far.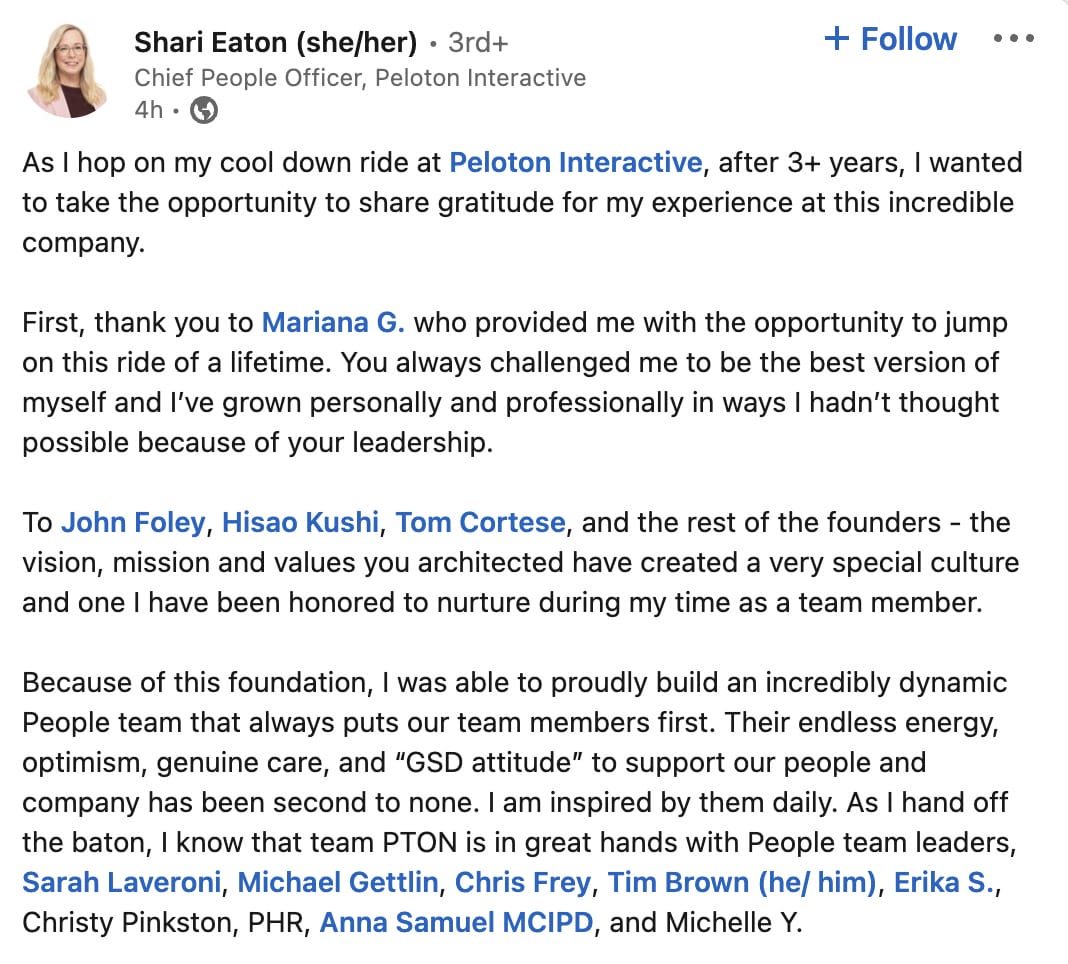 Eaton was just promoted to her position in March 2022 after serving with Peloton for three years as the Senior Vice President of People.
In an interview with CNBC, Eaton shared a little more about her departure:
"It felt like the right time. The phone rang, the right thing came along. It's time to turn over a new chapter," Eaton said in a phone interview Tuesday. "In no way does that mean I'm not bullish on the brand."
This is yet another executive change over the past few weeks. In September it was announced that co-founder and former CEO John Foley was leaving the board, and co-founder and Chief Legal Officer Hisao Kushi was leaving the company. Later in the month it was announced that Chief Information Officer (CIO) Shobhana Ahluwalia was leaving Peloton, followed by SVP and Global Head of Marketing Dara Treseder.
As @BobTreemore shared today, the following is a list of VP or CXO, or other high level positions who have departed since Barry McCarthy took over as CEO:
HR
Legal
Operations
Marketing
Community
Finance
Supply Chain
Business
President
Founder
Eaton has not shared where she is off to next, and Peloton has not shared any news about a potential replacement.
---
Want to be sure to never miss any Peloton news? Sign up for our newsletter and get all the latest Peloton updates & Peloton rumors sent directly to your inbox.