Peloton will be launching special content for this year's Wimbledon tennis tournament, which is scheduled to take place from June 27 through July 10 in London. Members received a pop-up notification on the Peloton App:
Advantage, Peloton Members! We're joining the rest of the country and getting tennis obsessed, with some new Wimbledon inspired classes.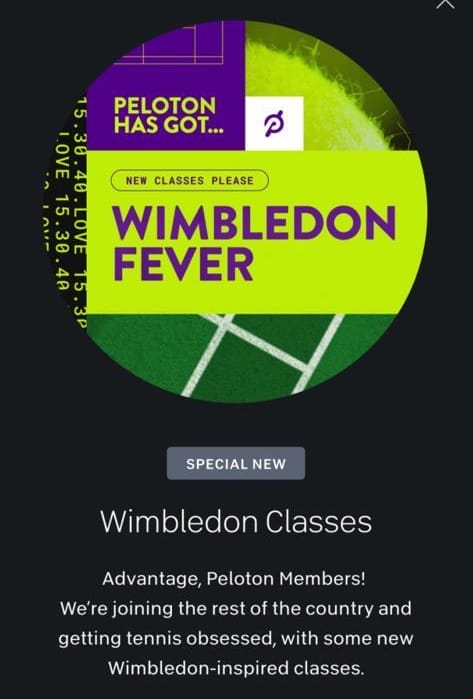 Peloton also posted in the U.K. Member Facebook group:
It's Wimbledon! Which means it's officially summer, and we are joining the rest of the country and getting tennis-obsessed. So dig out your best workout whites and join us for some special new Wimbledon-inspired classes starting next week, and earn a badge when you complete them. And if you've never been to Wimbledon, visit https://pelo.tn/39LkSsZ and join MyWimbledon for the latest news, events, tickets and more!
There are currently four classes listed on the upcoming schedule with Jon Hosking, Ben Alldis, and Bradley Rose. You can view the complete current class list below:
Wimbledon Peloton Classes & Workouts
10 min. Wimbledon Post-Run Stretch – Joslyn Thompson Rule – 6/27/22 @ 2:00am ET
10 min. Wimbledon Full Body Warm-Up [German] – Erik Jager – 6/28/22 @ 10:00am ET
15 min. Wimbledon Walk – Jon Hosking – 6/28/22 @ 2:30pm ET
10 min. Wimbledon Core Strength – Ben Alldis – 7/2/22 @ 3:00am ET [On Demand]
20 min. Wimbledon Ride – Bradley Rose – 7/2/22 @ 7:00am ET
10 min. Wimbledon Arms & Light Weights – Bradley Rose – 7/2/22 @ 7:25am ET
Members will earn a badge for completing any Wimbledon class. If you're looking for more badge opportunities, be sure to check out our complete guide.
This is the first time Peloton has released special content in relation to Wimbledon. Will you be opting in?
---
Want to be sure to never miss any Peloton news? Sign up for our newsletter and get all the latest Peloton updates & Peloton rumors sent directly to your inbox.