Peloton has launched a new strength program called "Total Strength 2" featuring strength and Tread instructor Andy Speer. The announcement was made via Andy's Instagram this morning:
TOTAL STRENGTH 2…
is HERE💪🏻💪🏻
Team,
You asked for it. You got it.
The next level of strength training is here.
Total Strength 2 builds on the strength training foundation you laid in TS1 on every level. You will learn new moves, new training techniques and develop strength, power and conditioning in this program. We use complexes, circuits, AMRAPS, compound sets and rest pause sets to name a few. You have a new strength test and conditioning challenge. This program will challenge you on a whole new level and you will see and feel the results!
This new program is a follow-up to Andy's original strength program, Total Strength. Andy breaks down the new program in a Peloton blog post, explaining:
In Total Strength, you built a foundation. You dialed in proper form for the squat, deadlift, press and row. You also felt the benefits of sticking to a structured, progressive approach to strength training. Total Strength 2 follows suit and takes your training to a new level. I am so pumped to be your coach for this six-week program as we continue to build strength and add power and conditioning elements to your training!
The Total Strength 2 program contains 68 classes and calls for four active days per week for six weeks. The program description reads, "Take your training to the next level with the sequel to Andy's Total Strength Program. You will start by mastering key movements and learning proper form while pushing your body to discover new heights and untapped power."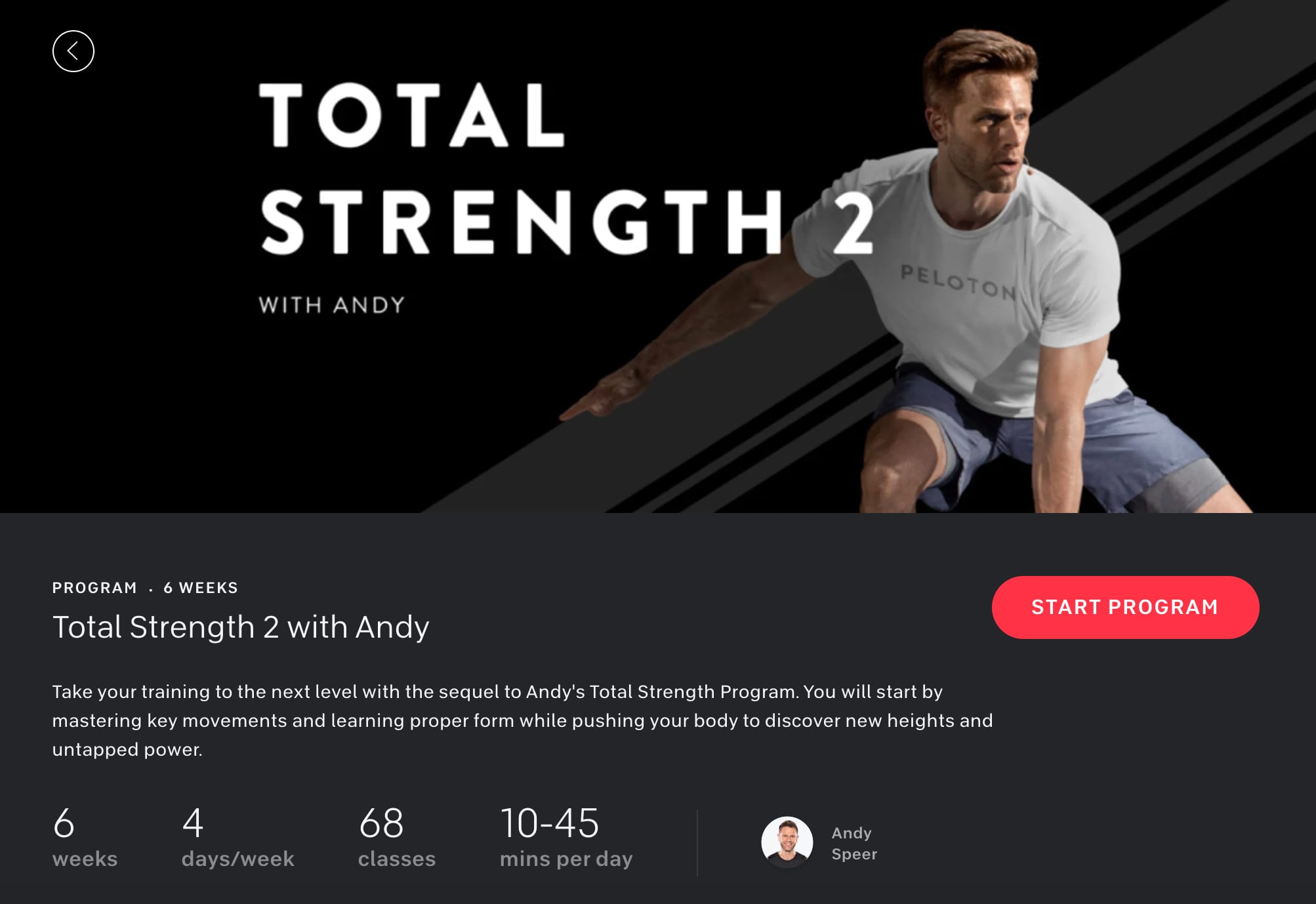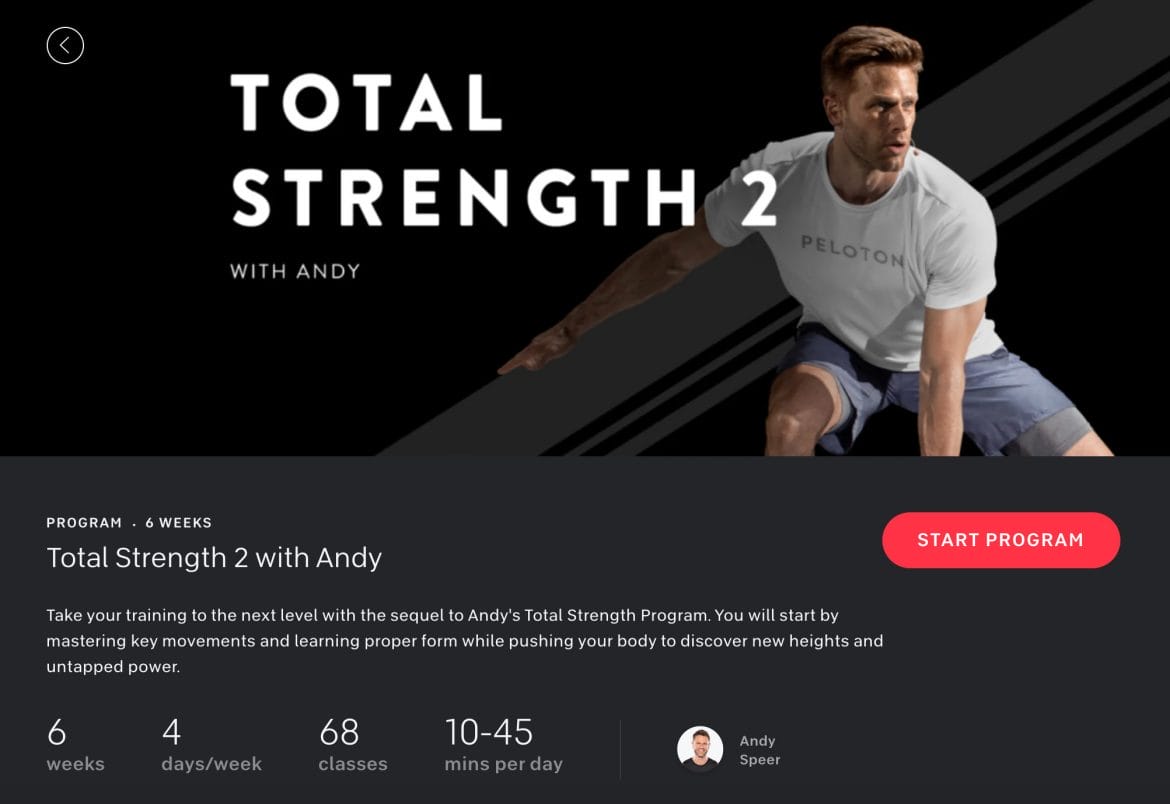 Andy recommends starting with his original Total Strength program if you have not yet taken it, as Total Strength 2 is an intermediate program with increased technical difficulty and intensity. The program includes two benchmark strength tests – one at the beginning of the program, and one at the end. The blog post also includes a sample calendar for members to follow.
Because Total Strength 2 is a program, the classes are not available in the general class list. Members must "start the program" and follow the recommended class schedule in order to access the content. However, using our lists, you can jump around the program as you wish and unlock the classes. The program page for Total Strength 2 is here.
Andy began teasing this announcement over the weekend on social media. He posted an Instagram with the caption, "I am flying high today in anticipation. I've been working on something very special for you. It drops this Monday Dec 20th. Stay tuned 💪🏻💪🏻" Just yesterday he posted a photo with heavy weights and the caption, "Are you ready for the next level?"
The Total Strength Program with Andy Speer was one of the first programs launched by Peloton back in 2019. It is a 4-week strength program that contains 46 classes. Participants start by learning the fundamentals, focusing on proper form and technique, and progress over the course of the program.
As a reminder, you can find the complete list and links for classes in the Total Strength 2 program here. You can access the class lists for all other Peloton programs here as well.
Be sure to share your thoughts on the new Total Strength 2 program if you try it out!
---
Want to be sure to never miss any Peloton news? Sign up for our newsletter and get all the latest Peloton updates & Peloton rumors sent directly to your inbox.