Peloton has released an update to their Amazon Fire TV & Fire Stick app to now make it available for Amazon Fire Tablets as well. First released in December 2019 for the Fire TV and Fire TV stick, today's updated Amazon Fire TV app now works on the Amazon Fire Tablet 7 (2019), Amazon Fire Tablet HD 8 (2018 & newer), and the Amazon Fire Tablet HD 10 (2017 & newer).
With this change, the complete list of Amazon devices that the Peloton Digital app supports is:
Amazon Fire TV Stick (2nd Gen / 2016 & newer)
Amazon Fire TV Stick 4K (1st Generation – 2018 & newer)
Amazon Fire TV (3rd Gen Pendant design)
Amazon Fire TV Cube (1st Gen & newer)
Amazon Fire TV Cube
Amazon Fire Tablet HD 10″ (2017 and newer)
Amazon Fire Tablet HD 8″ (2018 and newer)
Amazon Fire Tablet 7″ (2019)
Insignia and Toshiba Amazon Fire TV Edition Smart TVs Fire TV Edition sound bars
According to the support page, the Peloton App is specifically not compatible with Amazon Fire TV (1st and 2nd Gen) and Amazon Fire TV Stick (1st Gen).
Although this week's update to the Peloton Amazon Fire TV app brings more device availability, it does not bring any new features. On the Amazon Fire TV app (and Android app as well), you are unable to quickly switch profiles, see past workout details, follow friends on the leaderboard, give high fives, use bluetooth accessories like heart rate monitors or footpods, opt into challenges, pre-load or cache classes for offline use without a network connection, and many other features. What can you do with the Peloton Digital Amazon Fire TV & Android app then? Log into a single profile, view and browse classes, search and filter for a class (though not by music), take a class (and pause, fast forward, or rewind it), and see a list of completed workouts (though you can't click into it to view any details or stats).
It remains the fact that the Peloton Digital experience on the Android apps (both for standard Android phones and the Amazon Fire TV apps) remains a sub-par experience compared to the Peloton Digital iOS experience. If a new user were considering getting a new phone with the main purpose being Peloton, they should without question be getting an iPhone or iPad – while the Apple apps get new updates on a semi-regular basis, most new features added to the iOS apps in the last 2+ years have yet to be ported over to Android.
With this week's update bringing the Peloton Digital experience to the Amazon Fire TV tablets, there now remain two big players that have yet to get Peloton Digital support. It's rumored that the an Apple TV tvOS app is in active development, and on track to be released sometime this year (surprise Peloton Homecoming announcement maybe?). The other major connected device would be the Roku. Although you can cast to a Roku using Miracast from your bike or tread tablet, there have yet to be any rumors surrounding a native app, but with a large install base, one would think that Peloton will eventually turn their attention there.
If you have any questions or issues, be sure to check out Peloton's Fire TV app FAQ page, or contact Peloton support.
Note: Some links above are affiliate links. By clicking through those links and purchasing items, you are supporting this site.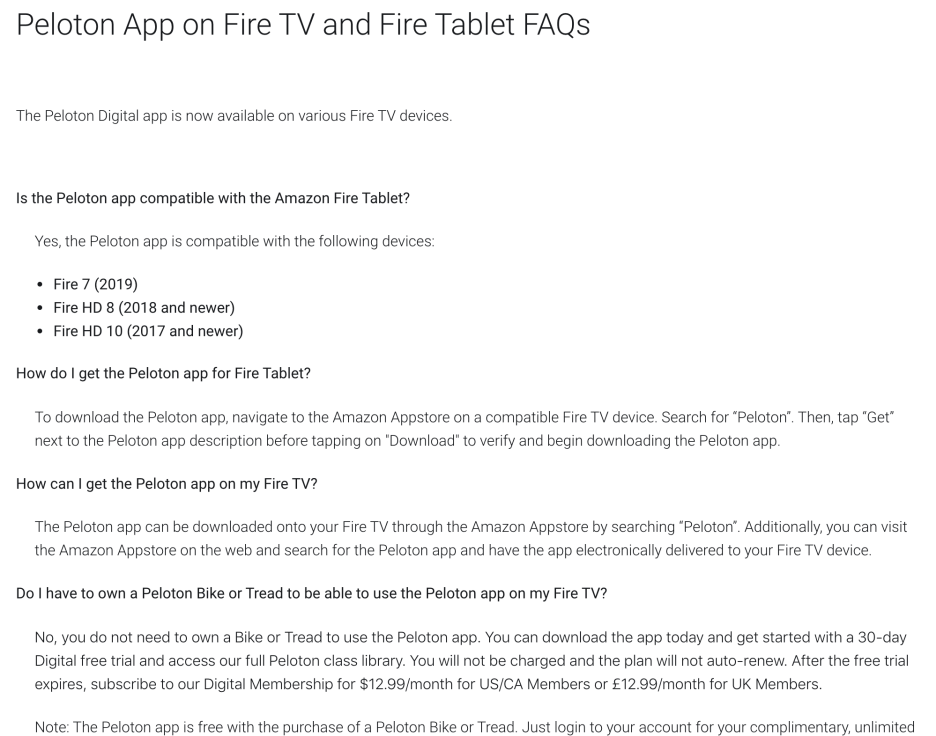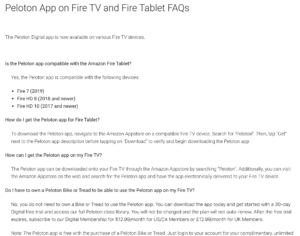 ---
Want to be sure to never miss any Peloton news? Sign up for our newsletter and get all the latest Peloton updates & Peloton rumors sent directly to your inbox.