Peloton has added 2 new class types for Peloton Tread users – progression and endurance classes.
In the Peloton Tread or app, there is an option in the filter for "Endurance" – which returns a mix of classes labeled as "Marathon Race Prep", "5K race prep", "extra mile", and "Recovery Run". Starting today, you'll also have 2 new class types show up that will be named as "Progression Run" and "Endurance Run". Becs Gentry and Rebecca Kennedy shared some thoughts about the new class types on the Peloton blog .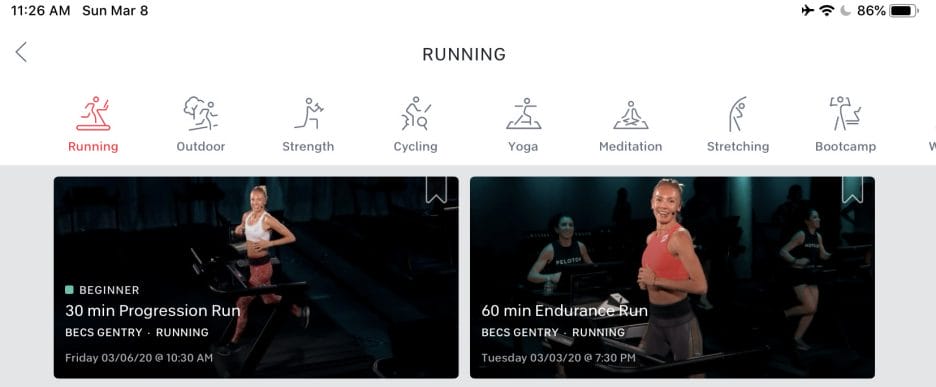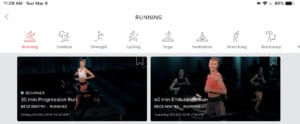 Endurance Runs
If you're working on increasing your distance, lacing up for an Endurance class is the best place to start. "These 30-60 minute classes are an entry point to longer runs, a way to log miles without significant changes in pace or grade," says Rebecca. An endurance run (a long distance run at a sustainable steady pace) will help you build a stronger cardiovascular endurance system to help you sustain longer distances. "Endurance runs should be the meat and potatoes of your training," says Rebecca. "These are runs you can do for longer periods of time and often, for everyone, at all times in and out of race season." Whether you're a seasoned runner or totally new to your training, there will be a level that welcomes your experience. "We coach these runs by encouraging Members to find their pace by feeling and how hard they are working," says Rebecca. "And you don't have to know your paces to join these classes successfully–they can actually help you find what your paces are within the class."
Progression Runs
Progression runs will be the class to take for improving your pace. As the name suggests, these types of classes will challenge you as each mile of the run will progress in speed. "For example a runner may start a 6 mile run at an 8 minute per mile pace and progress their pace every mile to finish at 7:30 minutes per mile," says Becs. To really reap the benefits of this type of training, Becs suggests integrating this type of speed work into your routine 2-3 times per week. "Due to progression runs falling into both the speed work and long run category, the fact that you are continually working on getting faster as you pass over distance and time is going to assist your cardiovascular power to grow and also build your personal confidence in your ability as a runner," says Becs. While this type of training sounds (and is!) challenging, don't allow that to scare you. These classes will range from 30-60 minutes and for those just starting out, Becs suggests opting in for the shorter class time. "For beginners on the Tread, aim to run a second or two off your minute per mile pace while you're just starting out."
Currently, there are only 2 endurance or progression classes in the on-demand library you can take. They are as follows:
Peloton will be adding more over the upcoming weeks and months, with additional instructors as well. At the time of publishing, the following are the upcoming endurance and progression runs you can find on the Peloton Tread:
30 minute Endurance Run – Selena Samuela – 3/9/20 @ 7:00am ET
30 minute Progression Run – Oliver Lee – 3/10/20 @ 6:00am ET
30 minute Endurance Run – Matt Wilpers – 3/11/20 @ 6:00am ET
Will you be taking advantage of these new workout types?
---
Want to be sure to never miss any Peloton news? Sign up for our newsletter and get all the latest Peloton updates & Peloton rumors sent directly to your inbox.