Peloton is kicking off the holiday celebrations with a long-anticipated artist series with the Queen of Christmas herself: Mariah Carey! Peloton shared the news via Instagram:
The Queen of the season has spoken, dahlings. @mariahcarey Artist Series coming to you Friday, Dec. 2!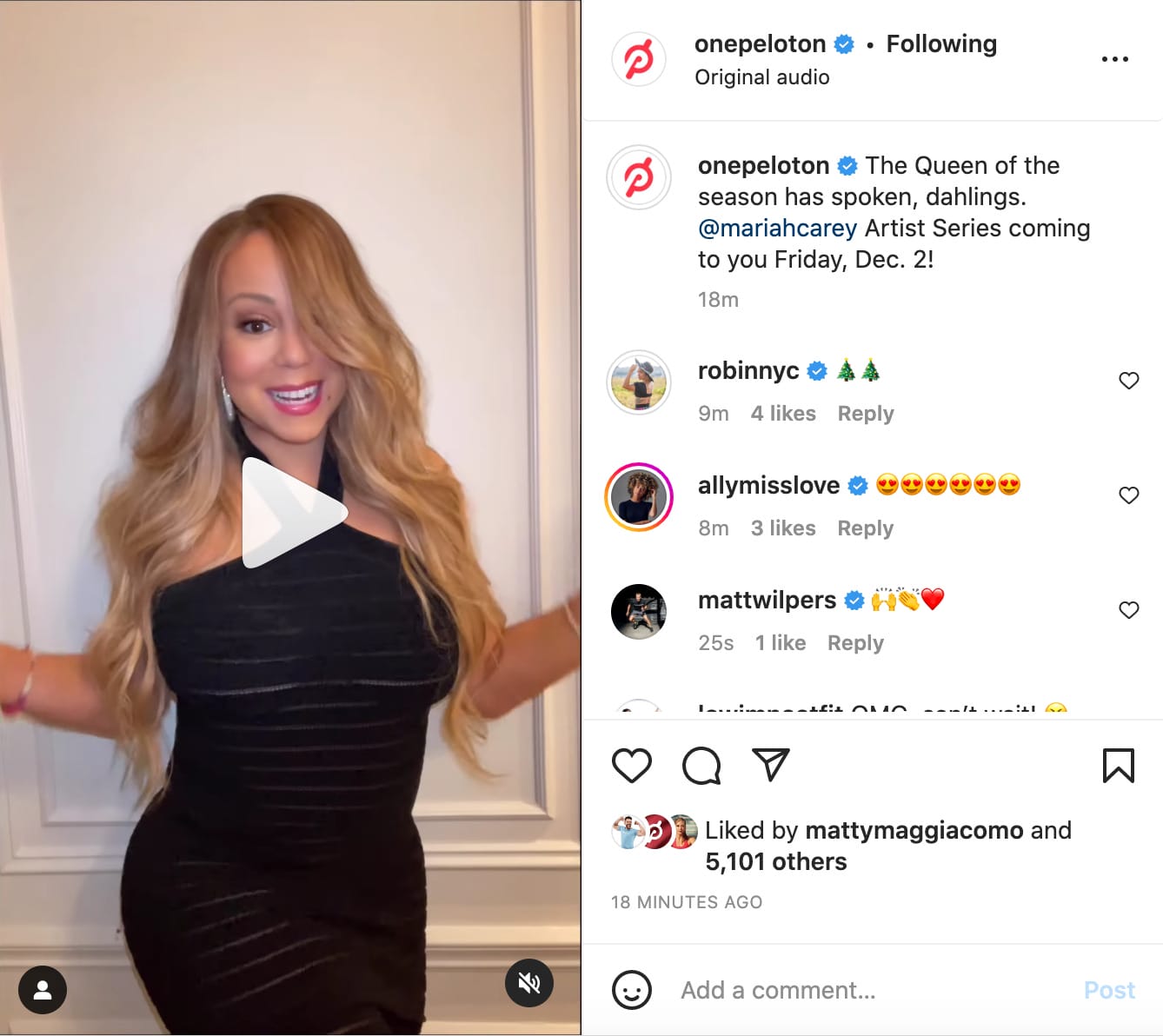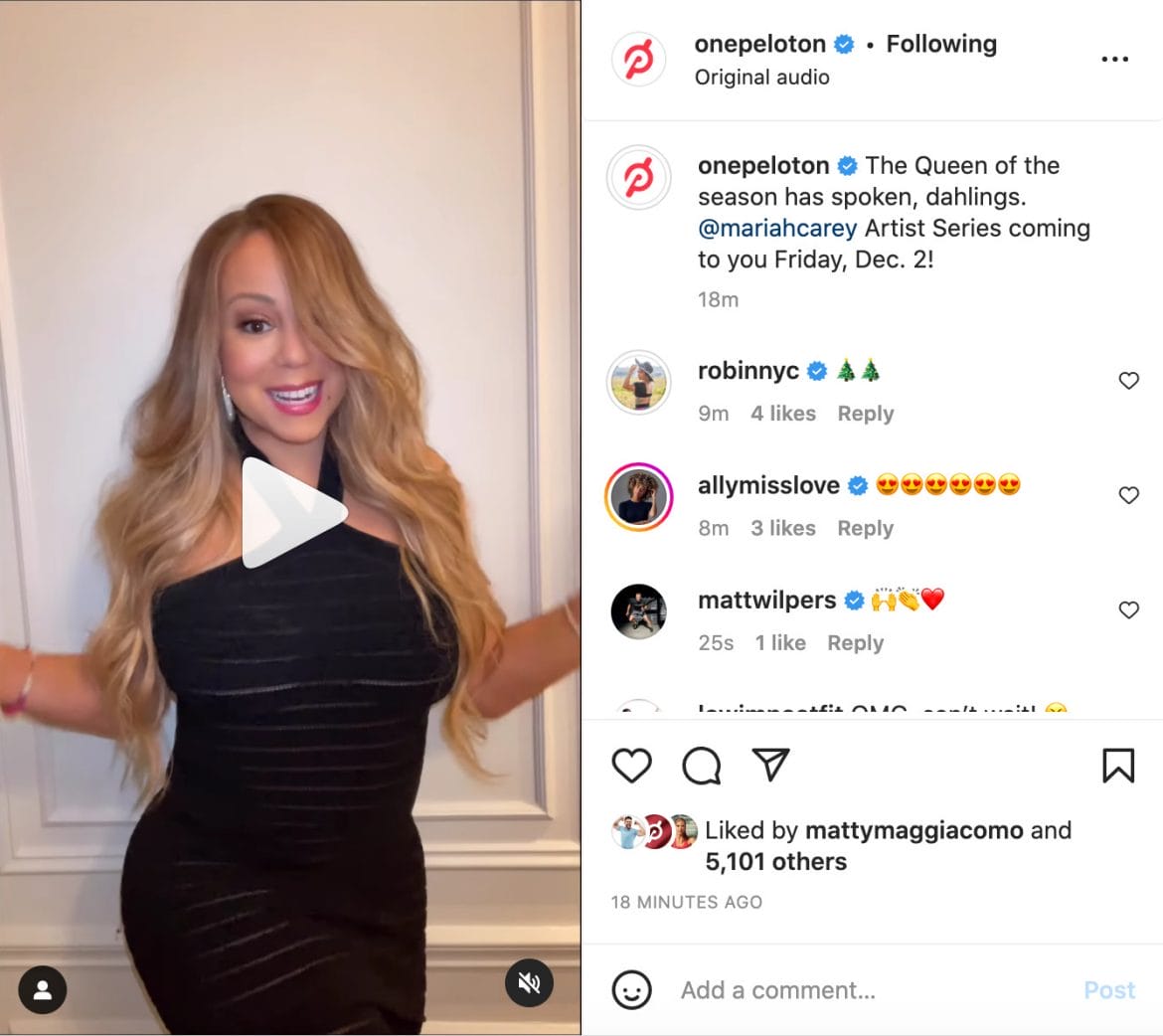 The post features a short video of Mariah Carey announcing the series, including that the classes will showcase her entire catalog – not solely her holiday music.
The series will launch on Friday, December 2 and will include 11 classes across seven modalities in both English and German – including a two for one ride! You can view the complete class list below:
Mariah Peloton Classes & Schedule & Workouts – Featured Artist Series
20 min Mariah Carey Barre – Ally Love – 12/2/22 @ 10:00am ET [On-Demand]
30 min Mariah Carey Walk – Rebecca Kennedy – 12/2/22 @ 10:00am ET
30 min Mariah Carey Row – Adrian Williams – 12/2/22 @ 10:00am ET [On-Demand]
30 min Mariah Carey Bodyweight Strength [German] – Marcel Maurer – 12/2/22 @ 10:30am ET [On-Demand]
30 min Mariah Carey Run [German] – Jeffrey McEachern – 12/2/22 @ 11:00am ET
30 min Mariah Carey Ride [German] – Mila Lizar – 12/2/22 @ 1:30pm ET
30 min Mariah Carey Yoga Flow – Ross Rayburn – 12/2/22 @ 2:30pm ET
30 min Mariah Carey Run – Kirsten Ferguson – 12/2/22 @ 5:00pm ET
30 min Mariah Carey Two for One Ride – Cody Rigsby & Emma Lovewell – 12/2/22 @ 5:30pm ET
10 min Mariah Carey Cool Down Ride – Hannah Frankson – 12/2/22 @ 6:05pm ET [Premiere On-Demand]
30 min Mariah Carey Full Body Strength – Jess Sims – 12/4/22 @ 8:00am ET
The two for one ride with Cody Rigsby and Emma Lovewell will be their third dual ride together (fourth, if you count Emma's appearance in the LOL Cody series). If you're interested in other rides with multiple instructors, you can find a complete list of available classes via our site.
Peloton also published a blog post with additional information about the Mariah Carey collaboration:
"Mariah Carey evokes the power of the holiday season, which is all about celebrating and showing gratitude for your loved ones and community," said Gwen Bethel Riley, Head of Music at Peloton. "We toast the power that music has in joining us together by bringing Mariah Carey's iconic music to the Peloton platform. Our Members have been waiting for this moment and we can't wait to see how they respond to this epic class series."
The header at the top of the post hints that all of the classes will be placed into a dedicated collection, the way Peloton has done with other major artist series such as Taylor Swift and Beyoncé.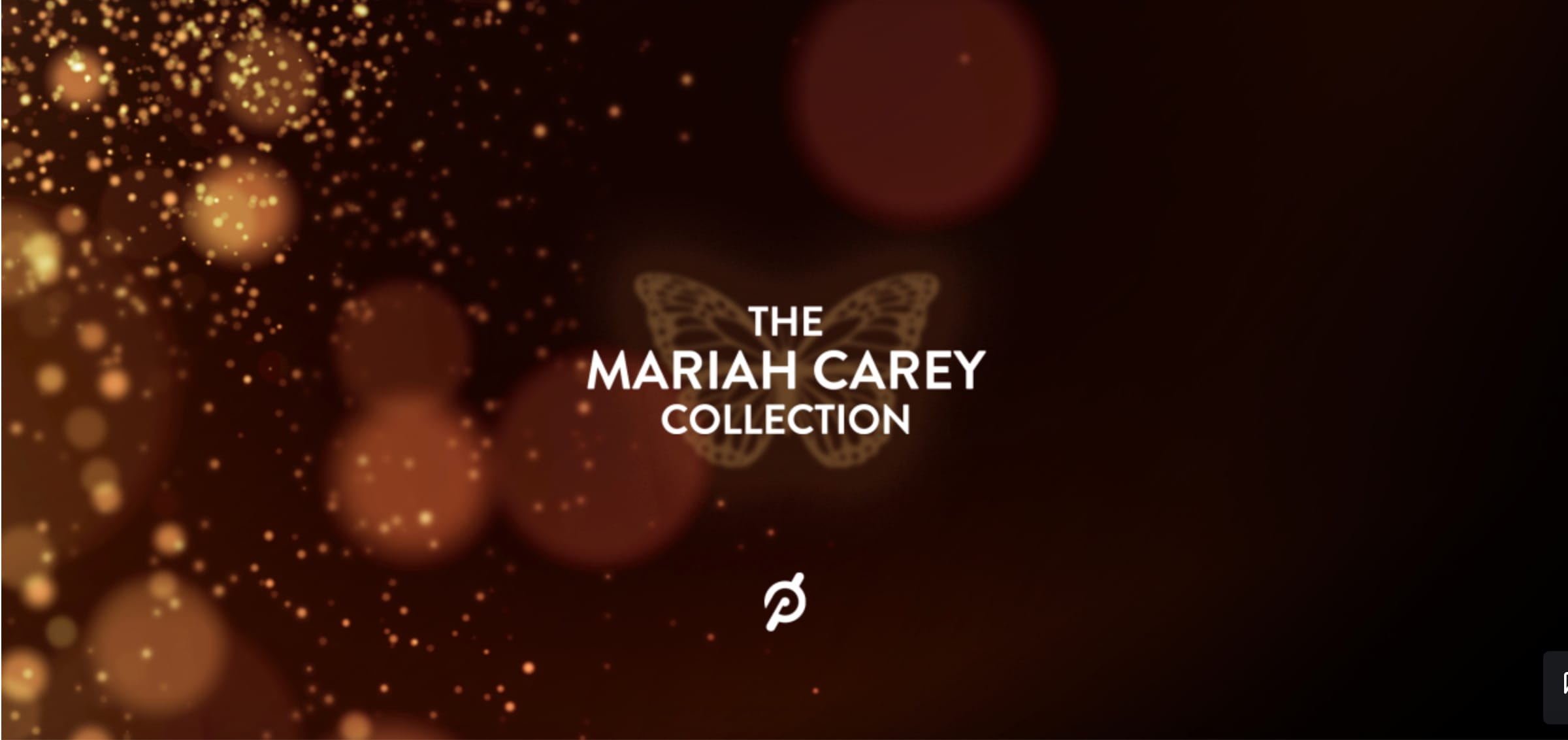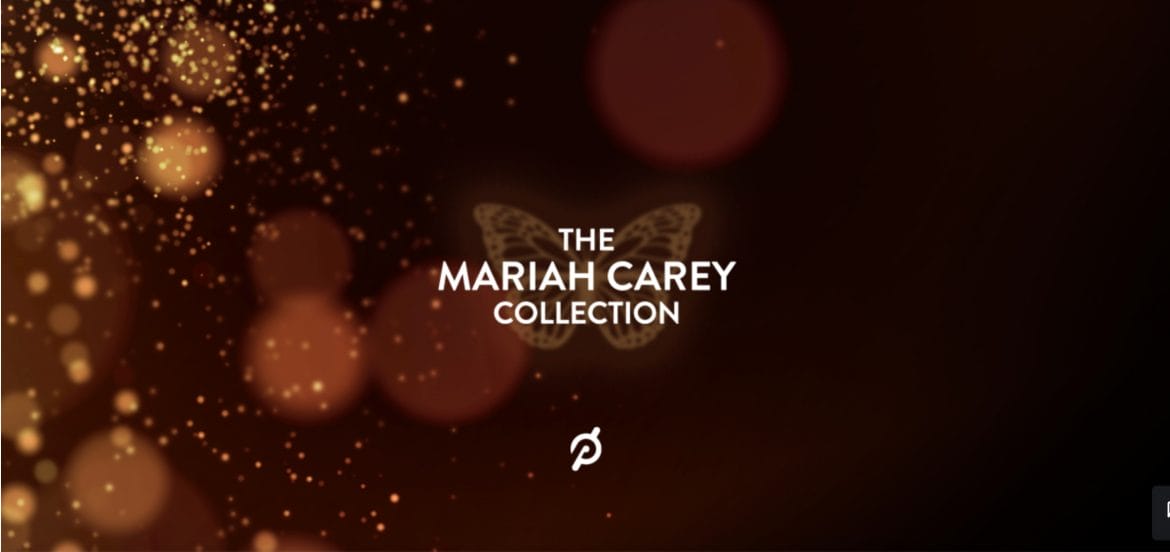 As the blog post mentions, this series was first teased on November 1, when Mariah Carey posted her annual "it's time" video – this time, riding a Peloton Bike.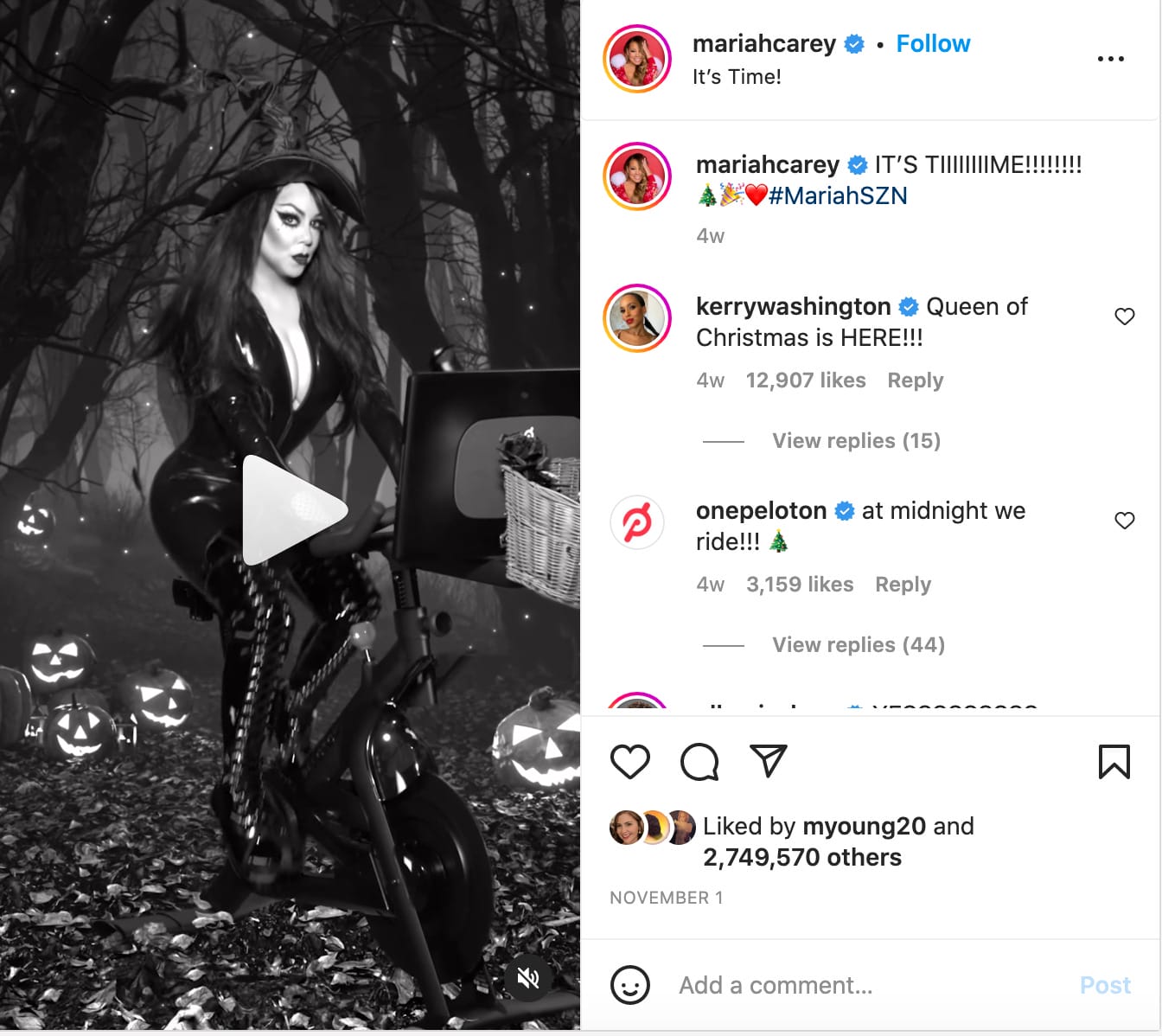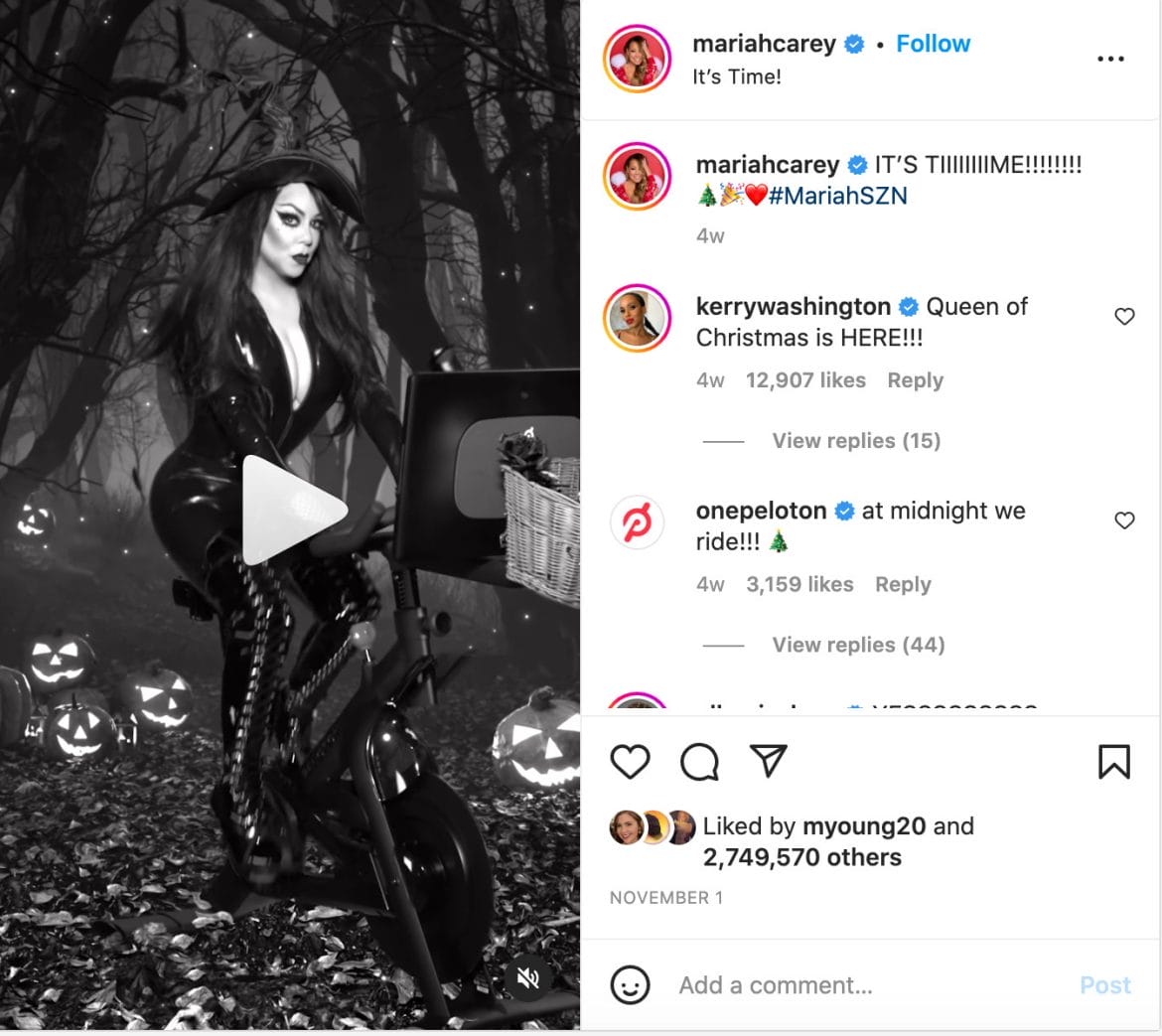 Some members predicted that Mariah Carey may be the final LOL Cody special guest – but yesterday Peloton revealed that actor and SNL star Bowen Yang will join the episode.
As always, members can expect to earn an artist series badge for completing any of the Mariah Carey classes, and there may be a special holiday badge available as well. If you're trying to acquire additional badges, you can reference the complete list of available badges in our guide.
As a reminder, Peloton is also launching a holiday flash challenge on December 1, and this class could potentially count towards that goal.
To take a look back at past Peloton featured artist series, be sure to check out our comprehensive artist series list.
Will you be opting into the Mariah Carey artist series?
---
Want to be sure to never miss any Peloton news? Sign up for our newsletter and get all the latest Peloton updates & Peloton rumors sent directly to your inbox.