Peloton is known for their cycling classes (and now running, strength, soon rowing, and more) and world-class instructors. They would also love to sneak into your wardrobe to supply fitness apparel to take your workouts to the next level. Peloton creates their own clothing, and they partner with popular brands such as Adidas and Lululemon to create premium workout apparel. As we all know, these items do not come cheap. It can be hard to dish out 55 dollars for a sports bra or 100 dollars for a pair of leggings. Thankfully, Peloton has a program in place to help you own some of their apparel for the price of inviting your friends to join the Peloton family – giving you a discount in the process!
Peloton Referral Program – How It Works
What does a Peloton Referral Code Get You?
If you can convince a friend or family member to purchase a Peloton device or piece of hardware, then you are eligible to receive $100 online apparel code (or your country's equivalent currency in Canada, the UK, Germany, or Australia) towards the purchase of Peloton apparel. You do not have to feel bad for using your friend either! They will also receive $100 dollars to spend on accessories for their new piece of Peloton hardware. What a great opportunity for you to get a great piece of workout clothing and your friend to get an extra piece of equipment to help start this Peloton fitness journey! Let's talk about how to utilize this program:
How To Find Your Peloton Referral Code
To let Peloton know that you are the specific individual who led your friend or family member to join the Peloton family, they have supplied every member who owns Peloton equipment a referral code. Your code will be listed on this url once you are signed in: https://account.onepeloton.com/settings/referrals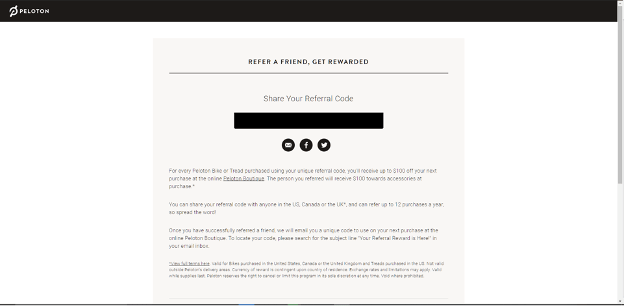 The page will look like the picture above with your code listed where the black box is located.  This is easier to find through a web browser than it is on the Peloton app.  You can also use the top right drop-down menu, and there is a "Refer Friends" menu link. Thankfully, Peloton has added buttons under your code where you can share your referral code through email, Facebook post, or Tweet to invite friends to use your code.
How To Find A Peloton Referral Code / Peloton Discount Code
If you don't have any friends with a Peloton referral code, you can always email us and see if we have any available!
Enter Peloton Coupon Code at Checkout:
You have given your code to your friend, and they are ready to purchase their new Peloton Bike. Where do they put in your code? On the checkout page under the tax listing, you will see a button asking for a promo code. Click that button and enter the code there.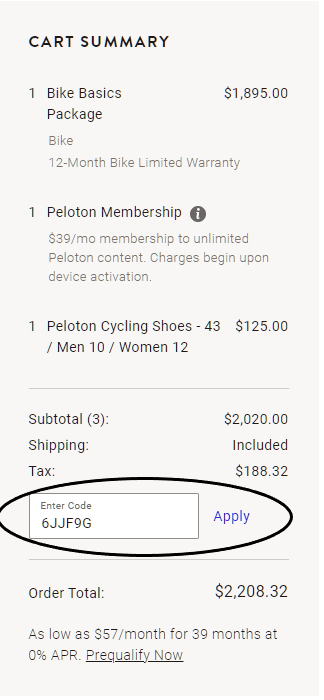 The referral code will not work without an accessory in the cart, so you will need to make sure that you include a pair of cycling shoes, dumbbells, or some other accessory to take advantage of your code. After you click apply, you will see the 100 dollars taken off the total.
Buy Some Merch!
After your friend uses your code, you will receive an email from Peloton with a promo code for 100 dollars off apparel. The steps for redeeming this are the same as the promo code above. Make sure to tell your friend thank you for using your code!
Peloton Referral Code FAQs
What can the Peloton Referral Code be used for?
You can use your 100-dollar credit on any accessory from the Peloton store. These can be found here: https://www.onepeloton.com/shop/accessories/bike. I would personally recommend a pair of shoes to go with your new bike or dumbbells if you are getting the tread.
Why is my Peloton Referral Code not working?
The most common issue with Peloton referral codes comes from the members not having added any accessories to their cart before entering their referral code. You have to make sure you have an accessory in your cart before the code will work – otherwise there are no items to apply your discount to.
I share an account with another user and can't find my Peloton Discount Code.  Where is it?
At the end of 2021, Peloton updated their referral program so that only the primary account holder (the one who pays the monthly bill) is eligible for the referral program.  Secondary members can no longer refer their friends.  You can read more about that change here.
How many times can my Peloton referral code be used?
Starting in 2022, Peloton changed the maximum number of times everyone's referral code can be used to 6 a year.  In prior years, each code could be used 12 times a year.  This means the maximum amount of apparel credits each member can get, assuming they have one subscription, is $600.  This number of referrals resets on January 1st every calendar year.
Do I need my friend's Peloton referral code if I am buying in store?
If you are buying in store or via the phone, an associate can look up your friend's code by using their phone number and name.
Category: Misc