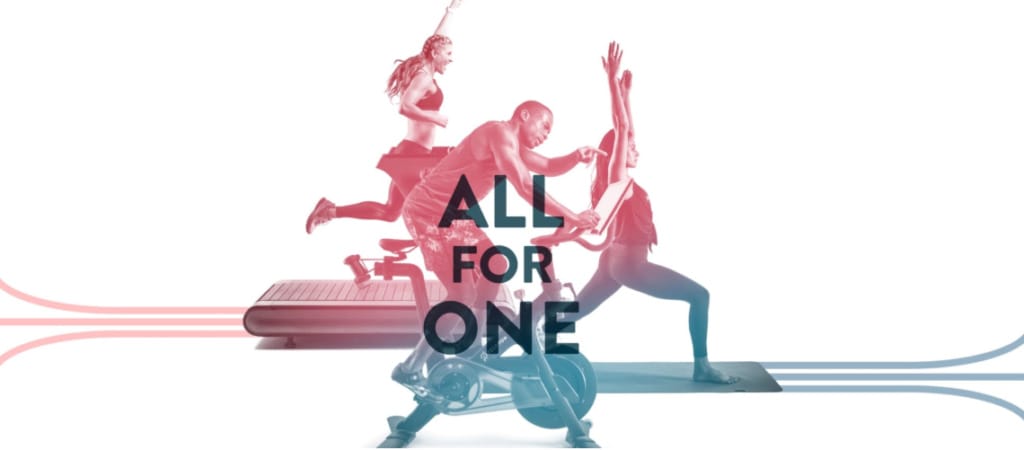 One of the most bemoaned casualties of The Great Purge was the original All for One ride from July 4th, 2018. Eleven Peloton cycling instructors teamed up to bring riders one epic workout. Many cited All for One as a favorite ride and helped many riders set PRs.
Unfortunately, the ride was among those removed earlier this year due to Peloton's ongoing legal battle with music publishers regarding song rights. However, if you missed out on the ride while it was available, you can listen to the soundtrack from the 2018 All For One ride via Spotify.
Now, you'll be able to relive the excitement of All for One on the Bike, Tread, and mat. That's right– Peloton is bringing us three brand new All for One classes this July 4th, 2019.
"All for One is a chance for us to come together as a team as our Members do every day. A way to collectively celebrate the Peloton community in the most authentic way, together." Get ready to feel the Peloton energy within each class, complete with playlists that embody what summer is all about.

-Peloton Tread instructor Rebecca Kennedy
Peloton has confirmed that there will be a 45-minute cycling class with 12 instructors participating, a 45-minute tread class with 11 instructors, and a 30-minute yoga class with 5 instructors. Each class will be team-taught by the instructors, bringing different styles and techniques together for one workout. Despite–or perhaps because of– last year's record-setting 18,488 live riders, this year, the classes will only be available on-demand. All three workouts will be available beginning July 4th. The exact time they will be available on-demand will be announced in the coming week.
The All for One ride was originally developed to celebrate unity and diversity of the Peloton community. Now, a year later, adding a Tread and yoga option highlights the growth Peloton has seen this year.
Are you looking forward to this year's All for One workouts? Let us know in the comments. 
---
Want to be sure to never miss any Peloton news? Sign up for our newsletter and get all the latest Peloton updates & Peloton rumors sent directly to your inbox.