Less than 12 hours after announcing that Peloton would be reducing the number of classes in an effort to protect the community and the Peloton staff from the coronavirus COVID-19, Peloton has taken their efforts a step further and announced that they will completely close the Peloton studios to the public for the time being.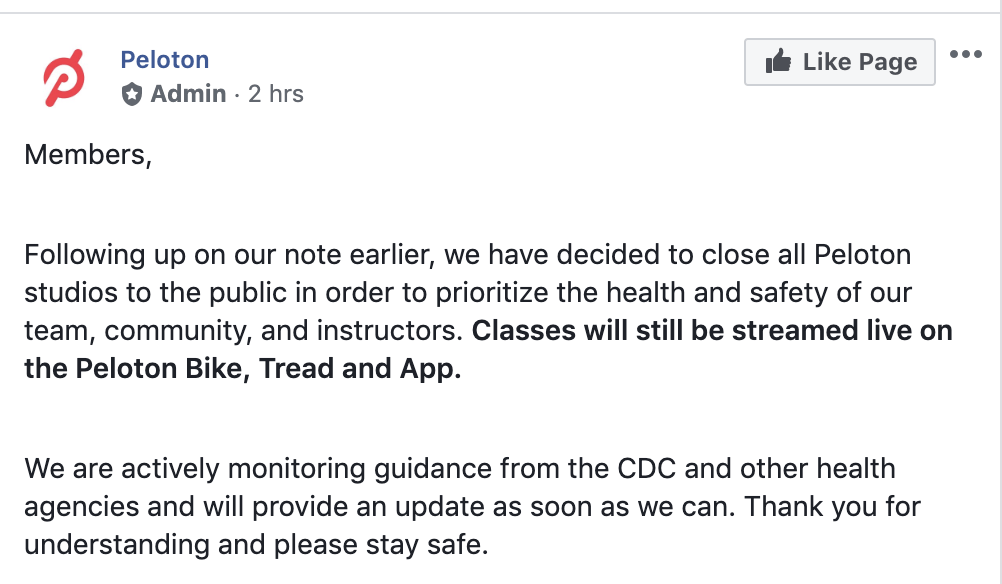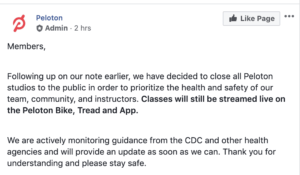 Classes will still stream live at their originally scheduled time, however, there will not be any Peloton members riding, running, or flowing along in the studios with the instructor. Also, it appears that the classes that were removed yesterday morning will stay off the schedule and will not be added back in.
For those members who had booked the classes and were supposed to be in the studio, the class credit will be returned to your account. A few members have reported that they were actually given an extra credit, on top of the one that was returned, for the inconvenience.
This is a rapidly evolving situation, so it's possible that further precautions will be taken (i.e. Peloton decides that they don't even want their staff being in the Peloton studios, so stops all new live classes temporarily).
Peloton has not yet said how long the closure of the studio to the public will last. The new Hudson Yard studios are scheduled to open next Thursday – it is not been explicitly stated yet if Peloton will have to broadcast those first classes without members in the studio or not. However, several people who signed up to be in the new studio for the first few days worth of classes have reported they received an email telling them their spot was cancelled. There's a chance that Peloton could re-open those first classes in the new studio for sign ups, however, it seems unlikely at this point.
We will post more information and updates as we have them.
Update – Peloton CEO John Foley has released a letter, outlining the steps Peloton will be taking to combat coronavirus COVID-19. It includes the studio closure as detailed above, and other preventative measures.
---
Want to be sure to never miss any Peloton news? Sign up for our newsletter and get all the latest Peloton updates & Peloton rumors sent directly to your inbox.