Has your college student traded campus life for remote classes at home? If they have been hogging the Peloton while home, we have some good news: they may be able to channel their excitement into a career! Peloton announced today that they are seeking applicants for a 10-week summer internship.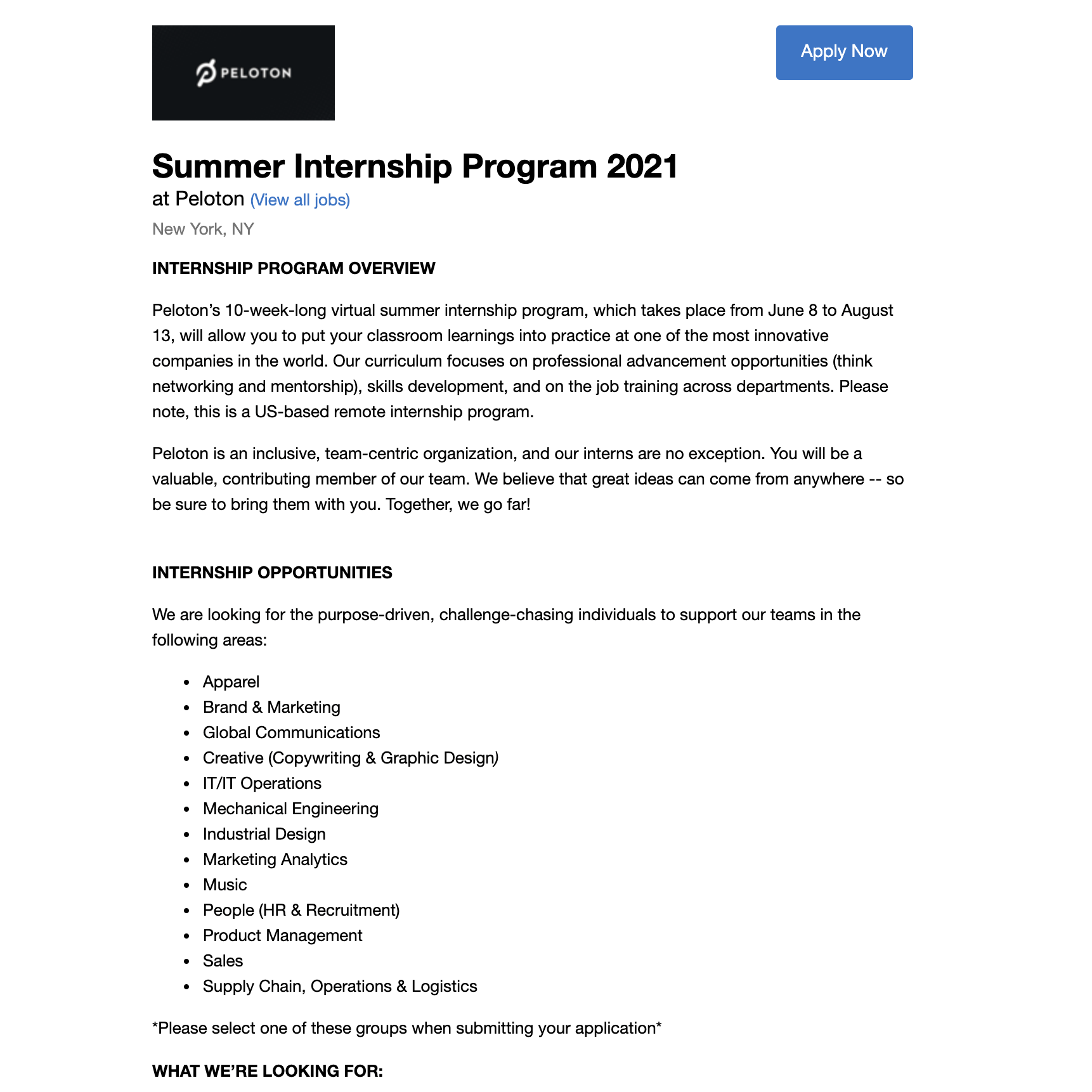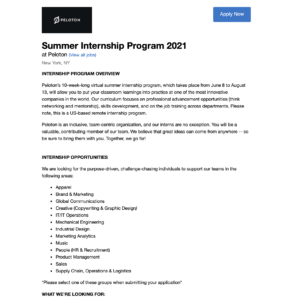 The full-time, remote internship program starts June 8, 2021, and is open to rising college juniors and seniors in the US. Peloton is seeking candidates able to commit to 40 hours a week of work.
Ideal applicants are detail-oriented and analytically minded, with a passion for fitness, media, and technology. Participants will get on the job training, with openings in multiple departments, including apparel, branding, marketing, global communications, copywriting,  graphic design, IT, mechanical engineering, industrial design, music, HR, product management, sales, and operations. Even though interns won't be on-site at Hudson Yards, they will benefit from developing relationships with current Peloton employees through networking and mentorship opportunities, including discussions with some of your favorite instructors.
Aside from rubbing elbows with instructors, the pay isn't bad either. While the listing doesn't specify how much the role pays, Glassdoor gives us some clues. Peloton interns report making between $15 and $25 per hour, depending on their home department and experience level, which means you can expect to take home between $6,00-$10,000 for the summer.
Another possible outcome of these networking opportunities? A full-time position at Peloton upon graduation. According to the job listing, interns will receive opportunities to manage projects and develop presentation skills, as well as gain insight into the various career paths available at Peloton.
Thanks to Bob Treemore for bringing this to our attention!
You can see the full job listing for the Peloton internship program and apply here.
---
Want to be sure to never miss any Peloton news? Sign up for our newsletter and get all the latest Peloton updates & Peloton rumors sent directly to your inbox.