Update – Since we published our article, Peloton has provided an official statement. We have updated the article to include their statement at the bottom.
Peloton has reportedly forced some members to reset their passwords throughout the past week "due to detected suspicious activity" – in some cases, the same members have been asked to reset their passwords twice.
The first occurrence happened on Friday, August 26, and the second occurrence happened on Tuesday, August 30. This was a hard reset in which members were automatically logged out of their accounts while simultaneously receiving an email from Peloton with instructions. The email text stated:
Hi [Name],

To protect your Peloton account, we have reset your password due to detected suspicious activity.

You will need to create a new password to log back in before your next workout. Please click the button to update your password.

You may also update your password by pasting this URL into your browser: https://members.onepeloton.com/forgot-password

If you have any questions, please simply reply to this email or call us at 866-679-9129.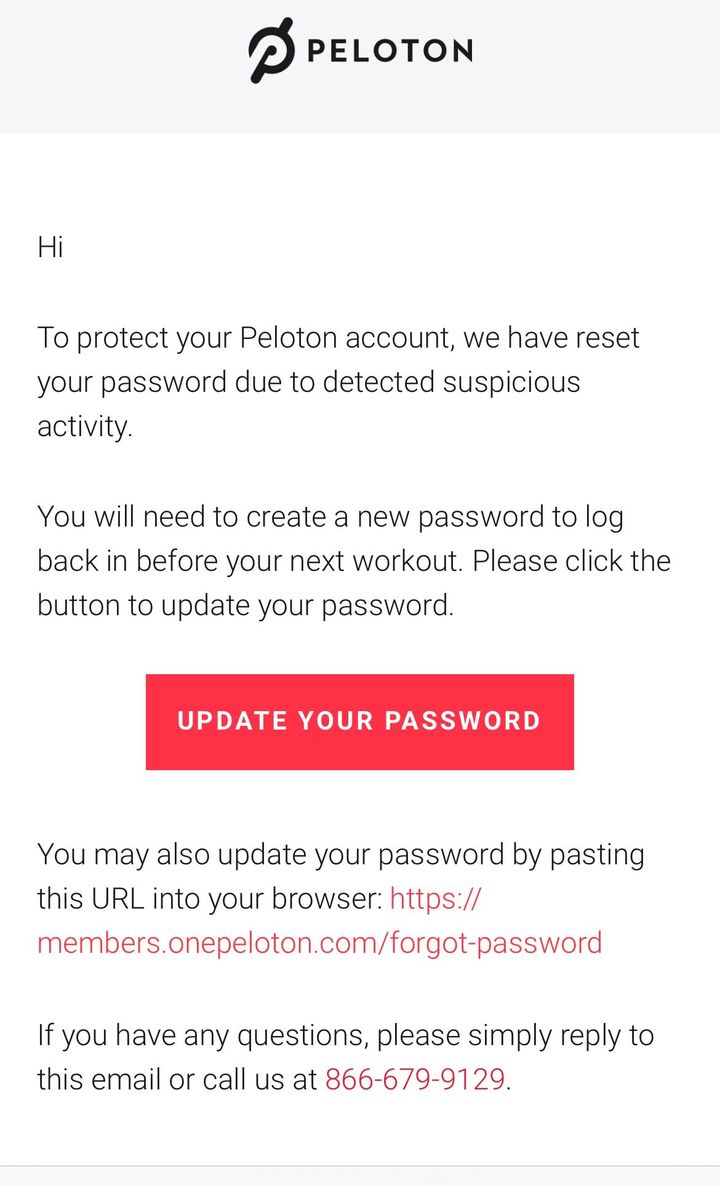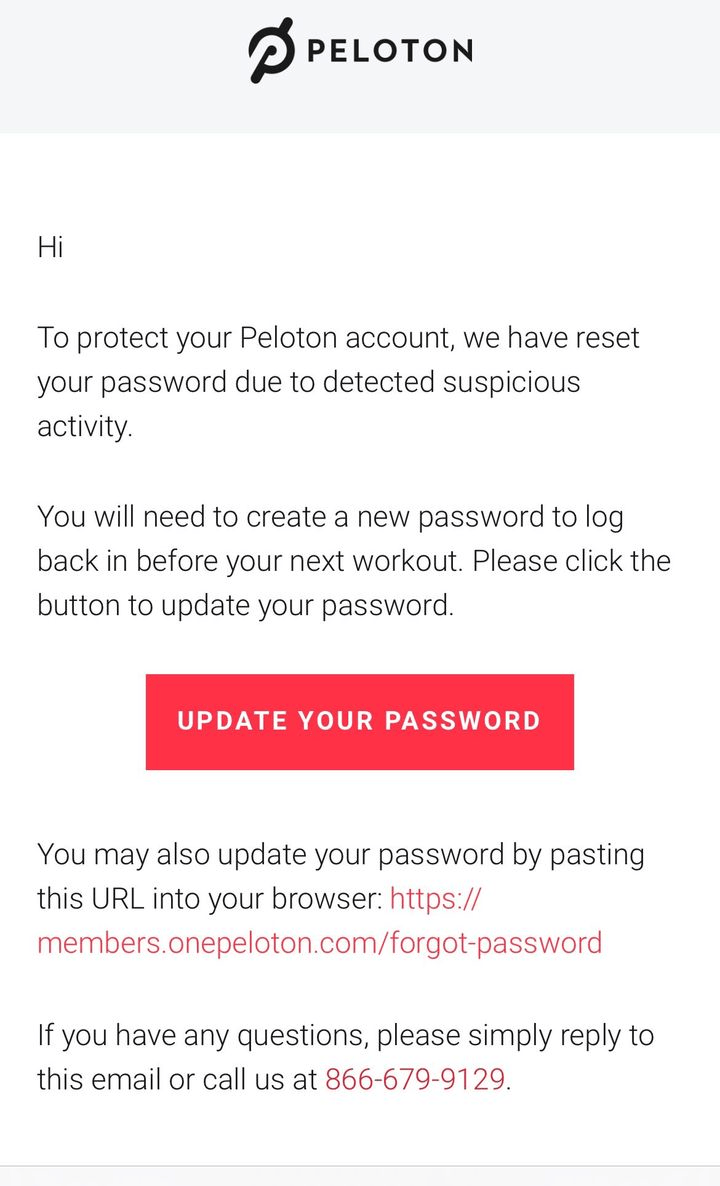 Some members reported that they were logged out of their accounts while in the middle of a class. They were brought back to the login screen, but their passwords no longer worked. They had to reset their passwords before they were able to log back into their accounts to continue their workout.
Certain members also reported that they were contacted multiple times within a couple of days. According to a post in the Official Peloton Member Facebook page, Peloton appeared to say that members receiving the email multiple times is a known IT issues they are working on resolving.
This email did not go to all members, and it is unclear exactly how far-reaching of an issue this is. Peloton has not provided any reasoning for the move other than it is to "protect" members' Peloton accounts "due to detected suspicious activity." Peloton has not said whether there has been a data breach that may have prompted this password reset.
After publishing, Peloton did provide a statement in the Official Peloton Facebook Page. It said:
Members,

As part of our ongoing commitment to ensure Member safety, we proactively monitor unusual behaviors on our platform.

In the last few days, we detected suspicious login activity impacting a small group of Peloton Members and thus prompted the impacted Members to change their Peloton account passwords. If you received an email from Peloton regarding this, please modify your password.

We apologize for any inconvenience this may cause, but we remain committed to keeping your accounts safe.


Statement from Peloton about password resets.

---

Want to be sure to never miss any Peloton news? Sign up for our newsletter and get all the latest Peloton updates & Peloton rumors sent directly to your inbox.