Peloton has added a new collection of workouts for users they are calling "Your Weekly Training Plan". This is a set of cross-training workouts, curated by Rebecca Kennedy, designed to compliment your main workouts on the bike or tread. Peloton emailed some users about the new collection, but it should be appearing for everyone at this point.
Curated strength classes by Rebecca, just for you. Check out Your Weekly Training Plan Collection, a seven-day program for building an essential foundation by increasing muscular endurance. Modify accordingly with your existing routine. Available on the Bike, Tread, or iOS App.
To start off with, there is one weeks worth of workouts loaded into the program. At this point, it isn't clear how many weeks this program will continue – or when the next week will be added.
Even though the program is called "Your" Weekly Training Program, it does not appear to be dynamic or customized to you – all users are seeing the same set of workouts loaded for them. As a reminder, you'll need to use the iOS app, or the tablet on your Bike or Tread to browse the workouts. The Android app, Apple TV app, Amazon FireStick app, and others still don't have the collection functionality. If you don't have access to a device that has collections, here is the first weeks worth of programs.
Your Weekly Training Program – Curated by Rebecca Kennedy – Week 1 Workouts
Day 1 – Upper Body
Day 2 – Lower Body
Day 3 – Rest Day
Day 4 – Bodyweight
Day 5 – Core
Day 6 – Full Body
Day 7 – Rest Day
This is the first new curated strength trainig program since Andy Speer's 'Total Strength Program' that launched last December.
What do you think? Will you use this training program to help supplement your cycling, running, or yoga?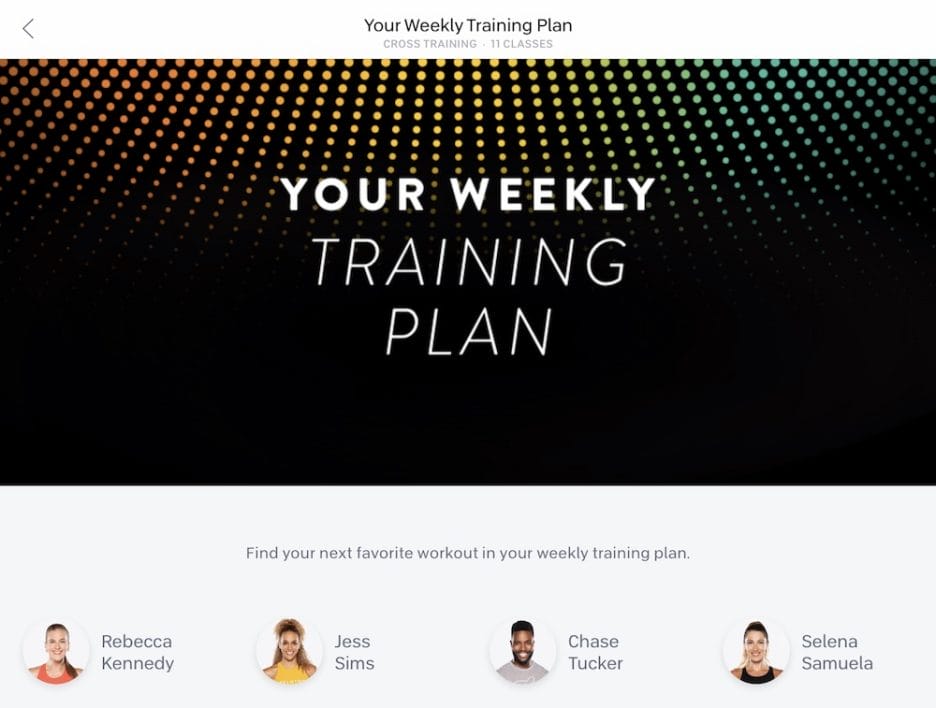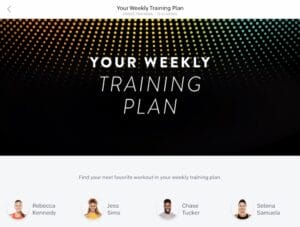 ---
Want to be sure to never miss any Peloton news? Sign up for our newsletter and get all the latest Peloton updates & Peloton rumors sent directly to your inbox.