It's not a topic we hear a lot about, but Peloton appears to be continuing to adjust their warranty pricing & policies. Earlier this week we saw Peloton adjust their included limited warranty to extended from 1 year to 5 years automatically on the Tread+ base & motor. Now, Peloton is updating the price point of the extended warranty on their original Peloton Bike.
Previously, an additional 12 months of extended warranty on the original Peloton Bike would cost $175, while an additional 27 months of extended warranty would cost $230. At time of publishing, this is still the pricing information displayed on Peloton's support page for the extended warranty (also on this second page here). However, pricing information for extended warranties has been updated in the checkout process when actually buying an original Peloton bike. Buyers of a new Peloton Bike right now can get 12 months of extended warranty for $145 (a drop of $30), or 27 months of extended warranty for $185 (a $45 drop).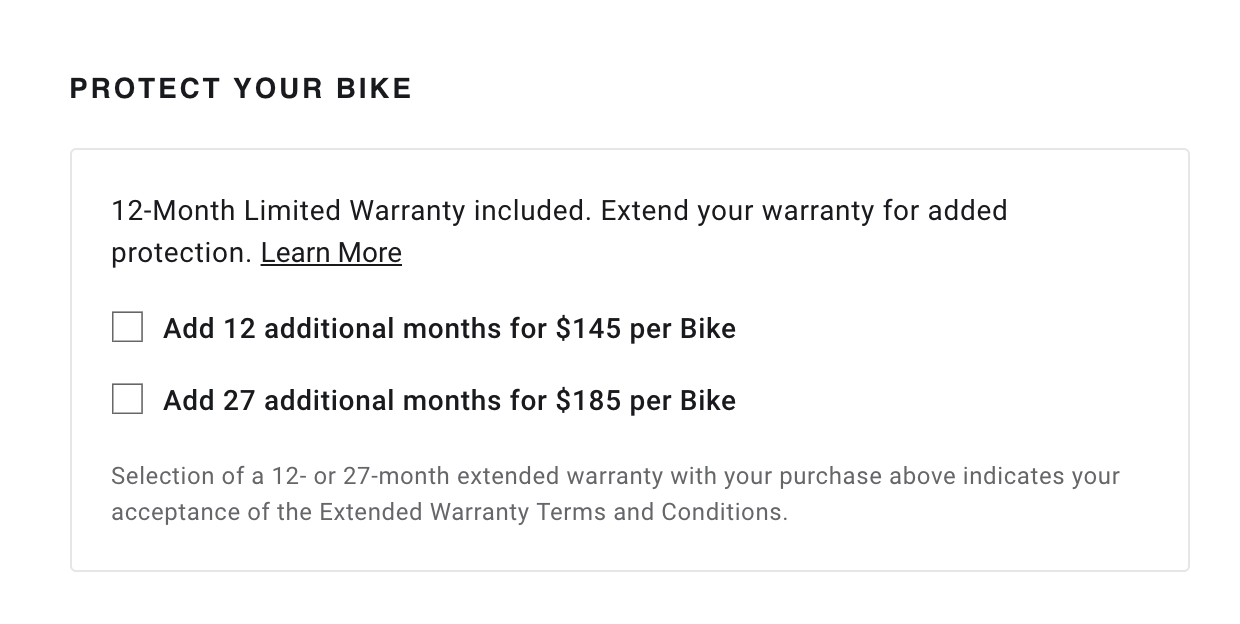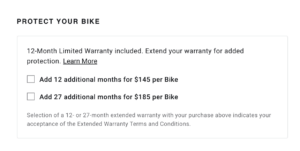 We expect this price drop is most likely permanent, and Peloton added the change to the shopping cart before getting the support pages updated.
If it has been less than 30 days since you bought your original Peloton bike, it should be possible for you to get back this price difference on the extended warranty – although you'll have to jump through some hoops. (Please note: This is based on our reading of the terms, you should confirm this with Peloton support yourself first before cancelling anything!) The full extended warranty policy for those who purchased their warranty after May 22nd, 2020 can be found here. One page 3, in the section on cancellations, it states (emphasis ours):
(1) You may cancel this Agreement for any reason at any time by contacting the Administrator in writing.
(2) If You cancel within thirty (30) days of receipt of this Agreement without making a claim ("Free Look Period"), You will receive a full refund.
(3) If You cancel within thirty (30) days of receipt of this Agreement after making a claim or after thirty (30) days from receipt, you will receive a pro-rata refund based on the time expired, less the cost of claims paid.
You also need to know the fact that the extended warranty can be added on any time up until 12 months from the date of delivery. So, in theory, if you are within 30 days of your original purchase of the extended warranty you should be able to cancel and get a full refund of your original $230 – assuming it's within the first 12 months of you getting your bike. Then you can buy a new extended warranty, at the lowered price of $185. Again, please be sure to confirm this yourself with Peloton support first! We expect it won't be a matter of just getting a credit for the difference, but you'll actually have to refund the full amount for the old policy, then purchase the new policy.
With the Tread+, it seems the majority of uses for the extended warranty end up being used for the base. For the original Bike, one of the highest reported issues seems to be with the bearings in the flywheel. It manifests itself as a rattling noise that sounds like it's spinning around in the wheel.
For those who aren't aware, one thing to keep in mind when it comes to Peloton's included warranties, and extended warranties – both are only applicable to the original owner/purchaser of Peloton bikes & treads. If you decide to purchase a used bike or tread, it will have no warranty at all on it!
---
Want to be sure to never miss any Peloton news? Sign up for our newsletter and get all the latest Peloton updates & Peloton rumors sent directly to your inbox.