A long running complaint among Peloton users has been that even though there is a built in heart rate monitor on the Apple Watch, it doesn't have the capability to broadcast its heart rate signal in a way the Peloton Bike or Tread can receive.  Without this, you can't store your heart rate data in the same activity recording on a Peloton device without a secondary heart rate monitor.  One Apple developer & Peloton user (#Spins_for_Carbs) finally decided to do something about this and created a custom app as a workaround.  The result of his work is the iPhone and Apple Watch app BlueHeart (link to app store).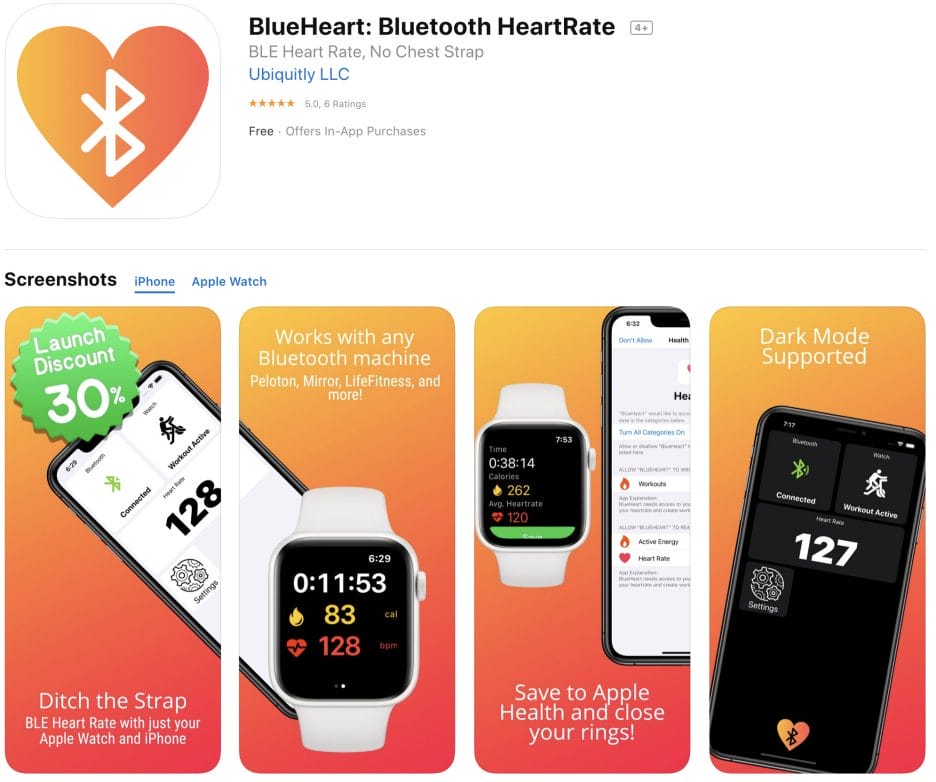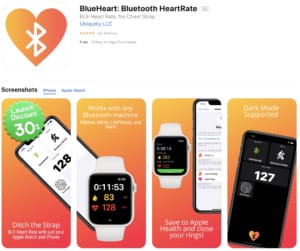 The app is freemium – free to purchase, with ads that can be disabled by a $9.99 in-app purchase ($6.99 for a limited time).   The biggest downside to this app is that it requires both your phone & watch to be used to relay the signal to your Peloton Bike or Tread (and hopefully soon the Peloton Rower as well?) – but that is a small price to pay for being able to connect your Apple Watch heart rate data to the Peloton.   The process is that you run the BlueHeart app on your watch, which sends your heart rate data to the BlueHeart app on your phone.  The BlueHeart phone app picks up the HR signal, re-encodes it to a format the Peloton can read, and re-broadcasts it back out via Bluetooth BLE.  The Peloton Bike or Tread then reads the heart rate data from the phone, which is actually a real-time relay from your Apple Watch.  In our testing, there was no noticeable lag in what the Peloton showed for heart rate and what our Apple Watch was showing.
Want to try it out?  You'll need an iPhone that supports iOS 13.1 (iPhone 6S or newer), and an Apple Watch running WatchOS 6 (every Apple Watch except the original Gen 1 model).    If you meet those requirements, just follow the guide below, or scroll down for a video demonstration.
Step by Step Guide for how to pair your Apple Watch heart rate with a Peloton Bike or Tread
Download BlueHeart.  Ensure the BlueHeart app is showing up on both your watch and phone.
Open BlueHeart on your Apple Watch
Pick the activity type you will be doing (Spin, Run, or Row).  You'll then see a prompt to open BlueHeart on your phone.
Open BlueHeart on your Apple iPhone
A window should pop up telling you to grab your water bottle.  Hit start.
If you haven't done the in-app upgrade, you'll see an advertisement. Close out of this.
You'll then see a prompt telling you to Connect To Your Equipment.  You will look for "BlueHeart" or "<your phone name>"
On your Peloton Bike or Tread, open the Heart Rate monitor window [This shows up when you are in the preview window for any workout].
After a few seconds, a device should show up.  For most people, it will be called "BlueHeart", but for some people it will be their phone's name.
Hit Connect next to the new device.
After a few seconds, it should show a connected message and you are now good to go.  Once you actually start the workout, it will use the heart rate data from your Apple Watch!
If you want to see this in action, just check out the demo video below (also available on YouTube):
As an added bonus, at the same time your heart rate is being broadcast to the Peloton, your Apple Watch is recording an activity and making progress towards your activity rings in Apple Health!  One issue we found with that app is that if you've previously set up your Peloton profile to sync to Apple health, using the BlueHeart to also record the ride will result in 2 workouts being generated.  The developer is aware of this issue and says a fix should be released in the next version
We wanted to see how accurate BlueHeart was, so decided to put it to the test. We did a 45 minute power zone endurance workout, with an Apple Watch on one arm, recording to the Peloton with BlueHeart, and on the other arm, had a Scosche Rhythm+ recording heart rate data through a Wahoo Bolt. After we finished the workout, we plugged our data into the DCRainmaker Analyzer (click here to see the data yourself), and did an overlay of the two heart rate recordings. Our verdict? Pretty spot on! The only major discrepancy we see is in the first 1-3 minutes, with the Scosche recording a bit lower.


We're focused on Peloton on this site, but it's worth noting that BlueHeart should also enable your Apple Watch to broadcast to any other fitness equipment or gym gear that supports Bluetooth HR monitors – from Mirror, Hydrow, LifeFitness, Precor, Wahoo, Garmin, TrainerRoad and more.
FAQs About Connecting Apple Watch & Peloton with BlueHeart
What models of Apple Watch support broadcasting their heart rate to Peloton?
Apple Watch Series 5, Apple Watch Series 4, Apple Watch Series 3, Apple Watch Series 2, and Apple Watch Series 1 can all broadcast their heart rate data to a Peloton Bike or Tread using BlueHeart.  The only Apple Watch that isn't supported is the original Apple Watch Generation 1.  This is because it is not able to upgrade to WatchOS 6.
How accurate is the heart rate data from an Apple Watch? Should I use another wrist strap or chest strap instead?
DCRainmaker did some extensive analysis and found that the Series 4 was best in class for a wrist-based optical heart rate monitor.  He did notice some quirks with the Series 5, but these might be corrected by now.  If you're still interested in a different type of heart rate monitor to use with the Peloton, you can check out our accessories page for some of the top ones used by the community
How secure is my data? Are there any privacy concerns?
The developer is claiming that they store no personally identifiable information.  As they state:
BlueHeart is built from the ground up to be privacy focused. BlueHeart is GDPR, CCPA, and Apple No-Tracking complaint.​We use the app every day. We care about our privacy as much as you do, so your data is your data. We don't want it and we upload no identifiable data to our servers. We also use best in class ad partners that are also GDPR, CCPA, and Apple No-Tracking complaint.
BlueHeart is available in the app store today – check it out and let us know what you think.  Feel free to leave any suggestions for future improvements in the comments and we'll make sure to pass them along to the developer!
---
Want to be sure to never miss any Peloton news? Sign up for our newsletter and get all the latest Peloton updates & Peloton rumors sent directly to your inbox.