If you've ever taken a Pilates or barre class with Hannah, you know slow burn is real. Hannah translates that to the bike, too. She is proof that sustained resistance at a moderate cadence can mean a killer workout. You probably won't sprint or be horribly gasping for air, but your output won't suffer because of it. Plus, Hannah is like a ray of sunshine on the bike. She's not over-the-top or even the instructor who spews the most words of encouragement, but you just feel her positive vibe urging you forward throughout the class. Her rides are sure to make you stronger -- and a bit happier, too.

Best Hannah Corbin Peloton Classes: 45 Minute Country Ride (7/12/2020), 20 Minute Pick-Me-Up Ride (12/26/2020), 30 Minute Intervals & Arms Ride (2/11/2021)

Beyond Cycling Hannah's also known for her Barre and Pilates classes, but trust us when we say, she is one of the best to stretch with. Her 10-minute foam rolling classes mainly on one part of the body and are the perfect way to target tight muscles, but try her Full Body one from 11/25/19 to get started.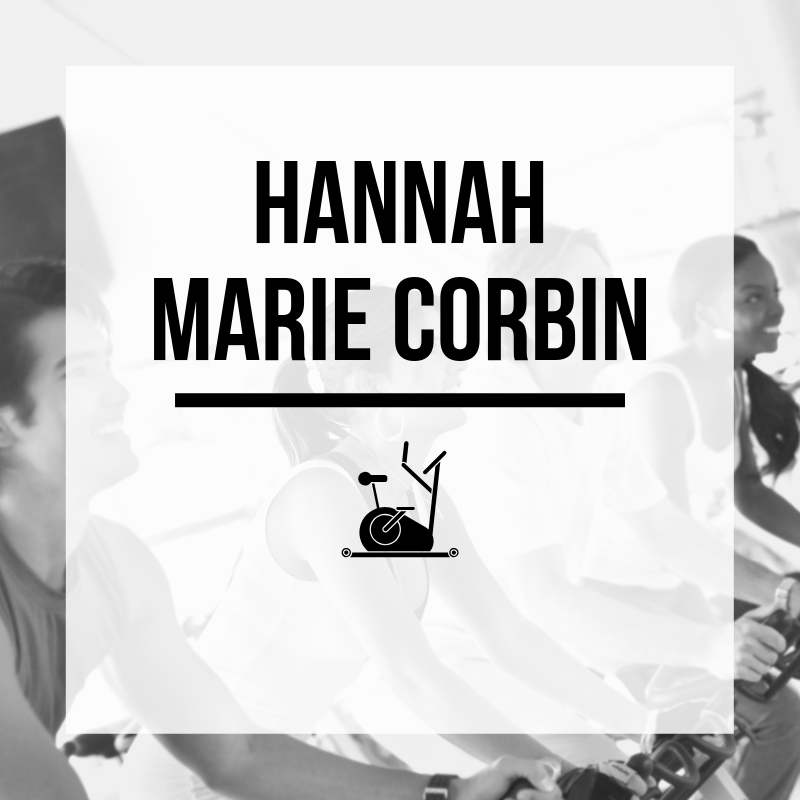 Tip: Click on an instructor name or artist name for a link to their profile. Click the green plus sign to view a brief description and for a link to the workout on Peloton
Workout
Sport Type
Workout Type
Class Length
Instructor
Date
Highlighted Artists
# Songs Featuring Artist
20 min Low Impact Ride
Cycling
Low Impact
20
Hannah Marie Corbin
Mon 1/21/19 9:55 AM
Avicii, Macklemore & Ryan Lewis, Daryl Hall & John Oates, Hozier
0
20 min Classic Rock Ride
Cycling
Theme
20
Hannah Marie Corbin
Mon 1/21/19 9:30 AM
Guns N' Roses, Aerosmith, Van Halen, Lynyrd Skynyrd
0
45 min Intervals & Arms Ride
Cycling
Intervals
45
Hannah Marie Corbin
Mon 1/21/19 6:00 AM
Hailee Steinfeld, Jeremih, Skylar Grey, Diddy - Dirty Money
0
45 min Pop Ride
Cycling
Theme
45
Hannah Marie Corbin
Sun 1/20/19 11:45 AM
Drake, Justin Bieber, Diplo, Skrillex
0
45 min Low Impact Ride
Cycling
Low Impact
45
Hannah Marie Corbin
Sun 1/20/19 8:00 AM
Rihanna, Florence + The Machine, Christina Aguilera, R3HAB
0
45 min 90s Country Ride
Cycling
Theme
45
Hannah Marie Corbin
Sat 1/19/19 6:00 PM
Kenny Chesney, Shania Twain, Jo Dee Messina, Travis Tritt
0
30 min Country Ride
Cycling
Theme
30
Hannah Marie Corbin
Sat 1/19/19 3:30 PM
Carrie Underwood, Shania Twain, Dixie Chicks, Reba McEntire
0
30 min HIIT Ride
Cycling
Intervals
30
Hannah Marie Corbin
Fri 1/18/19 11:30 AM
David Guetta, Major Lazer, Florence + The Machine, Christina Aguilera
0
20 min HIIT Ride
Cycling
Intervals
20
Hannah Marie Corbin
Fri 1/18/19 9:55 AM
R3HAB, Alesso, Jess Glynne, Dirty South
0
20 min 70s Ride
Cycling
Theme
20
Hannah Marie Corbin
Fri 1/18/19 9:30 AM
Elton John, Cher, Eric Clapton, Chicago
0
45 min 70s Ride
Cycling
Theme
45
Hannah Marie Corbin
Thu 1/17/19 7:00 AM
Journey, Bill Withers, Sister Sledge, Simon & Garfunkel
0
45 min Classic Rock Ride
Cycling
Theme
45
Hannah Marie Corbin
Mon 1/14/19 6:00 AM
Queen, Def Leppard, Rush, Kansas
0
45 min Pop Ride
Cycling
Theme
45
Hannah Marie Corbin
Sun 1/13/19 11:45 AM
Rihanna, Major Lazer, R3HAB, Rudimental
0
45 min Country Ride
Cycling
Theme
45
Hannah Marie Corbin
Sat 1/12/19 6:00 PM
Florida Georgia Line, Carrie Underwood, Sam Hunt, Tim McGraw
0
30 min Pop Ride
Cycling
Theme
30
Hannah Marie Corbin
Sat 1/12/19 3:30 PM
Calvin Harris, David Guetta, Demi Lovato, Rudimental
0
Workout
Sport Type
Workout Type
Class Length
Instructor
Date
Highlighted Artists
# Songs Featuring Artist