There is one word that embodies Robin: Queen. She is grit, hustle, grace, positivity, light, power, love, determination and more all rolled into one. Don't be mistaken – she is going to kick your ass. But she'll motivate you in ways you never thought possible. She'll share stories about her own personal journey that will make you feel like you're working out with a friend. She'll call you royalty and you'll believe her. She'll encourage you to push in 3, 2, 1 and your legs will move faster than you ever thought possible. She has a ride for every emotion you are feeling and for every level you're looking to achieve. She only asks one thing: That you show up with your crown on because she only rocks with royalty.

Best Robin Arzon Peloton Classes: The Greatest Showman Ride (11/16/2018), 30 Minute 90s Hip Hop Ride (1/6/2021), 20 Minute Tabatat Ride (2/20/2020)

Beyond Cycling If you run or walk outdoors, don't forget about the Peloton app and take Robin outside with you. She brings the same enthusiasm and inspiration to those classes as she does to the ones on the bike. She mixes in personal stories -- like being diagnosed with Type 1 diabetes right before she was supposed to ultra marathon – while encouraging you to step into your greatness. Over 100K people have taken her 30 Minute 90s Fun Run (3/12/2020) and every one of them has given it a thumbs up.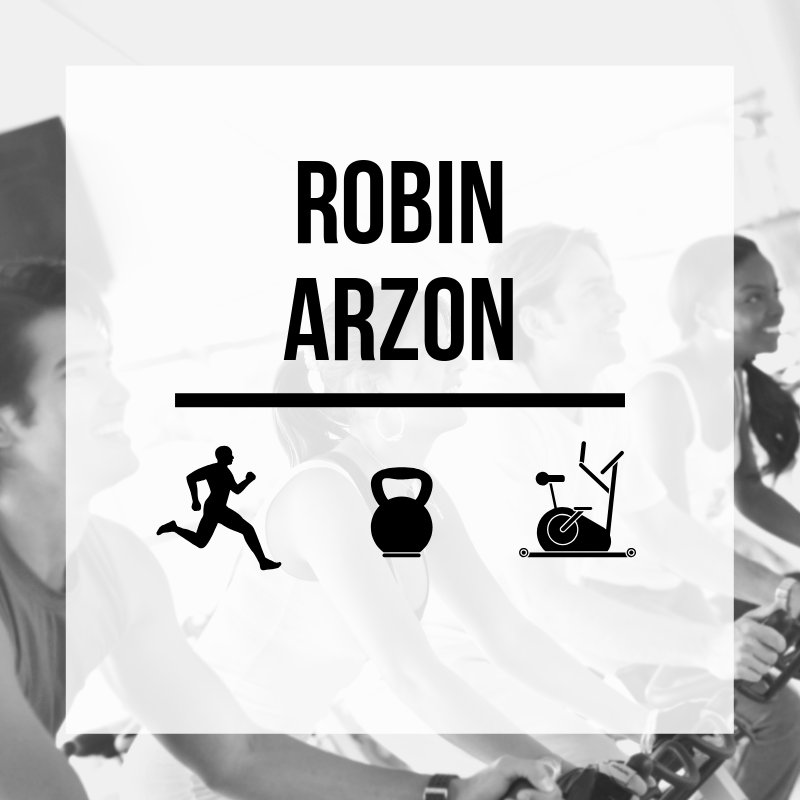 Tip: Click on an instructor name or artist name for a link to their profile. Click the green plus sign to view a brief description and for a link to the workout on Peloton
Workout
Sport Type
Workout Type
Class Length
Instructor
Date
Highlighted Artists
# Songs Featuring Artist
45 min Hip Hop Ride
Cycling
Theme
45
Robin Arzon
Wed 1/23/19 6:30 PM
Drake, Kanye West, JAY Z, Lil Wayne
0
20 min 90s Pop Ride
Cycling
Theme
20
Robin Arzon
Wed 1/23/19 4:55 PM
Madonna, No Doubt, Spice Girls, Backstreet Boys
0
20 min 80s Ride
Cycling
Theme
20
Robin Arzon
Wed 1/23/19 4:30 PM
Survivor, Kenny Loggins, Dolly Parton, The Pointer Sisters
0
45 min Tabata Ride
Cycling
Intervals
45
Robin Arzon
Tue 1/22/19 5:30 PM
Calvin Harris, Sia, Lil Wayne, Eminem
0
45 min Int. Bootcamp: Core
Bootcamp
Bootcamp
45
Robin Arzon
Mon 1/21/19 5:30 PM
Kanye West, Calvin Harris, Sia, Lil Wayne
0
5 min Post-Run Stretch
Stretching
Pre & Post-Run Stretch
5
Robin Arzon
Mon 1/21/19 4:10 PM
The Verve, The Cardigans, Shiny Goose
0
5 min Pre-Run Warm Up
Stretching
Pre & Post-Run Stretch
5.0833333333333
Robin Arzon
Mon 1/21/19 4:00 PM
Otto Knows, M83
0
20 min Beg. Hills Run
Running
Hill Running
20
Robin Arzon
Sat 1/19/19 9:55 AM
Lil Wayne, The Chainsmokers, Imagine Dragons, Skrillex
0
45 min Live DJ Ride
Cycling
Live DJ
45
Robin Arzon
Fri 1/18/19 5:45 PM
Calvin Harris, David Guetta, Sia, Lil Wayne
0
30 min HIIT Ride
Cycling
Intervals
30
Robin Arzon
Fri 1/18/19 1:30 PM
Nicki Minaj, Lil Wayne, The Chainsmokers, Major Lazer
0
45 min Int. Bootcamp: Chest & Back
Bootcamp
Bootcamp
45
Robin Arzon
Mon 1/14/19 5:30 PM
Kanye West, Imagine Dragons, Missy Elliott, Kendrick Lamar
0
10 min Arms & Shoulders Strength
Strength
Arms & Shoulders (strength & toning)
10
Robin Arzon
Sat 1/12/19 10:05 AM
Rihanna, Drake, JAY Z, Linkin Park
0
30 min Int. Run + Glutes & Legs
Bootcamp
Run + Strength
30
Robin Arzon
Sat 1/12/19 9:30 AM
Drake, Kanye West, Lil Wayne, Eminem
0
45 min Live DJ Ride
Cycling
Live DJ
45
Robin Arzon
Fri 1/11/19 5:45 PM
Drake, Nicki Minaj, Justin Bieber, Calvin Harris
0
30 min Intervals & Arms Ride
Cycling
Intervals
30
Robin Arzon
Fri 1/11/19 1:30 PM
Rihanna, David Guetta, Diplo, Skrillex
0
Workout
Sport Type
Workout Type
Class Length
Instructor
Date
Highlighted Artists
# Songs Featuring Artist