There's a steadfastness and, dare we say, politeness to Ben that make his classes a go-to. But that gentleman quality doesn't mean he's not going to make you work hard. In Ben's classes, there's not a lot of time where you're not pushing -- Ben often throws in a few spin ups where you increase cadence during the warm-up – and it doesn't slow down much from there. You'll climb, you'll hit some resistance intervals, you'll jog out of the saddle. And through it all, Ben will calmly guide and encourage you. He exudes positivity and will definitely introduce at least one or two songs as "an absolute banger" or "one of his all-time favorite songs." He's not going to yell or do crazy dance moves. He's simply going to push you and tell you that you've got it and he has your back. The craziest part is that you will believe him.

Best Ben Alldis Peloton Classes: 45 Minute HIIT & Hills Ride (4/28/2021), 30 Minute 2010s Ride (9/30/2020), 20 Minute Beginner Ride (3/14/2020)

Beyond Cycling Ben's strength classes are great for any level. He talks through the movement and gives clear direction. You'll never feel rushed or confused, which is perfect for a beginner. His classes will challenge you but they won't leave you so sore that you can't ride the next day. Check out his 10 Minute Gluets & Legs Strength from 12/17/2020 to see what we mean.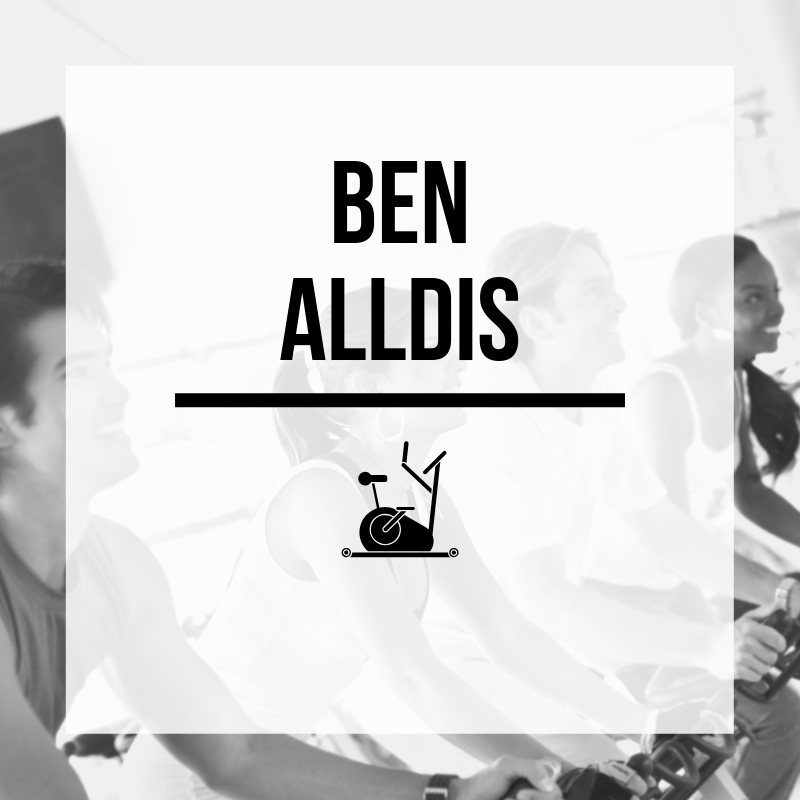 Tip: Click on an instructor name or artist name for a link to their profile. Click the green plus sign to view a brief description and for a link to the workout on Peloton
Workout
Sport Type
Workout Type
Class Length
Instructor
Date
Highlighted Artists
# Songs Featuring Artist
5 min Post-Ride Stretch
Stretching
Pre & Post-Ride Stretch
5
Ben Alldis
Tue 1/22/19 11:05 AM
Coldplay, James Blake
0
45 min Intervals & Arms Ride
Cycling
Intervals
45
Ben Alldis
Tue 1/22/19 9:30 AM
Justin Timberlake, Missy Elliott, Afrojack, Ty Dolla $ign
0
20 min HIIT Ride
Cycling
Intervals
20
Ben Alldis
Mon 1/21/19 5:15 AM
Macklemore & Ryan Lewis, Jonas Blue, Cedric Gervais, ODESZA
0
20 min Low Impact Ride
Cycling
Low Impact
20
Ben Alldis
Sun 1/20/19 11:25 AM
Coldplay, Dua Lipa, Shawn Mendes, Steve Angello
0
20 min HIIT Ride
Cycling
Intervals
20
Ben Alldis
Sun 1/20/19 10:55 AM
Shawn Mendes, Camila Cabello, Macklemore, Bishop Briggs
0
10 min Climb Ride
Cycling
Climb
10
Ben Alldis
Sat 1/19/19 10:20 AM
Eric Prydz, Moloko, Prismo, William Black
0
30 min House Ride
Cycling
Theme
30
Ben Alldis
Sat 1/19/19 9:30 AM
Duke Dumont, Oliver Heldens, CamelPhat, Au/Ra
0
30 min 90s Ride
Cycling
Theme
30
Ben Alldis
Fri 1/18/19 11:00 AM
Diddy, Mýa, Kelis, Fatboy Slim
0
10 min Low Impact Ride
Cycling
Low Impact
10
Ben Alldis
Fri 1/18/19 10:40 AM
Justin Timberlake, Major Lazer, DJ Snake, MØ
0
10 min Arms Toning
Strength
Arms & Shoulders (strength & toning)
10
Ben Alldis
Thu 1/17/19 11:55 AM
Justin Timberlake, Tiësto, Post Malone, Wyclef Jean
0
30 min Interval & Arms Ride
Cycling
Intervals
30
Ben Alldis
Thu 1/17/19 10:00 AM
Diplo, Dua Lipa, French Montana, MØ
0
5 min Post-Ride Stretch
Stretching
Pre & Post-Ride Stretch
5
Ben Alldis
Tue 1/15/19 7:00 AM
Kygo, Robin Schulz, Mr. Probz, Seinabo Sey
0
45 min Interval & Arms Ride
Cycling
Intervals
45
Ben Alldis
Tue 1/15/19 5:15 AM
Calvin Harris, Rudimental, 2Pac, Ne-Yo
0
20 min Beginner Ride
Cycling
Beginner
20
Ben Alldis
Mon 1/14/19 6:45 AM
Calvin Harris, David Guetta, Diddy, Flo Rida
0
20 min Low Impact Ride
Cycling
Low Impact
20
Ben Alldis
Sun 1/13/19 10:35 AM
The Chainsmokers, Bruno Mars, Ed Sheeran, XYLØ
0
Workout
Sport Type
Workout Type
Class Length
Instructor
Date
Highlighted Artists
# Songs Featuring Artist