Peloton has released their first video game for the Bike & Bike+, called Peloton Lanebreak. First announced in the summer of 2021, Lanebreak has been in beta testing by members for the last several months. We even had a first look at some of the beta footage back in November. However, last week the game was made available to all members – and after playing dozens of games on it, we have a review, overview and tutorial of the Peloton Lanebreak video game – along with tips & tricks, and things that could be improved in the future.
If you're just interested in our overall review & thoughts on the game, scroll on down the bottom. Otherwise, read on for how Peloton Lanebreak works, how to play it, some tips & tricks to help you get a new high score, some things we'll hopefully see in the future to improve the game, and more.
One important thing to know is that Peloton Lanebreak is not available on the Peloton App – it is only available on the Peloton Bike or Bike+. Peloton Lanebreak is also not available on the Peloton Tread treadmill. Also, if you have a 1st generation Peloton Bike screen (with an orange power button) for the original Peloton Bike, Lanebreak is also not available, since that tablet stopped receiving software updates & new features in 2019.
Video Demo of Peloton Lanebreak
You can find a video review of Peloton Lanebreak embedded below, or here on YouTube. This has real world footage of the production version of the game.
What is Lanebreak on Peloton?
Peloton Lanebreak is a new video game, available on the Peloton Bike or Bike+, which plays like a cross between Guitar Hero, Mario Kart, and Tron. The concept is simple – rather than watching a coach lead the class, you're riding along a racetrack, trying to earn points as you go through different challenges. Everything is controlled with your leg speed (cadence) and the resistance knob on the bike. Each game is tied to a specific playlist that has been curated by the Peloton team.
The official name of the game is "Peloton Lanebreak". You might see the Peloton video game referred to as "Peloton Lanebreakers", "Peloton LaneBrake", "Peloton Lane Break", and more online – but the official name for it is Peloton Lanebreak.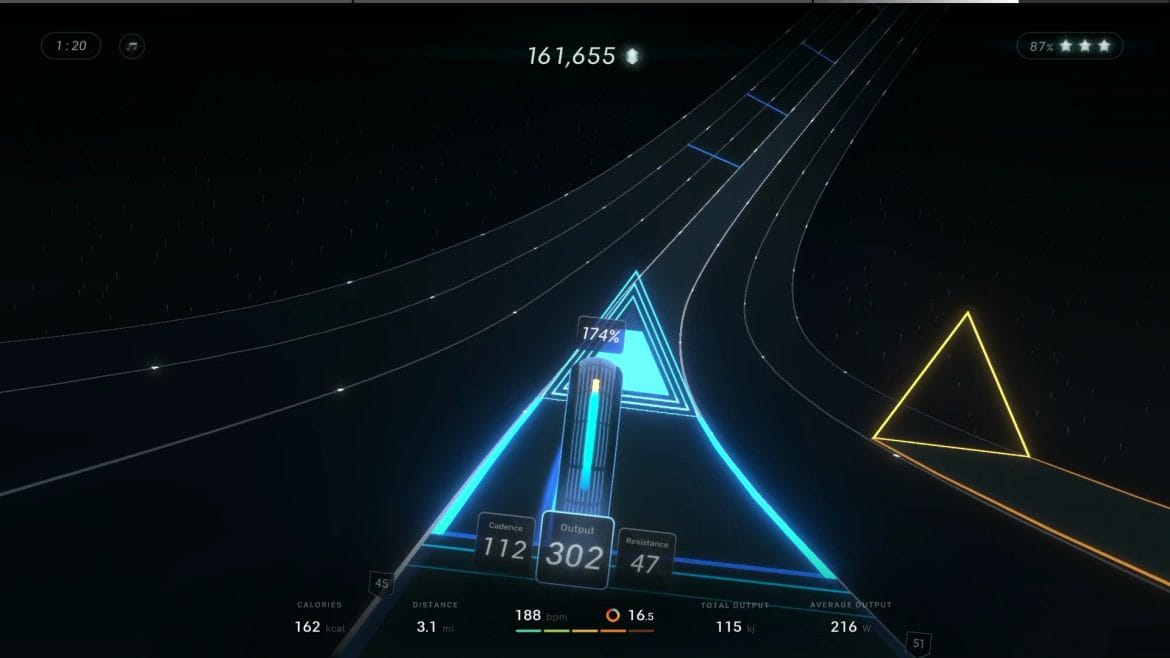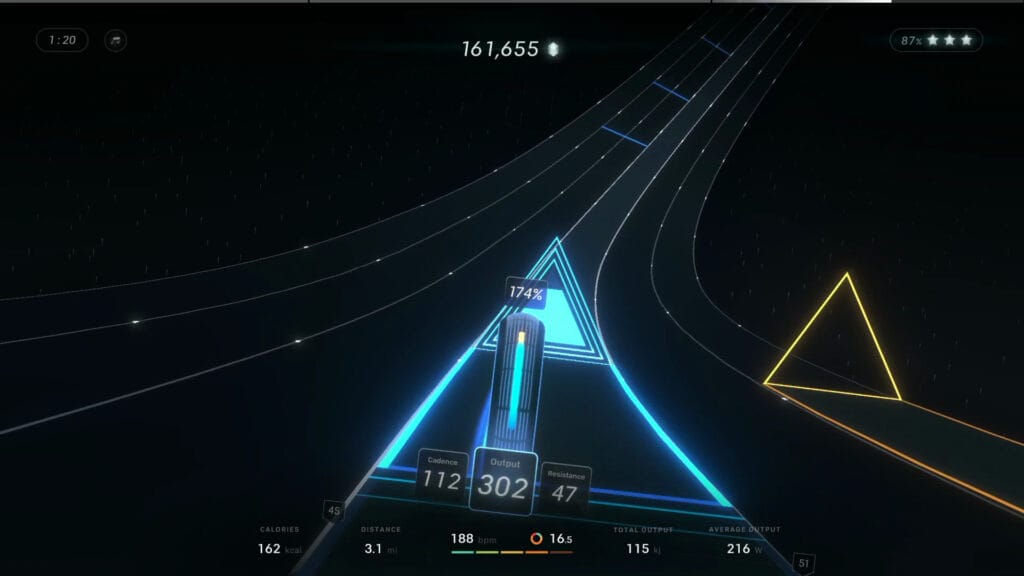 Where to find Peloton Lanebreak / How to Play the Peloton Video Game
To start playing Peloton Lanebreak, head to the "More Rides" tab on the bottom of your Bike or Bike+ screen. This is the same screen you would find the "Just Ride" or "Scenic Ride" mode – except there is now a new panel for Lanebreak there as well. Click the "Explore" button to open the game.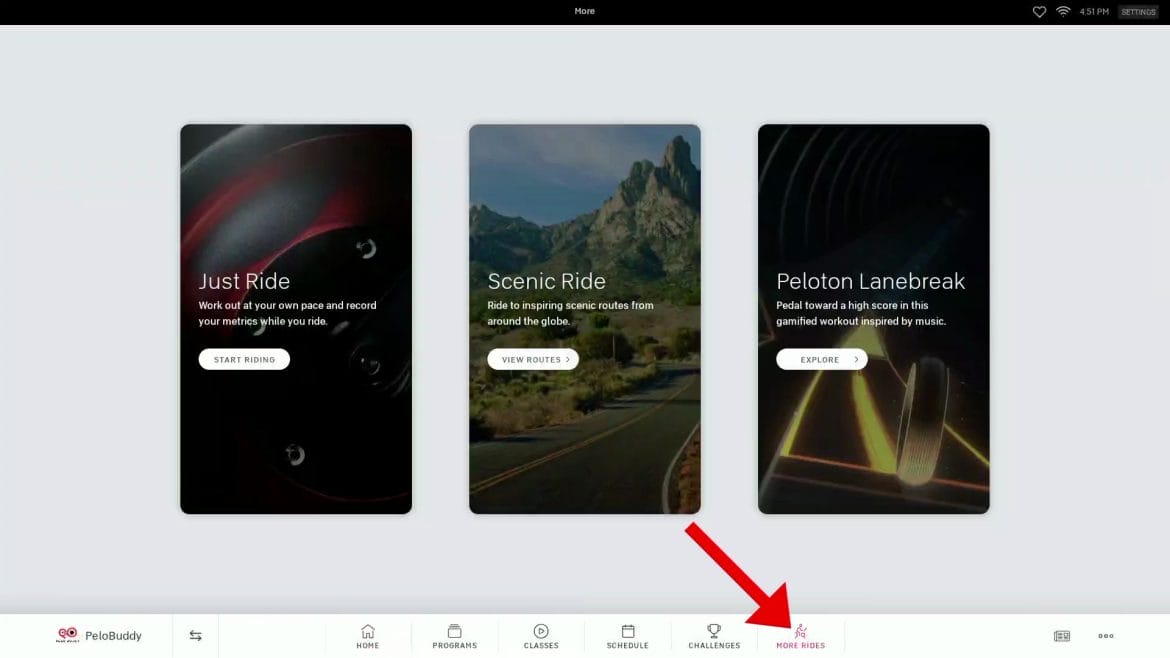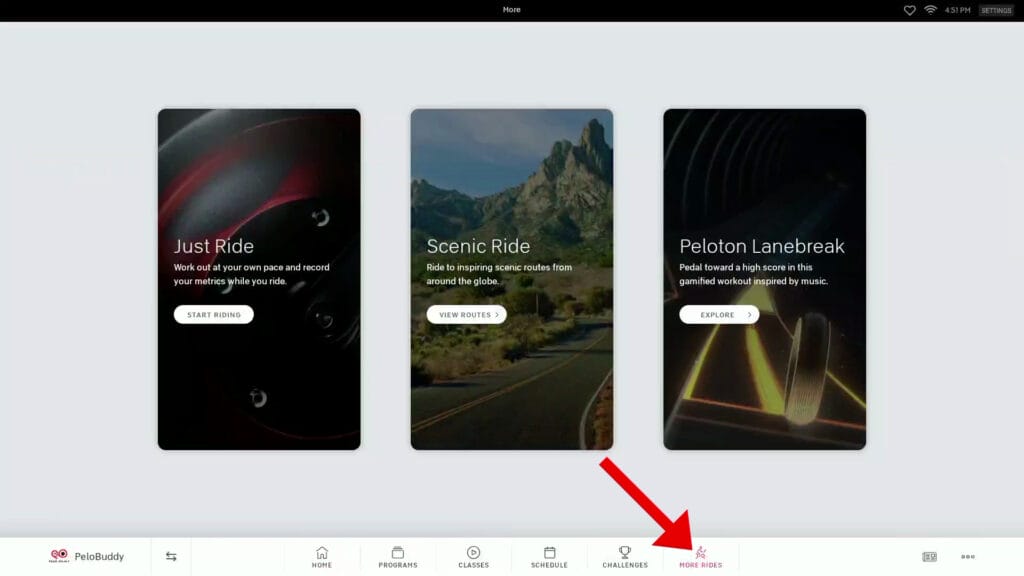 There's also temporarily an image for Lanebreak on the main home page of the Peloton Bike screen, which you can click to open – but we expect that will go away in the next few weeks, so you'll want to get used to navigating to "More Rides" to find the game.
The first time the game opens, you have the option to take a tutorial – which we highly recommend doing.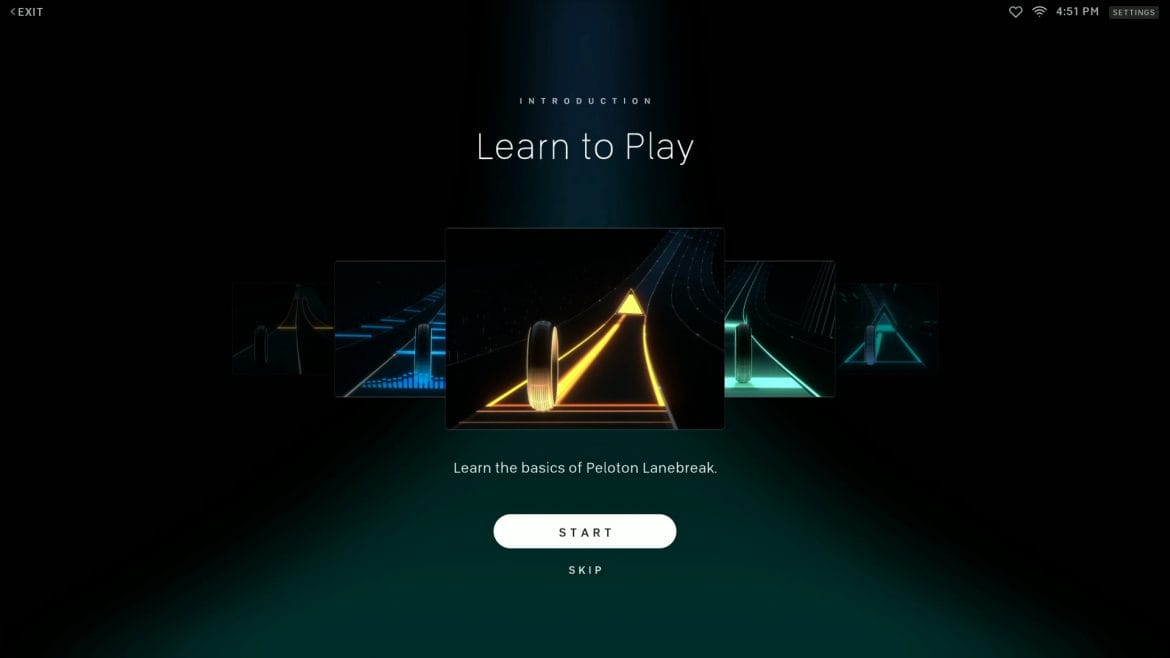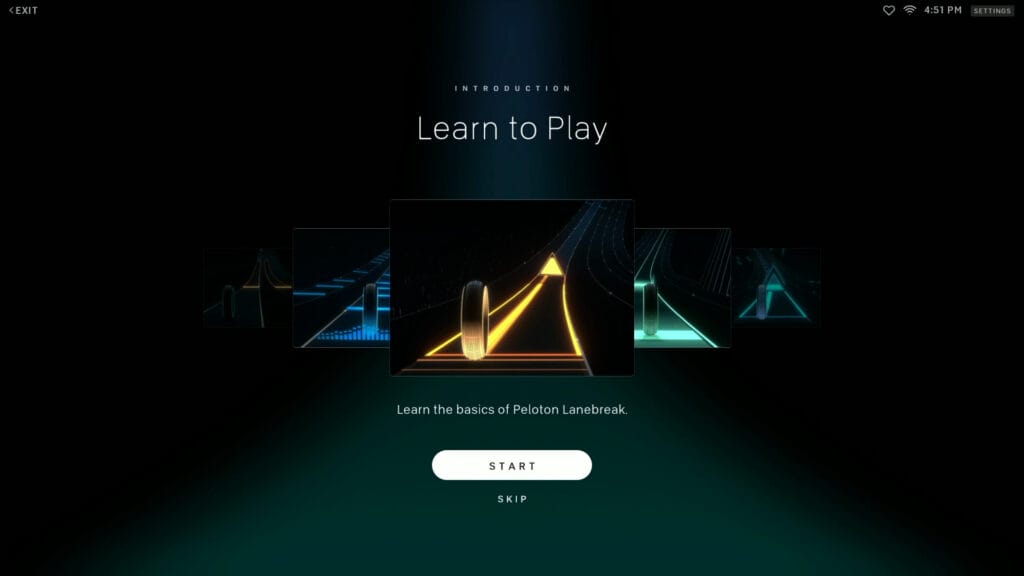 How Peloton Lanebreak Video Game Works (How to score points & get a high score in Peloton Lanebreak)
The goal of Peloton Lanebreak is to score as many points as you can – which you do by completing challenges as you are riding. There are 3 different types of challenges in the game. As we mention above, everything is controlled by your cadence or resistance.
Note that in some of their documentation, Peloton refers to the different challenges as "Moments". However, we'll be calling Peloton moments "challenges" throughout this guide.
Each lane corresponds to a specific resistance range. This means that you control moving between lanes by using the resistance knob (the red knob on the bike), and turning it the left or right. If you stay within that resistance range shown in your current lane, you'll stay in the lane. Turn the knob to lower your resistance, and you will move to the left. Increase your resistance, and you'll move to the right.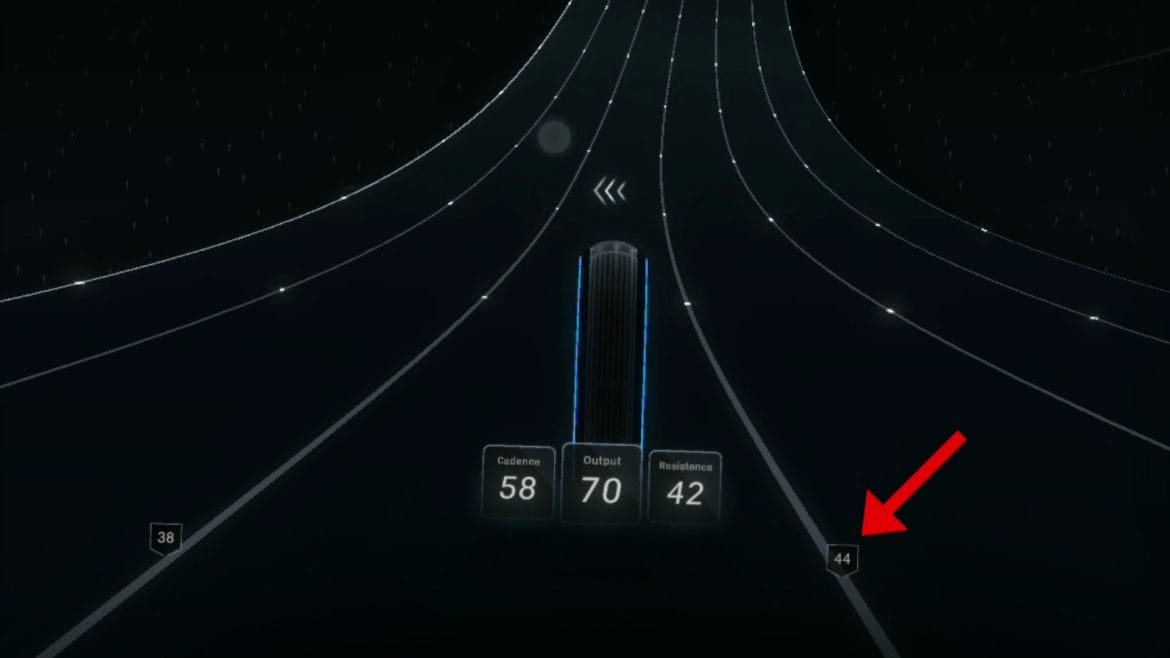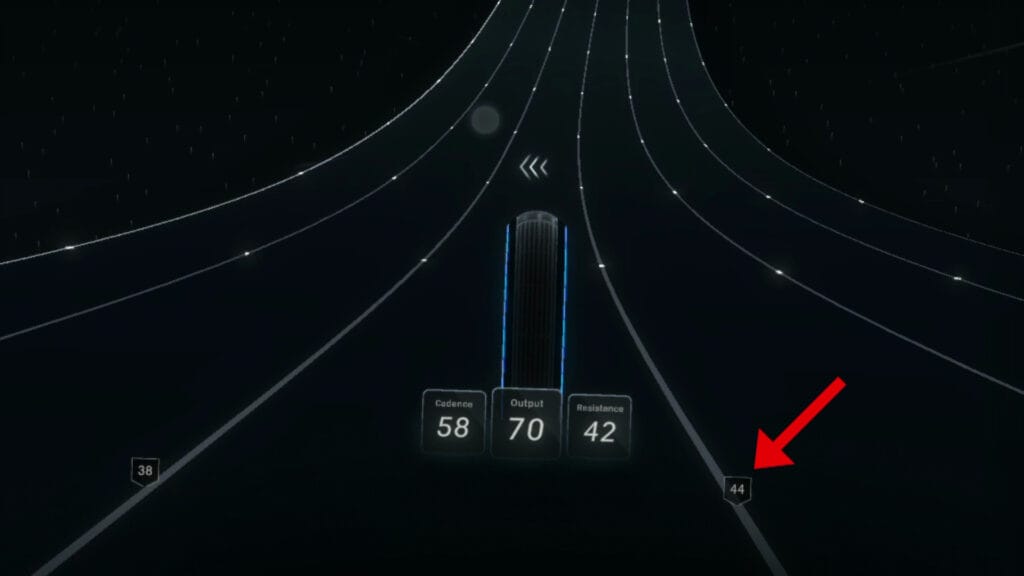 To take part in a challenge, you'll need to move into whatever lane the challenge is up the track – it will be visible well ahead of time so you can adjust your resistance as needed. Now that you know how to get into place for them, let's look at what those challenges are.
Beats Challenges
The first type of challenge you can earn points on in Peloton Lanebreak is the "Beats" challenge.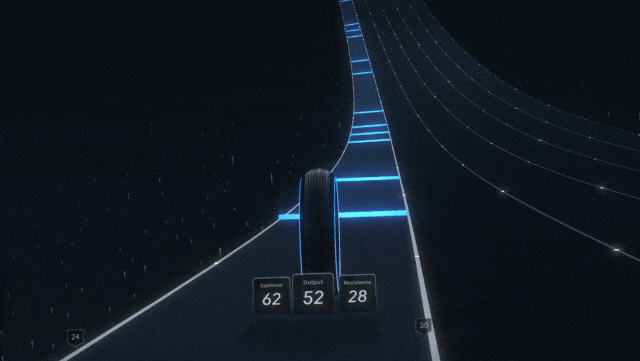 This is the easiest of the challenges – you earn points just by being in the correct lane for this challenge (and going above 20 cadence).
Breakers Challenges
The next challenge in Peloton Lanebreak is called "Breakers"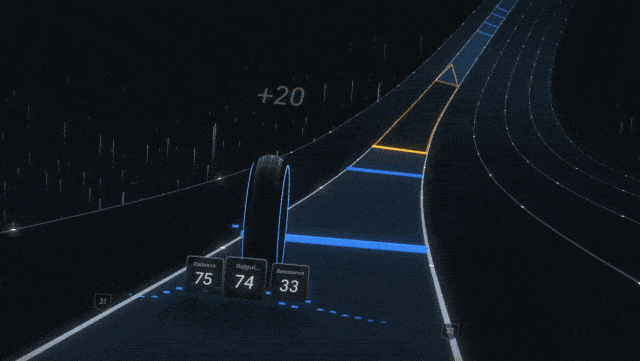 For the Breakers challenge, your goal is to "charge up" the track for this segment. In essence, you're trying to increase your output. Since you have to stay in your lane during this challenge, that limits how much you can adjust the resistance – which means you'll complete this challenge mostly by increasing your cadence. You earn points by getting the breaker charged to 100% here, but you earn bonus points by charging all the way up to 200% (which Peloton calls Overcharging). Note that in our testing, this usually required getting up to cadences of 120 or higher. To earn a perfect score, you'll need to be sure to charge the Overcharge each breaker to 200%.
Streams Challenges
The final challenge & way to earn points in Peloton Lanebreak is the Streams challenge.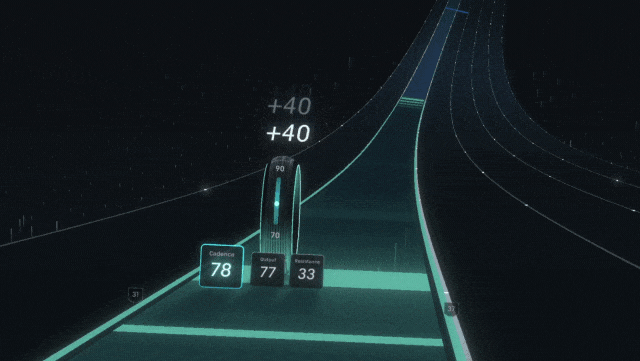 For this challenge, you earn points by keeping within a certain resistance range. At time of publishing, all of the resistance ranges were bands of 20 – for example, you'd need to be between 80-100 cadence or 65-85 cadence. Stay anywhere in the specified cadence range, and you'll earn your points.
Different levels & playlists for the Peloton Lanebreak Video Game
In Peloton Lanebreak, levels & playlists are one & the same. The main menu of Peloton Lanebreak is a list of different playlists (or levels) that are available. Each is a specific length.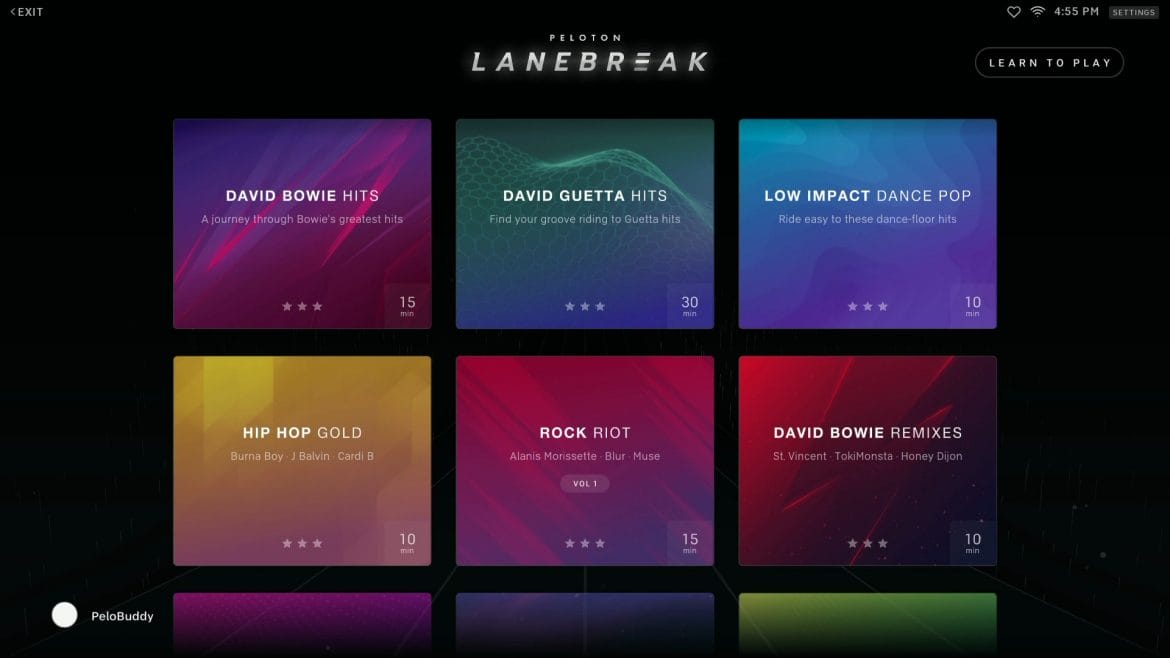 As of right now, there are 21 different playlists available in Peloton Lanebreak. You can find the ones currently available listed below, in order of shortest to longest. Note that some are different volumes as well – meaning you'll see a lot of different variations of these playlists. Peloton is also including some artist series-style classes in the list – with classes dedicated to both David Bowie & David Guetta. Look for more of these to be added with new featured artist series in the future. In the beta version of the game, DJ John Michael had his own playlist – so it's likely another one of those will pop up in a future playlist addition.
List of Playlists on Peloton Lanebreak
Smooth Pop Warm Up (5 min)
Soft Rock Warm Up (5 min)
David Guetta Warm Up (5 min)
Chill EDM Cool Down (5 min)
Pop Remix Vol 1 (10 min)
EDM Climb (10 min)
David Bowie Remixes (10 min)
Pure EDM (10 min)
Hip Hop Gold (10 min)
Low Impact Dance Pop (10 min)
Hyper HIIT Mix (10 min)
Dance Pop Tabata (10 min)
Low Impact EDM (10 min)
Pop Essentials Vol 1 (10 min)
David Bowie Hits (15 min)
Ziggy Stardust (15 min)
Rock Riot Vol 1 (15 min)
Rock Riot Vol 2 (15 min)
Pop Remix Vol 2 (20 min)
Pop Essentials Vol 2 (20 min)
David Guetta Hits (30 min)
Based on this, it seems Peloton is expecting most of the interest in Lanebreak to around the shorter length games. Of the playlists available, 4 of them are 5 minute classes, 10 are 10 minute classes, 4 are 15 minute classes, 2 20 minute, and 1 30 minute classes.
The company has said they specifically curated each playlist to go with the layout of the challenges for each class. In the press release, they shared how Emma Lovewell worked with the gaming team on that aspect:
Instructor Emma Lovewell worked with the team to provide that Instructor perspective: "The way the cues and movement perfectly match the music is one of my favorite aspects of it. It's also a great addition to our instructor-led classes. I know some days you need that butt-kicking inspiration from one of us instructors, and other days you just want to ride to some killer music without an instructor. I get it. Now you can have both! So happy I was able to help participate in the making of this new innovative type of content, I think people are going to love it!"
New playlists for Peloton Lanebreak
In a recent interview with Gizmodo, a Peloton team member said that members could expect to see new rides on a regular basis – and implied they might be weekly:
Packles said Lanebreak will function similarly to the rest of Peloton's classes, with new rides dropping regularly.


"Peloton is amazing because every time you get on there's another new Alex [Toussaint] class, another new Adrian [Williams] class," he said. "We're applying that principle to Lanebreak so every week there's something to pull you in."
Difficulty Levels for the Peloton Lanebreak Video Game
Once you've picked your playlist, you have one more selection to make, which is the difficulty level of the game. There are currently 4 difficulty levels on Lanebreak. The numbers to the right are the resistance ranges for the track for that level.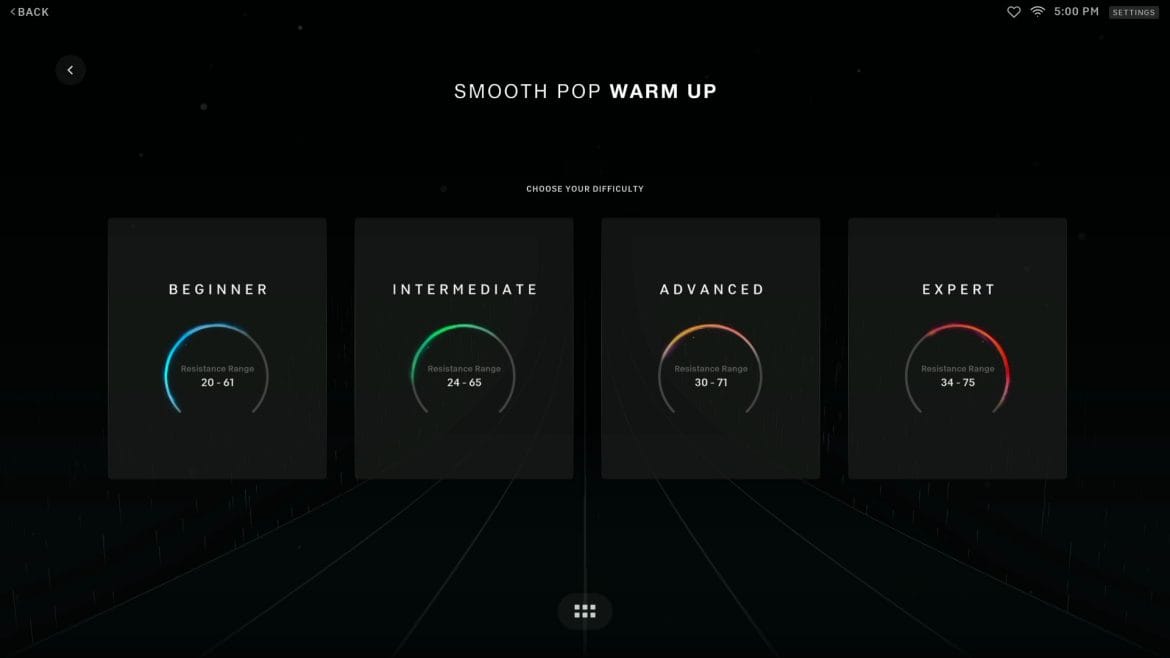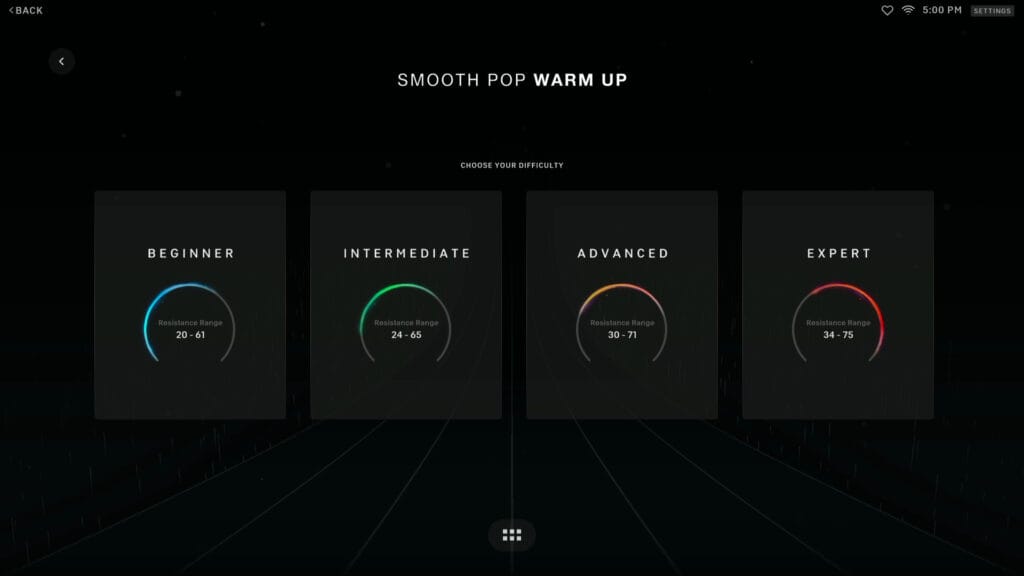 List of difficulty levels on Peloton Lanebreak
Beginner – 20-61
Normal – 24-65
Advanced – 30-71
Expert – 34-75
The only difference between the difficulty levels is that harder levels mean each lane has a higher resistance target. For example, on intermediate one of the middle lanes has a range of 38 – 44 resistance. On expert mode, that same lane has a resistance range of 48 – 54.
Peloton Lanebreak Scoring, High Scores, and Stars
Each challenge you complete during the game earns you a certain number of points. As you ride along, you can see your current score at the top center of the screen. At the end of the game, you are presented with a summary of your game – including your overall score on a new scorecard screen.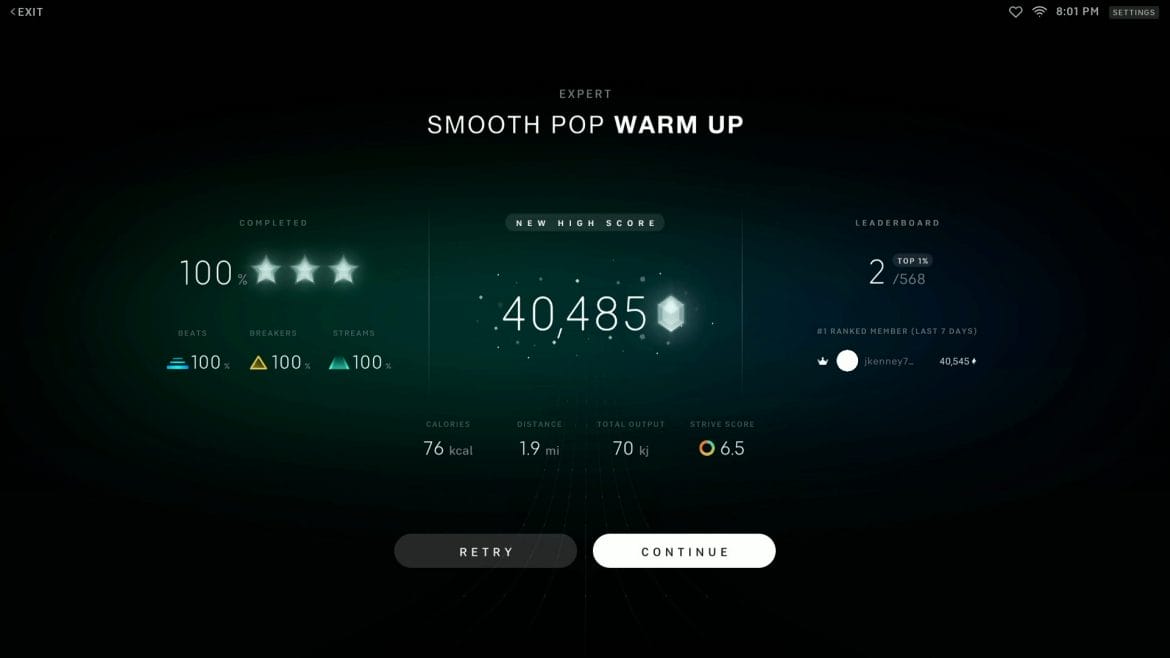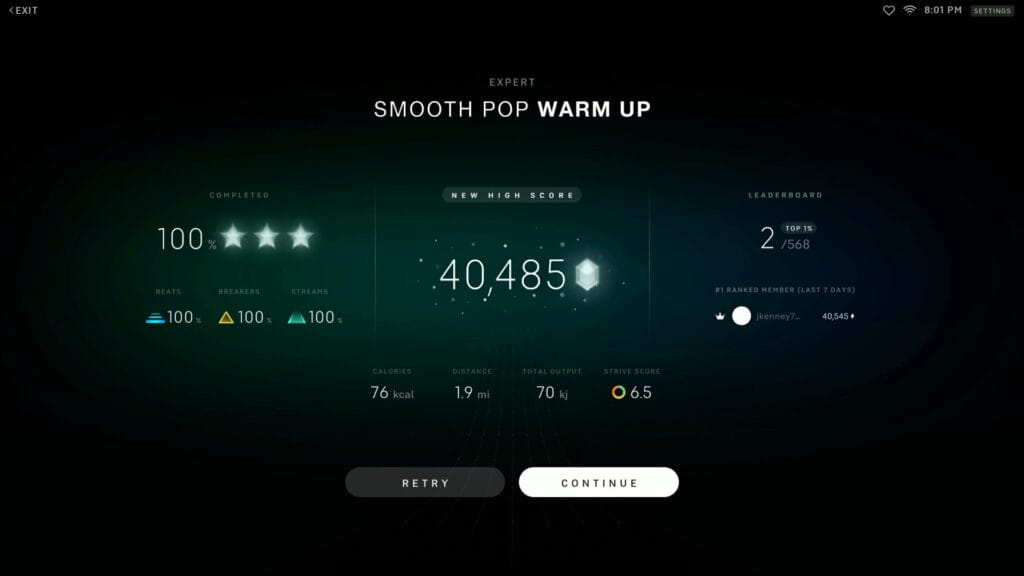 On your scorecard, you see your overall score front & center. To the right you'll see your ranking on the leaderboard for that difficulty level. Each difficulty level has it's own leaderboard, so you can compare yourself again people riding the same resistance targets.
At the bottom you'll see your usual stats – calories, distance, total output, and strive score.
To the left are two brand new stats. First is a breakdown of what % of each of the challenges you completed. Make note of these, because currently, you'll never be able to see this breakdown ever again once you leave the screen.
You're also awarded stars, based on the percent of the challenges you complete. You get 1 star for finishing 21% of the challenges, a second star for finishing 51% of the challenge, and a third star for finishing 85% of the challenges. Unlike your overall score, which is unique per difficulty level on the same playlist, once you've earned 3 stars on any difficulty mode for that level or playlist, you've maxed out.
The Peloton Lanebreak Leaderboard
Peloton Lanebreak also has a brand new leaderboard, designed just for the video game. Your scores are tracked separately for each playlist, as well as each difficulty level. At time of publishing, a perfect score on each difficulty level for the same playlist will be the same. The gameplay of each difficultly level is the same, as well as scoring opportunities – the only difference is the resistance targets for each lane you have to be in.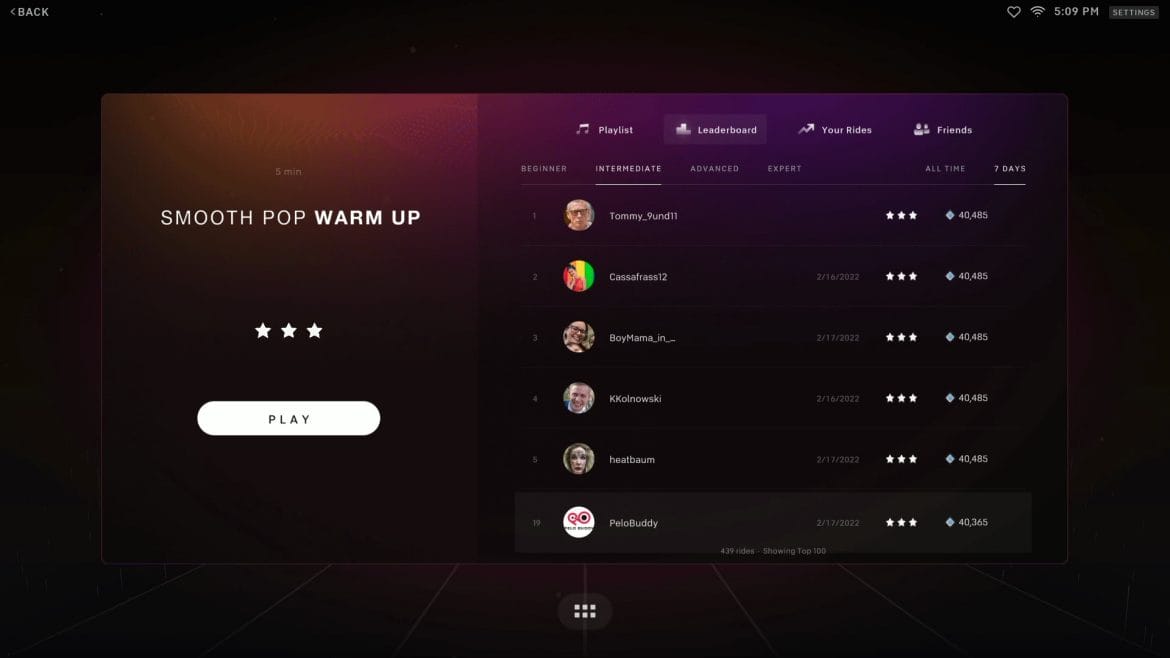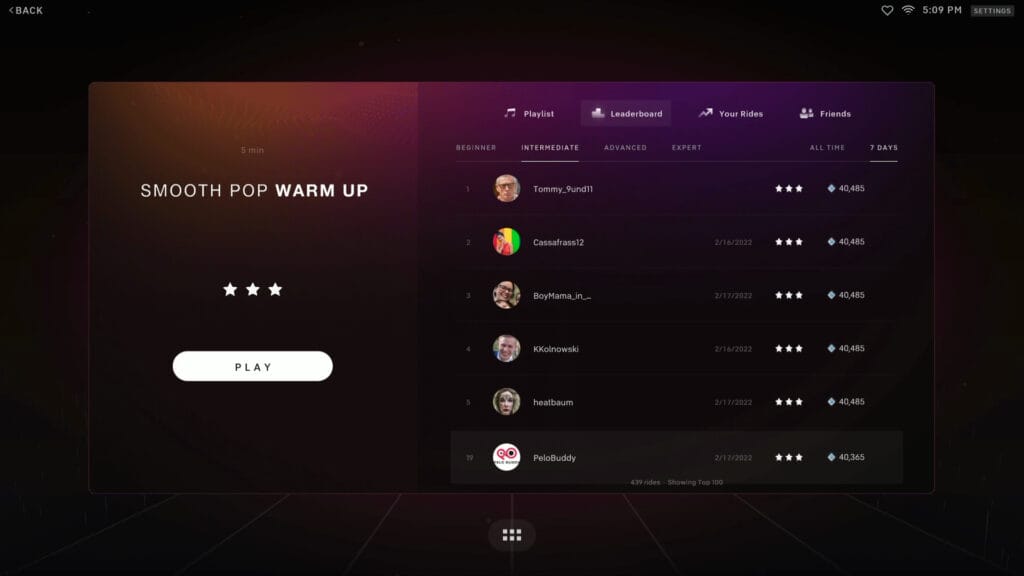 On the leaderboard, you can swap between looking at the overall leaderboard of all members, a view of just the times you have ridden that playlist, as well as a view of you and your friends.
Additionally, Peloton has made a toggle so you can see a leaderboard just from the last 7 days, as well as all time. This is done likely in an effort to make people want to play the game more often, so they are always showing up on that 7 days leaderboard.
You can find the leaderboard at any point by clicking into a playlist from the main screen on Lanebreak. The window that pops up will have the playlist, but then you can use the tabs to browse and view the leaderboard for that level or playlist.
Tips & Tricks for Peloton Lanebreak Video Game for the Bike & Bike+
Now that you know how to play, how to earn points for challenges, and what scores you are aiming for – let's look at a couple of tips & tricks for the Peloton video game.
First, if you are aiming for that perfect score, and miss a point, you don't have to finish the ride before starting over – you can immediately restart the level and try again. Tap the center of your screen, and then in the top right you'll have an option to restart the ride. Confirm your choice, and you'll start back at the beginning of that playlist & difficulty mode.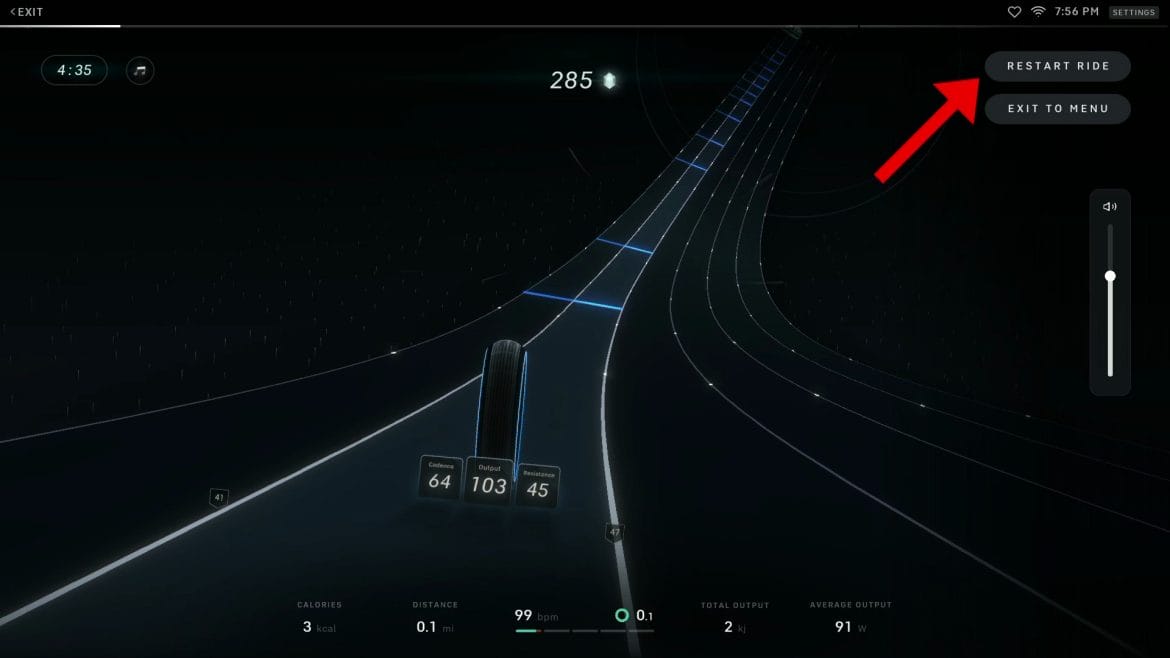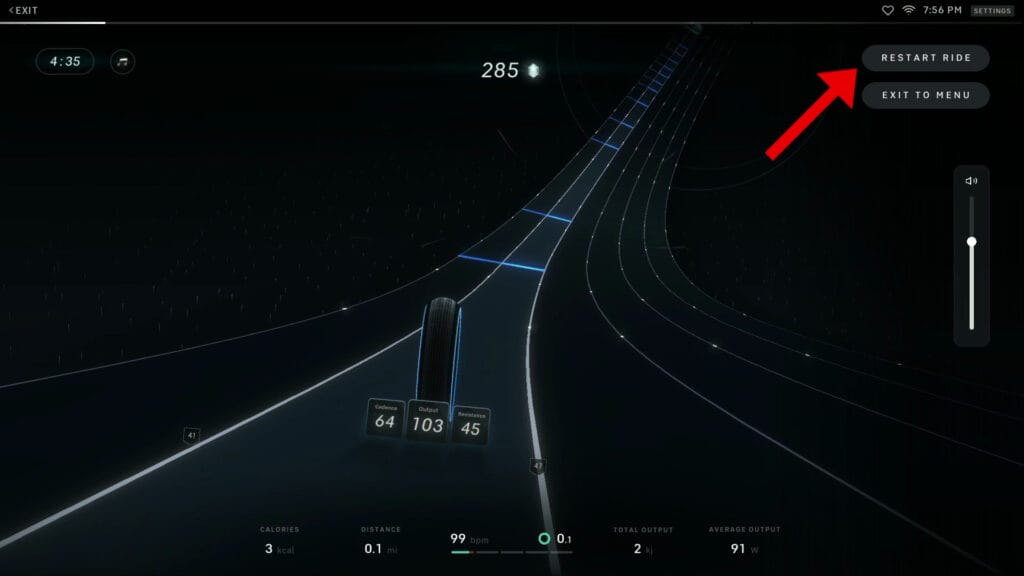 Another thing to keep in mind is that if you are trying to maximize your score, if given the choice, you should always pick the lane further to the right. If there is only one challenge taking place, there's nothing to think about here. However, at certain points during the game you'll have the same challenge taking place in two different lanes at the same time. Lanes further to the right earn more points – so pick the challenge taking place further to the right to maximize your score.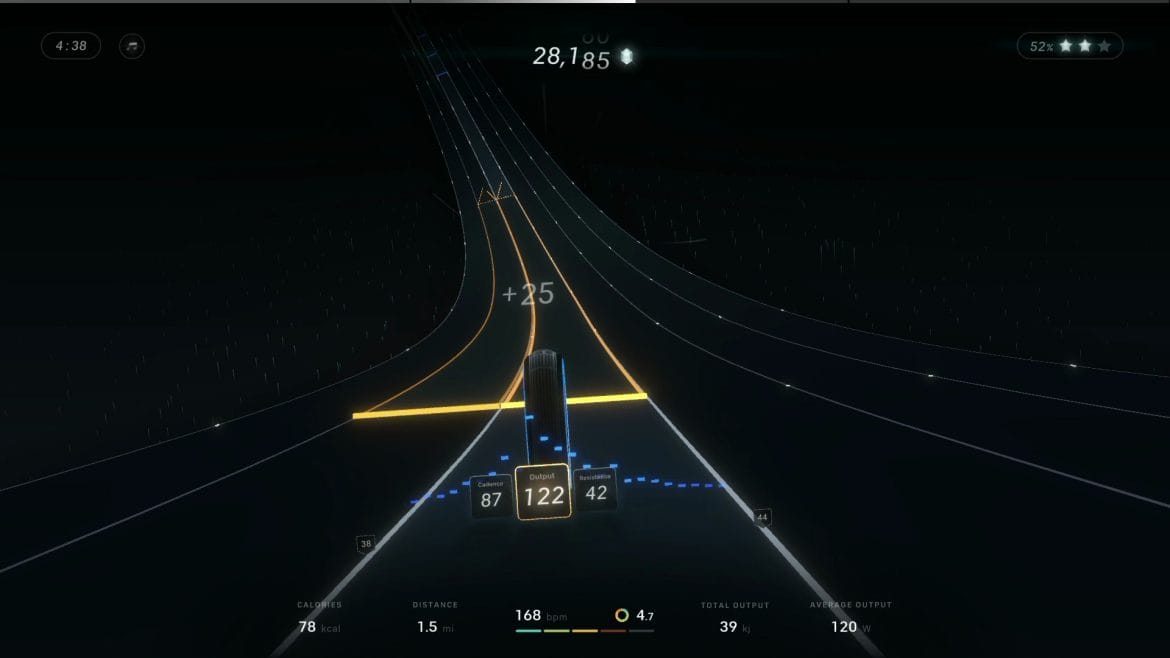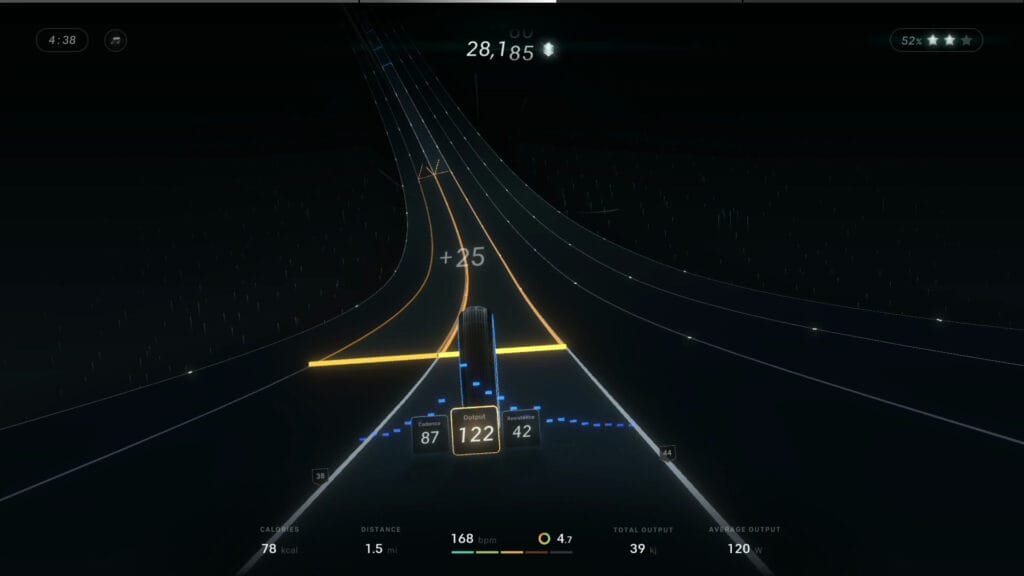 However, in the current version of the game, it doesn't matter where you are in one specific lane. This means you earn the same number of points if you ride to the far left of a lane vs the far right of a lane. So if you need some recovery, hang out towards the bottom of your lane, where the resistance is slightly easier.
If you need some more recovery, it's possible to sneak some quick breaks in during the game. Unless you are in a Breakers challenge or Streams challenge, your cadence doesn't really matter. This means you can stop pedaling for brief periods of times in between challenges if you need to, and not lose any points. Also, for the Beats challenges, as long as you are above 20 cadence, you'll earn points – so you can easy pedal here if you need to as well.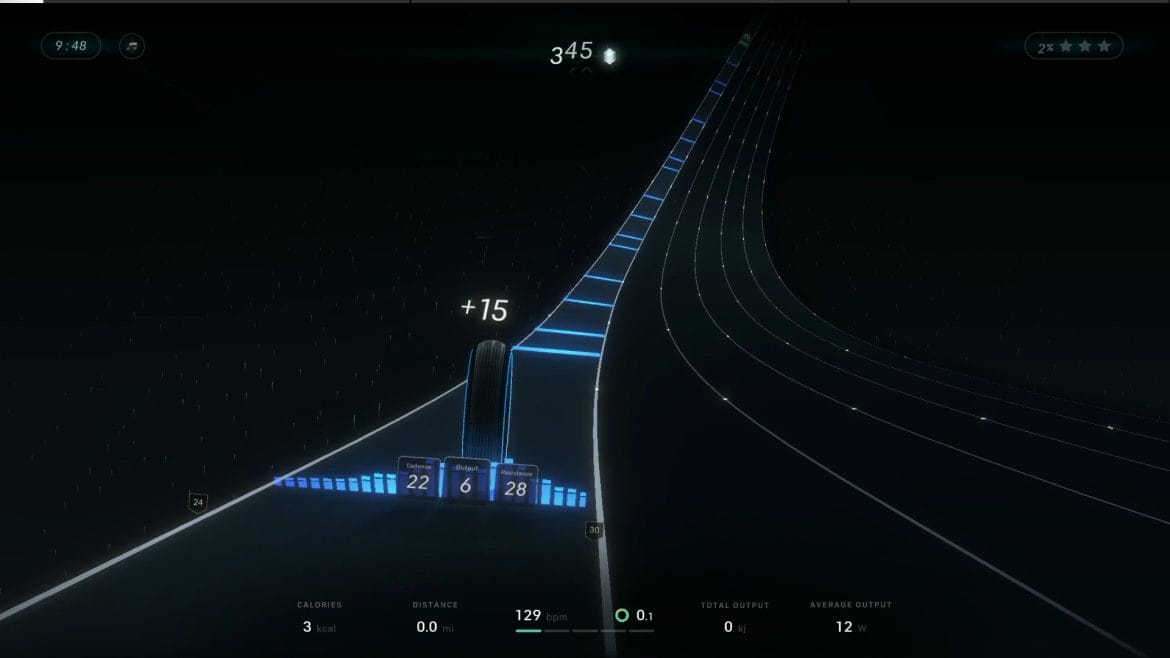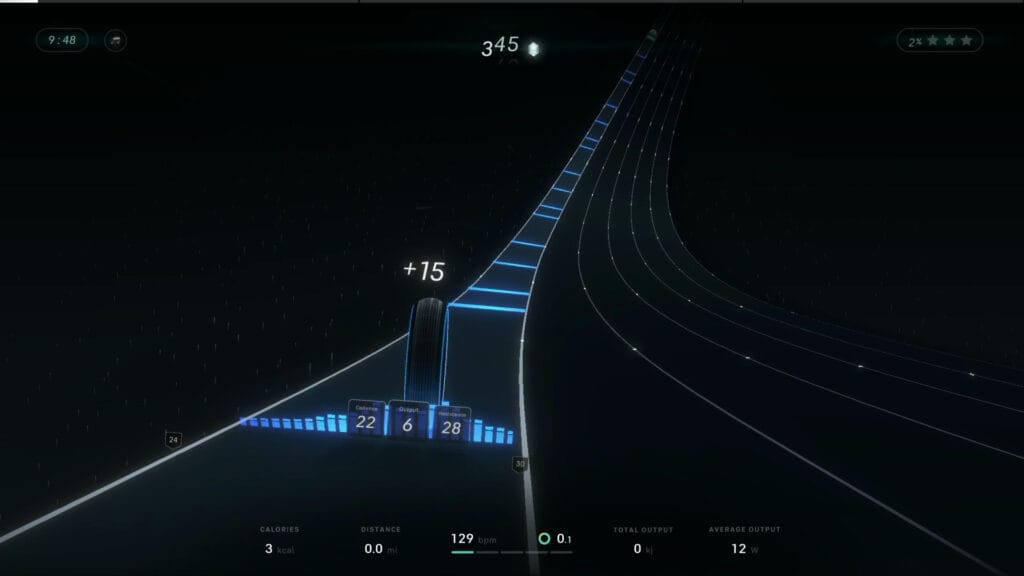 Also, even if you stop pedaling completely, your wheel will keep advancing along the track.
Missing Features / Ways to Improve Peloton Lanebreak
So far, we've looked at what the game does have. Let's look at some things that are missing, or things that could be added to improve the game in the future. Keep in mind Peloton has said they'll be making more updates in the future, so some of these are likely already in the works!
In that same press release, Peloton said:
We are still early in our journey. Over the coming months, Members can expect to see new mechanics and challenges introduced to Lanebreak. We're also actively exploring new platforms and formats.
Apple Watch Support for Peloton Lanebreak (GymKit in the Peloton Video Game)
This is one of the most frequent questions we've seen asked. So if you're wondering if you can use your Apple Watch while playing Peloton Lanebreak – the answer is no, you can not without some workarounds. While the Peloton Bike+ supports the Apple Watch via GymKit for cycling class, that support has not yet made it over to Peloton Lanebreak. It's possible to work around this using third party apps or dongles, however, it doesn't work out of the box.
However, other Bluetooth and Ant+ heart rate bands & monitors will work. The one thing to keep in mind is you might have to reconnect them after entering the game. You can do this by tapping the top right of the screen, and then going into the Heart Rate settings area.
Head to Head Competitions & Real Time Leaderboard
Lanebreak seems like it was designed for head to head racing and direct competition – but that's not possible right now. Right now, it's just you, on the track, earning points.
One way to improve this would be to add a real time leaderboard, like people are used to in regular classes, where you can see how you are doing compared to others. This would also allow you to throw out high fives to others, which you can't do right now.
We'd also love to see a head to head mode added (possibly through the use of the Peloton Sessions feature). Although you are limited in the maximum number of points you can earn, having that other person on there and moving around would add that extra level of freshness to each time you play it, since the scenery is the same every time.
Better integration with the Peloton App & Website
The game & the stats could use a little more integration with the Peloton app. For example, once you leave the splash screen at the end of the game, you can't see what percentage of each individual challenge you completed ever again.
Also, when viewing your ride in the Peloton app or your profile afterwards, you can't see your overall score either. That's only possible when going back to the Bike & viewing the entire leaderboard.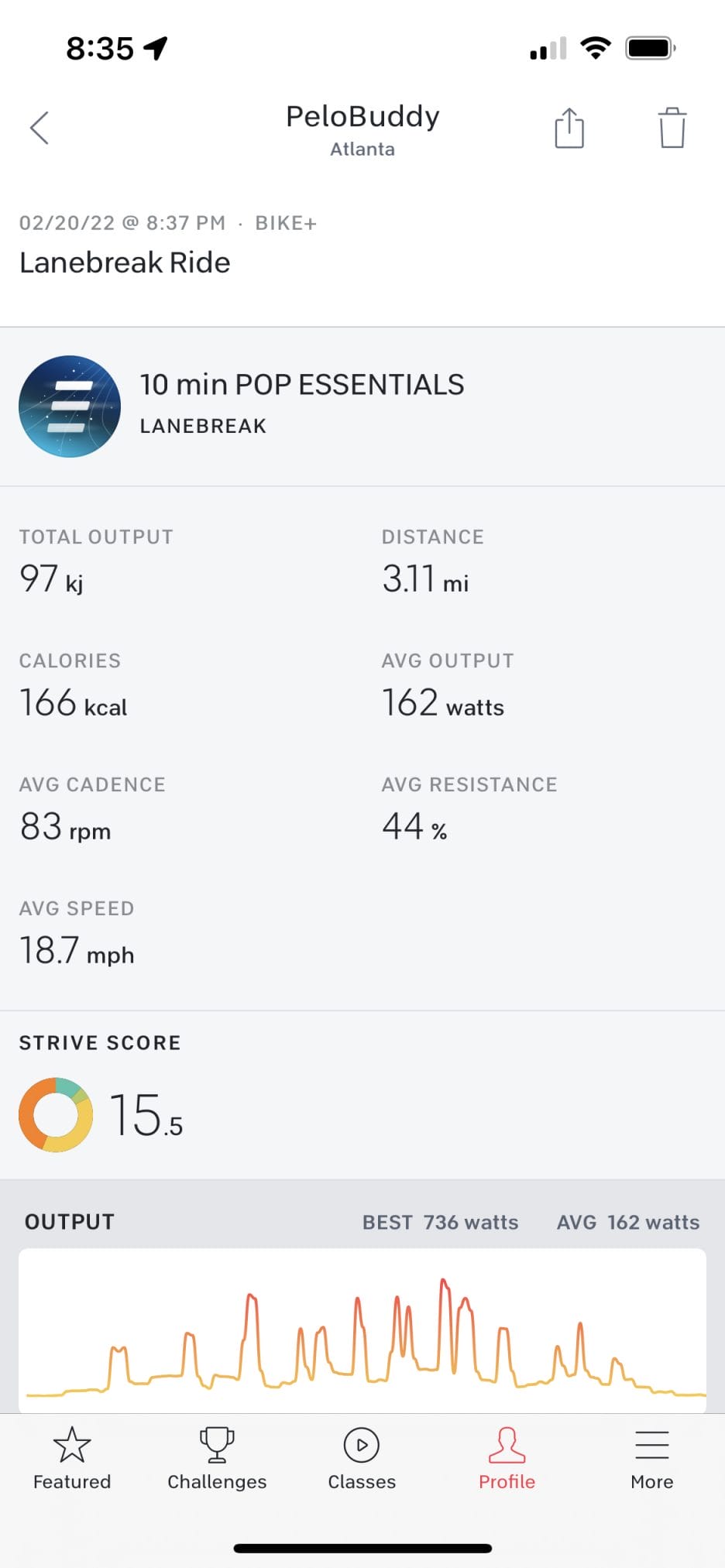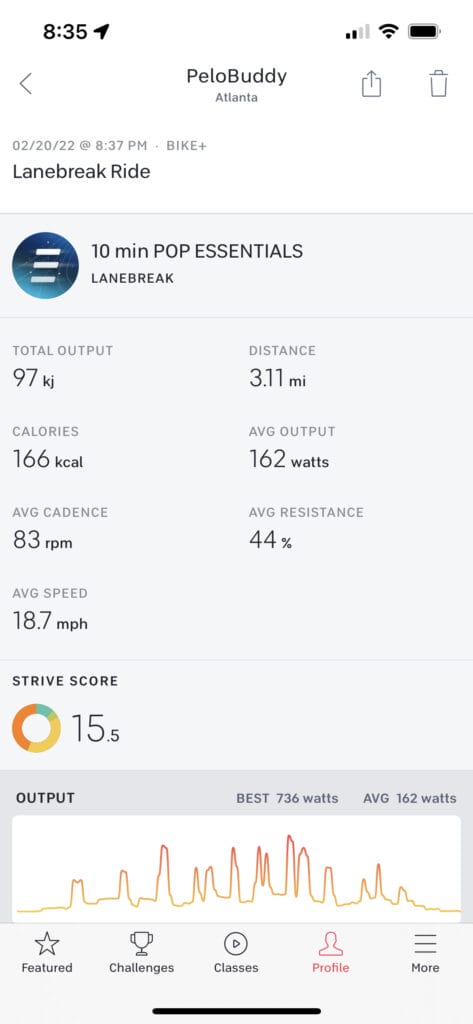 Making those visible is definitely one thing we expect to be a quick easy update that can be added near term.
Setting new PRs / PBs / Personal Records in Peloton Lanebreak
Many people have found Peloton Lanebreak to be quite motivating, and guiding them to new PRs without realizing it. However, currently, any PRs set in Lanebreak don't earn you a PR badge, or cause you to have a new PR show up in your profile.
Options for more points / Increased difficulty
As we mentioned earlier, you earn the same number of points whether you're hugging the inside or outside of your lane. We would like to see a mode where points are dynamic based on where in your lane you are to add an extra level of difficulty.
Similarly, right now the ranges for the Streams cadence challenges seems to always be a range of 20. In more difficult modes like advanced or expert mode, it might make the game more fun if the cadence ranges dropped to 10 or smaller, to provide more of a challenge for advanced riders.
Track Stars Earned Per Difficulty Level
Peloton Lanebreak tracks & stores your high score as being different per difficulty mode in each level, however, your stars are not. Once you've earned 3 stars on any difficulty level, that's it for stars. It seems like tracking those separately as well might make the game fun for some players. However, a lot of players will be getting 3 stars every time they play anyway, so it might be a moot point.
Peloton Lanebreak Differences between a Bike & Bike+
While Peloton Lanebreak is available on both the Bike & Bike+, the game definitely works & plays smoother on the Bike+. We noticed a tiny bit of lag sometimes when playing on an original Bike, which we didn't see on the Bike+.
Also, on the original Bike, we noticed that our avatar on screen had a tiny bit of wobble to it – and would sometimes slightly shift left or right on screen when we weren't touching the resistance knob – something that never happened on the Bike+. If you ride in the middle of the lane it might not matter, but if you are hugging the inside of a lane for recovery, it could result if you temporarily jumping out of your lane & missing out on points.
Final Thoughts & Review of Peloton Lanebreak Video Game for Bike & Bike+
Peloton Lanebreak seems like it is going to be a love or hate it type addition for most people. Some people love it, finding the video game style play and motivation of trying to get a high score to be super engaging. Others find that it isn't for them – and still prefer to take rides from their favorite coaches.
Long term, it seems like most people will probably end up using Peloton Lanebreak as a warm-ups and/or cool-down, but still use the traditional coached classes for their primary workouts. Peloton seems to be thinking the same way, since most of the playlists are only 5-10 minutes long.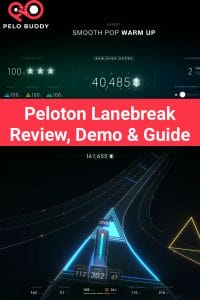 The good news is that Lanebreak is being added as an extra feature, so it's not taking anything away, and people who dislike it can simply forget it exists and continue taking regular classes. For gamers or people motivated by trying to earn the perfect score, this might be something to draw them back into Peloton if the coaches aren't resonating with them anymore. Peloton can also use this game to try to market the Bikes to potential new customers who might find the racing & scoring aspects more appealing than the coaching.
The biggest downsides we see right now with Peloton Lanebreak is that with the playlists being the same, depending on how quickly Peloton adds new levels people could get bored with it – as you'd have to listen to the same playlist over and over (though people have experience with this from taking warm-ups & cooldowns in some of Peloton's programs). Some of the possible additions we mentioned above like adding in head to head competitions, a leaderboard, or dynamic points might help with players possibly getting bored with the game as well.
In addition, there is no variety to the track you are racing on – it's simply a plain track that might have come from an Atari game that continues on and on and on. There's no scenery changing in the background or anything that might help keep the player more interested – which will likely turn some people off from the game. If Peloton is hoping that people might be comparing Peloton Lanebreak to Zwift – the graphics is one area that Zwift has Lanebreak beat hands down.
One thing that will be a downside for some, and upside for others, is that playing Lanebreak requires you to be more focused and pay closer attention – you can't really zone out as you need to be changing lanes quickly sometimes and keeping within certain ranges. Some people will enjoy this, while others won't. Lanebreak can force you to get a better workout than you might have intended to as well. So if you have a day where you are worried you might just ignore the coaches cues and easy pedal – try taking a longer Lanebreak ride instead, assuming you'll be motivated to try to get 100% on all the challenges.
Personally, we found Lanebreak to be a fun addition to the Peloton platform. We'll definitely be adding it to the rotation when we want some variety for some warm-ups & cooldowns.
And that is Peloton Lanebreak in a nutshell. Let us know in the comments what you think of the game, or what improvements you'd like to see made to it in the future.
---
Want to be sure to never miss any Peloton news? Sign up for our newsletter and get all the latest Peloton updates & Peloton rumors sent directly to your inbox.