This afternoon, as part of Peloton Homecoming, Peloton held a "Sports Panel | Legends Live: Training for Excellence". The panel, which was led by Becs Gentry, featured a discussion with athletes Allyson Felix, Usain Bolt and Scout Bassett. All three of those guests will be featured by Peloton as part of the recently announced Champions Collection.
At the end of the panel, Becs teased a brand new feature that would be rolling out starting today: A new filter on the leaderboard. This filter will allow Peloton to highlight special guests and allow members to train with (and race against) selected athletes, musicians, celebrities, and other people Peloton chooses to highlight.
The new "Special Guest" leaderboard feature was first turned on this afternoon. Becs shared that it would be used during Alex Toussaint's 30 minute Club Banger ride, where Usain Bolt would be the special guest. At the same time, paralympian Scout Bassett would be the special guest during Adrian William's 20 minute cardio.
To access the new "Special Guest" leaderboard filter, click at the top right of your Leaderboard to access your filters (for example, where you would filter to a different leaderboard tag, or between following / all / etc). For a class where there is a special guest being featured, you will see a new "Special Guest" filter option at the top of your filters on the leaderboard.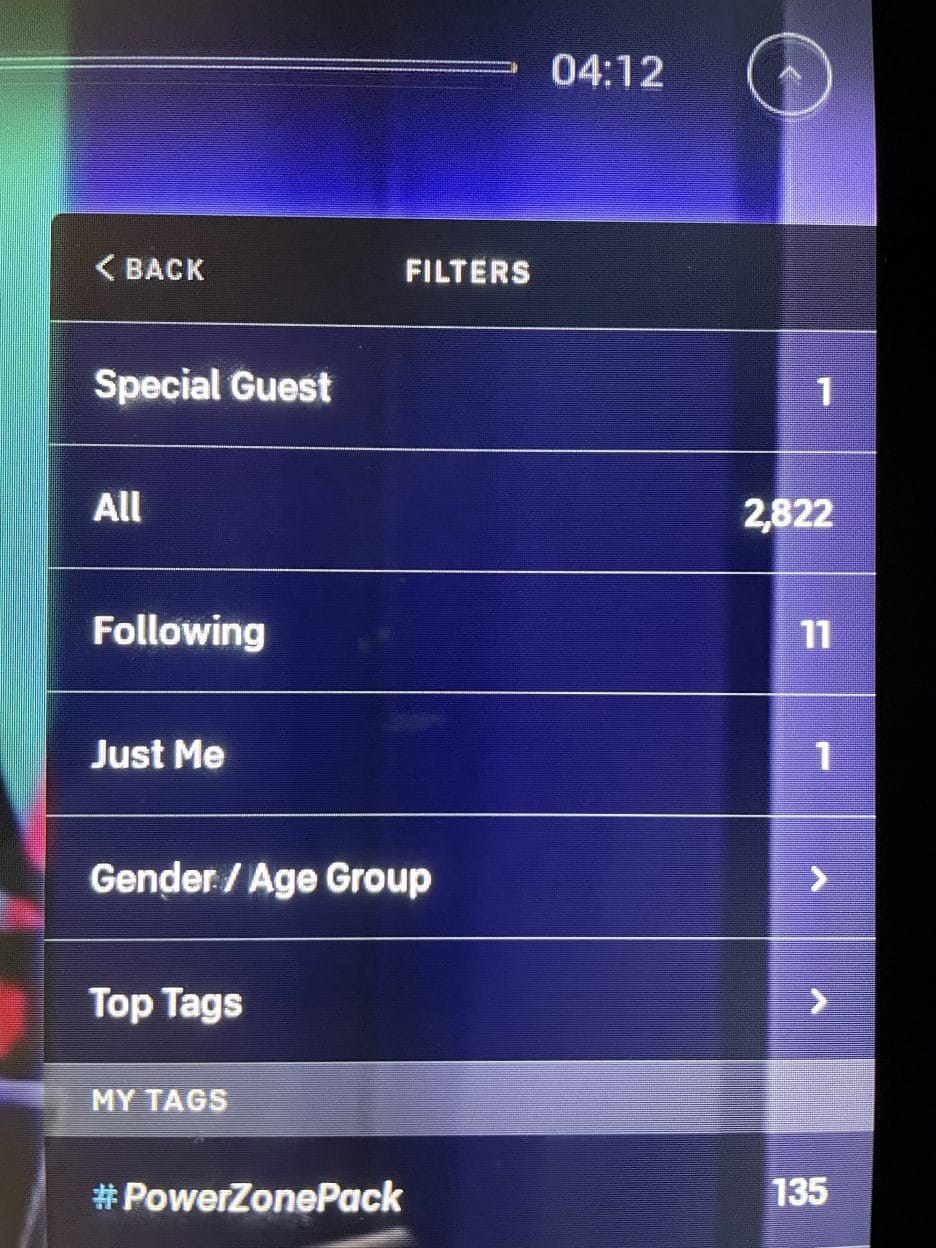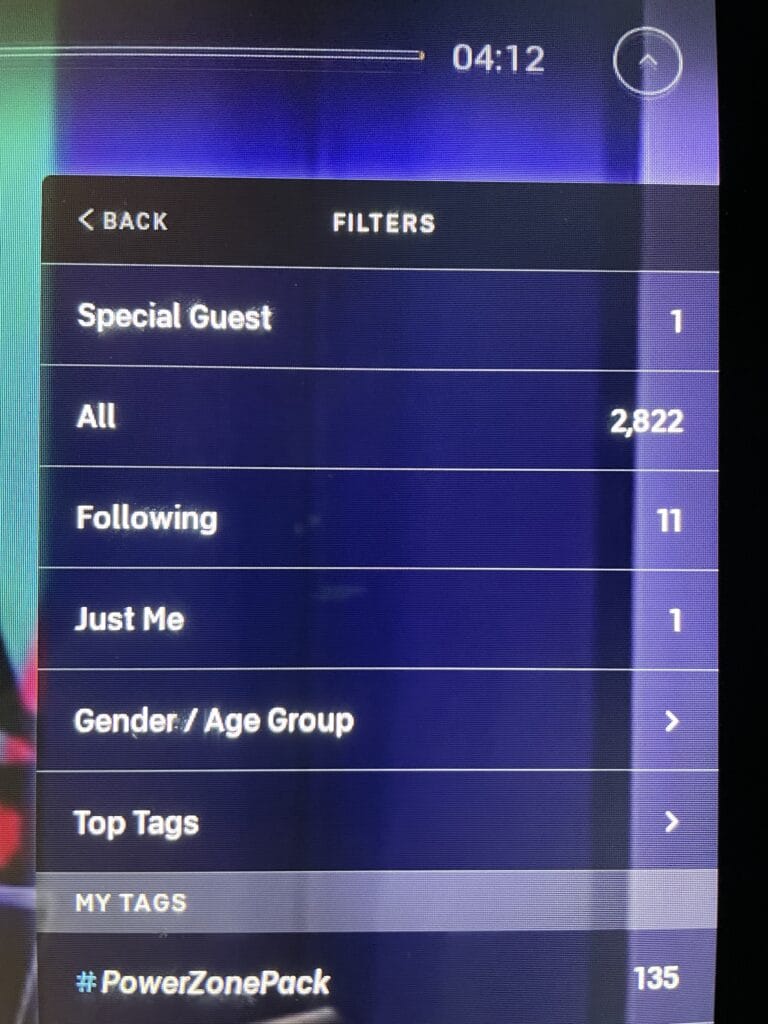 Clicking into the new filter will let you see your stats, as well as the special guests. On Alex Toussaint's ride, we were able to use the filter to see Usain Bolt there on the leaderboard. As currently implemented, it appears to show the special guests real leaderboard name. However, whoever the guest is might choose to create a special profile just for the ride, and ride anonymously under a different username regularly. The way the filter is set up, you don't need to know the leaderboard name ahead of time – but you can click into their profile and follow (or request to follow) them.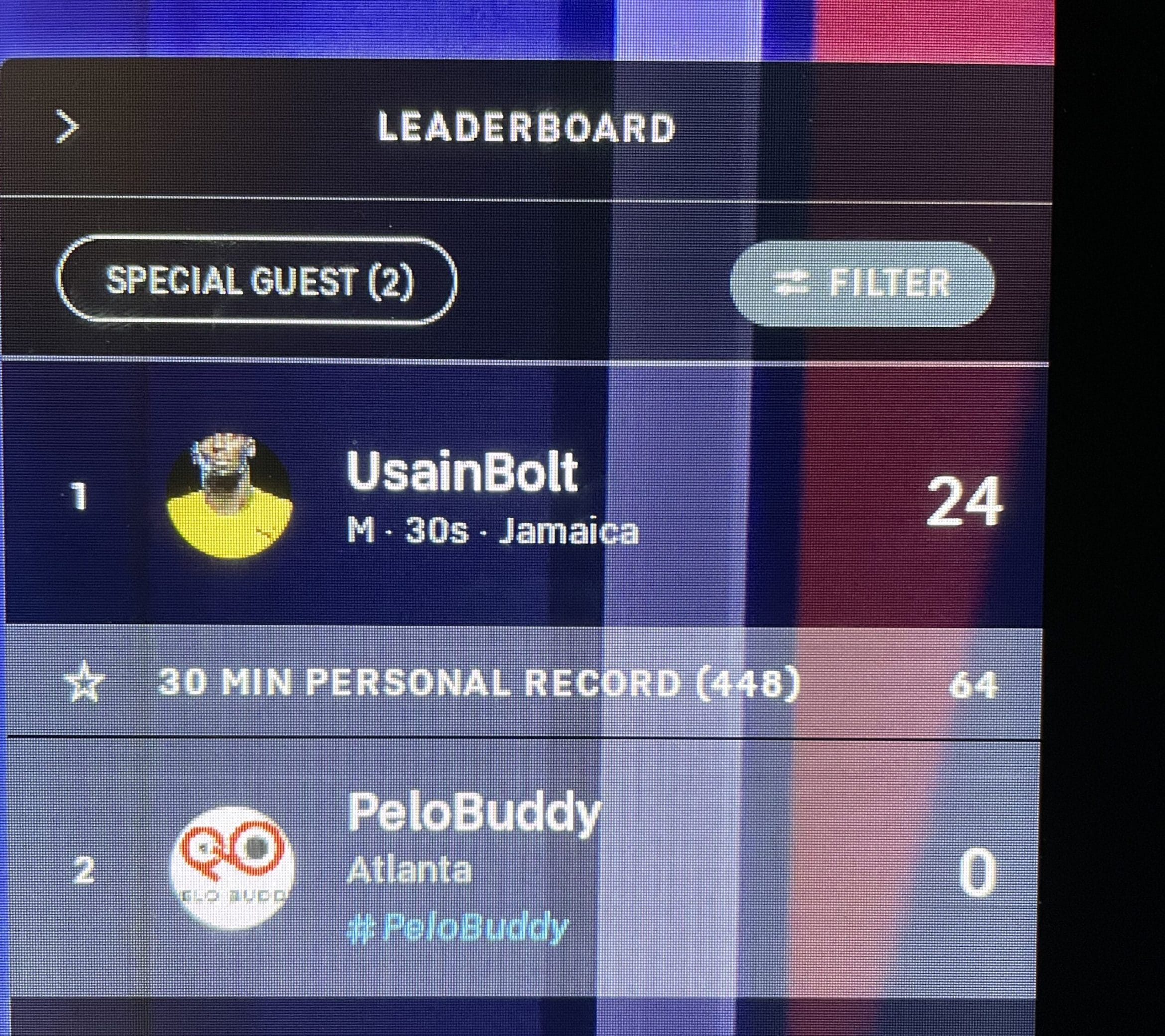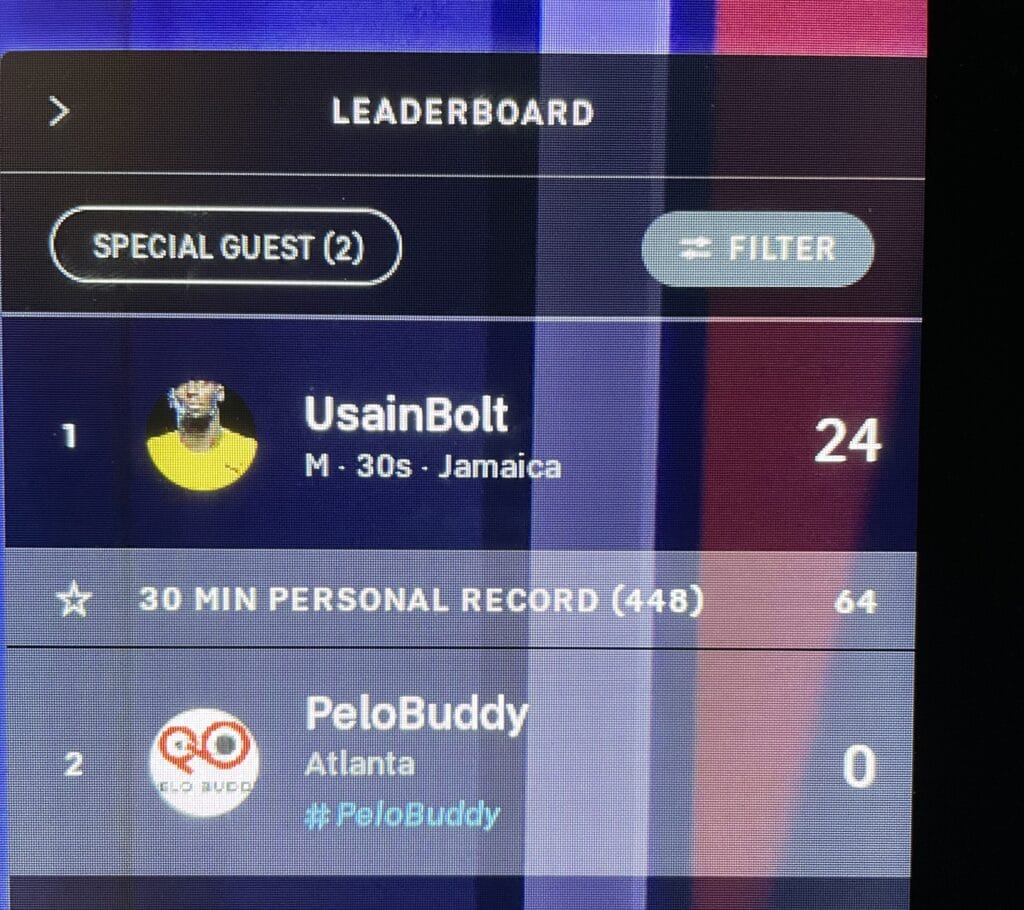 The new "Special Guest" leaderboard filter also appears to be set up to allow multiple special guests on the same class. This would mean, for example, if Peloton were to do another version of their ESPN all-star ride, they would have the ability to make all of the athletes competing on TV show up as special guests – and then you could race in real time against then.
At time of publishing, it isn't clear whether the "Special Guest" filter will be available when classes are available later on-demand – we will update this line in a few hours once that is known.
This feature is also restricted to only the Peloton Bike & Bike+ at this time (and Tread/Tread+ if and when Peloton feature guests there), as the leaderboard can not be filtered from any of the Peloton Digital apps.
Although Peloton teased the new feature being available during Adrian William's cardio class, when we accessed it we were not able to access our filter to get to Special Guests from a Bike+. However, we were able to see that Scout Bassett was on the leaderboard taking the class just by browsing the full list of who was on the workout.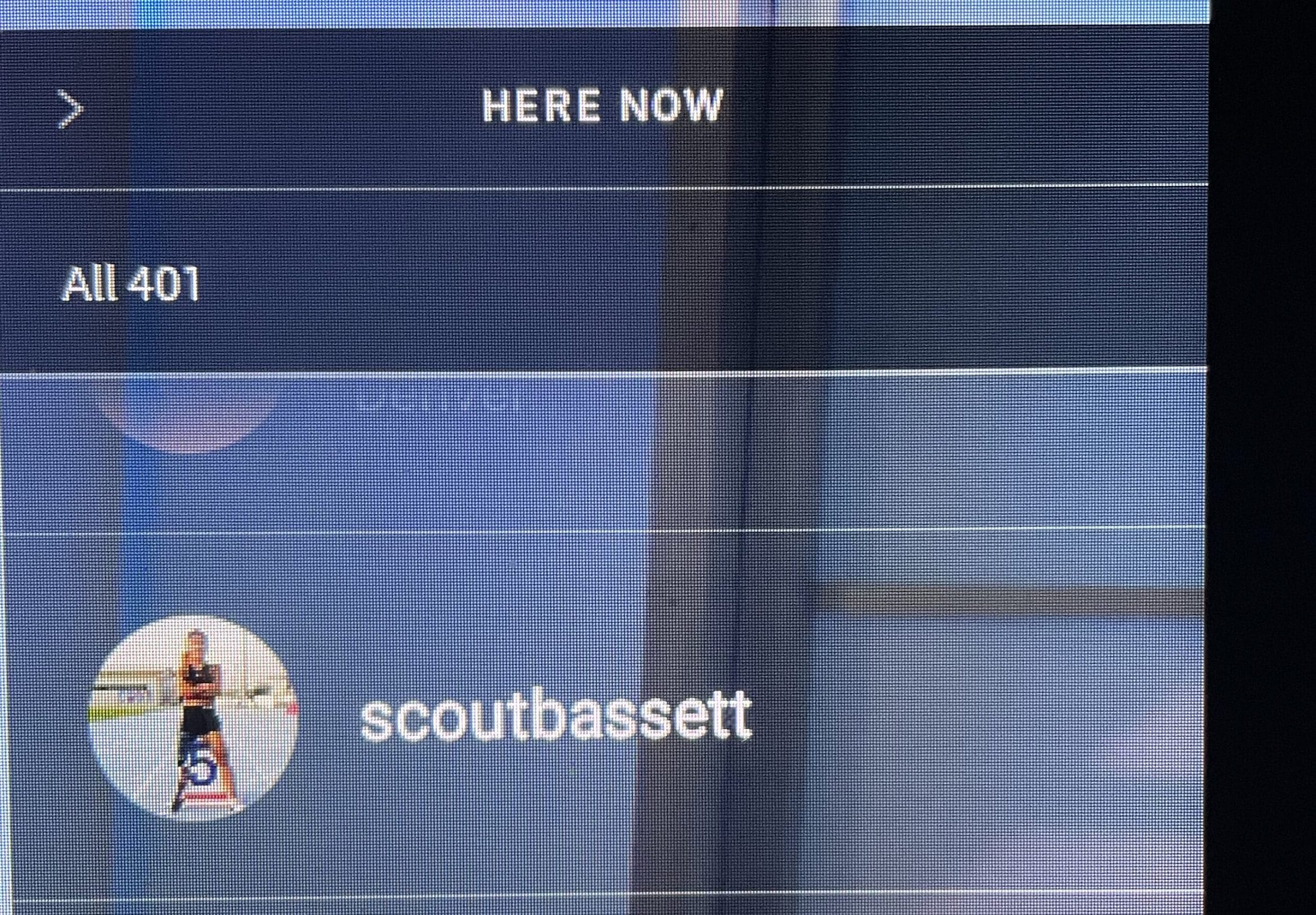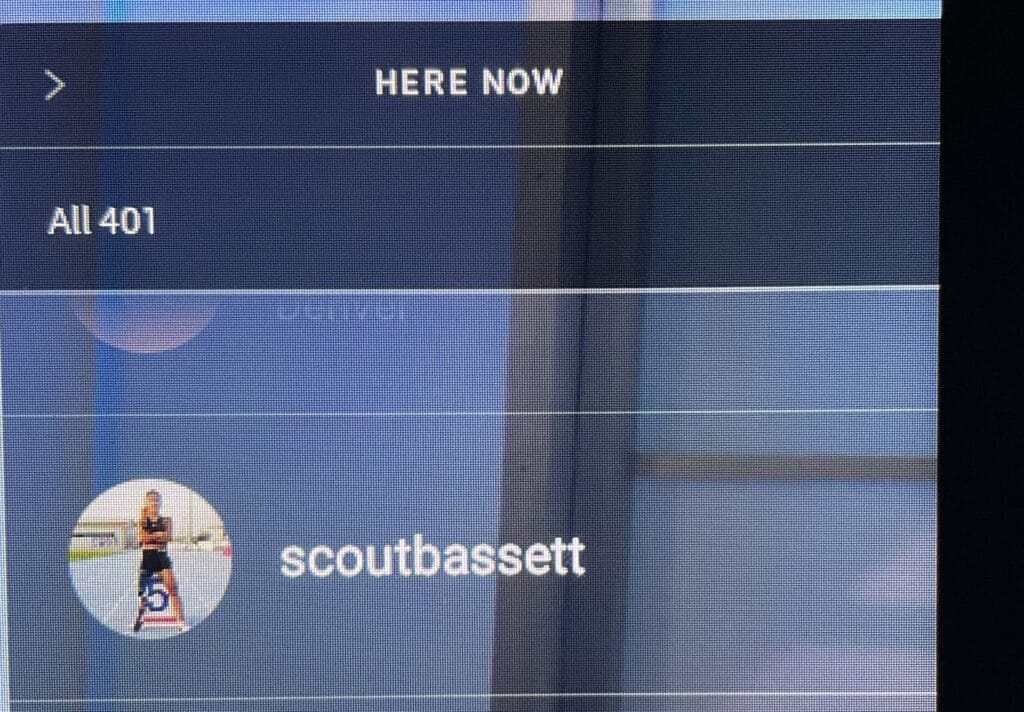 Expect to see this feature used more this summer to feature the athletes from the Champions Collection, which Peloton has shared will be a partnership with 9 different pro athletes. And moving forward, could we see featured artist rides where the lead singer of the band is highlighted on the featured artist class? For example, on social media Usher shared that he was riding live to some of his artist series last week – if this new featured had been rolled out, you could have competed against Usher as the ride was going on.
---
Want to be sure to never miss any Peloton news? Sign up for our newsletter and get all the latest Peloton updates & Peloton rumors sent directly to your inbox.